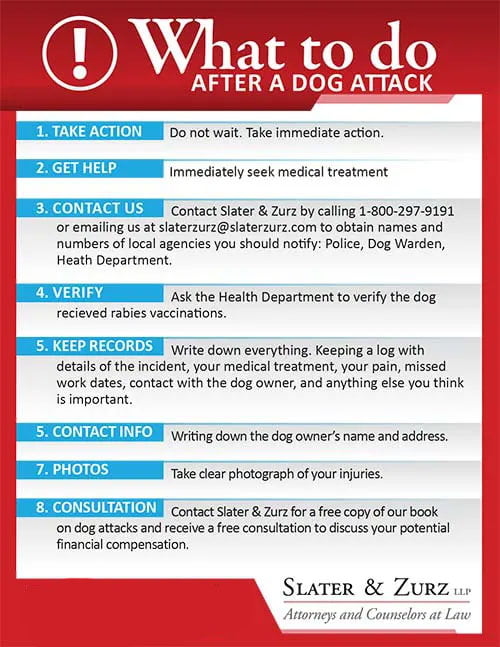 We've put together a quick checklist to help people understand what they need to do if attacked and bitten by a dog. If you follow this checklist, it may help protect your best interests both now and in the future. Here's the quick overview checklist. We will explain each item in more detail below:
Take Action
Get Help
Contact Us
Verify
Keep Records
Contact Info
Photos
Consultation
Free Dog Bite Checklist Reminder Magnet
We created a refrigerator magnet that helps remind people of what actions they should be taking after a dog bite incident. If you would like one of these free magnets, we will be happy to send you one. Contact us by calling 888.534.4850.
1. Take Action
If you, your child, your spouse, or another loved one has been attacked and bitten by a dog, don't procrastinate even if you think the wound looks minor. As further explained below, you need to seek medical attention, you need to contact the proper authorities, you need to file the necessary reports, and you need to document everything related to the dog attack.
2. Get Help
Immediately contact your medical doctor or go to your local emergency room or medical clinic. If the wounds are severe, this is an obvious action to take. However, even if the wounds appear to be minor, you still should seek immediate medical attention. Dog bite wounds can easily become infected if not treated properly, and you don't know whether the dog has been adequately vaccinated throughout its life against diseases like rabies.
3. Contact Us
Get in touch with us by calling 888.534.4850, chat with one of our 24-hour live representatives here on our website, or send us a message by filling out and submitting our contact form. We will help you obtain the names of local agencies that must be notified, including police departments, dog wardens, and health departments. There is no cost whatsoever when you contact us.
4. Verify
When you contact your local police department and dog warden, they will create an official report and take appropriate follow-up action with the dog's owner, harborer, or keeper. When you contact your local health department, they will start a process to verify the dog received rabies vaccinations and may require the dog to be placed into a quarantine period to monitor for signs of rabies.
5. Keep Records
If legal action is necessary, you will need records. Therefore, we highly recommend that you keep a log or journal and write down everything, including things like what you or the victim was doing immediately before the attack, where the attack took place, a description of the dog, the medical treatment received, pain experienced, contact with the dog's owner, missed work or school time because of the dog attack, and other details.
6. Contact Information
Write down all the dog owners, harbors, and keepers' contact information, including their telephone numbers, home addresses, email addresses, etc. Also, keep the contact information for anyone who witnessed the dog attack if you have questions about the definition of a dog's harborer or keeper.
7. Photographs
Take clear, easy-to-see photographs of the injuries immediately. The camera on almost any smartphone works great for this.
8. Consultation
We offer victims of dog bites in Ohio free consultations with one of our experienced dog bite lawyers. There is no cost whatsoever, and you will be under no obligation to hire our law firm. We will review your case during your free consultation, answer your questions, and provide you with guidance. We offer you a variety of ways to get in touch with us. You can call 888.534.4850, chat with one of our 24-hour live chat operators, send us a website message, or download our APP on your phone and keep us just one touch away at all times.
We encourage you to follow this checklist of what to do if bitten by a dog. It will help you both now and in the future if you need to act and recover compensation for your injuries and damages.
We advocate strongly on behalf of injured victims of dog bites across Ohio, with convenient locations in Akron, Canton, Cincinnati, Cleveland, Columbus, and Toledo.