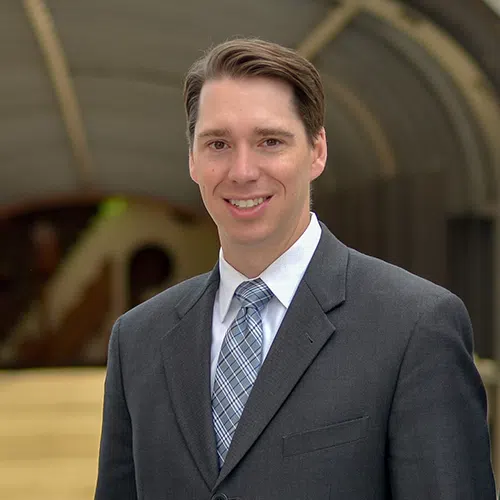 Michael Schmeltzer, Partner
Michael's practice is focused on his passion – standing up for everyday people against those who refuse to take responsibility for their wrongful conduct. He represents clients in a wide variety of complex cases, including catastrophic personal injury, construction accidents, trucking and motorcycle accidents, product liability, wrongful death, nursing home negligence, and medical and professional malpractice.
Michael has experience with all stages of litigation and has handled matters before state and federal administrative agencies, has tried cases, argued appeals, and successfully handled mediations in both state and federal court.
HAVE A QUESTION FOR OUR FIRM?
Michael's Rating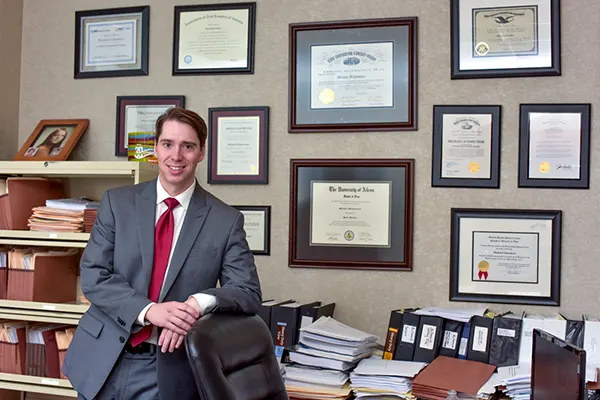 Michael is "AV-Rated," which is the highest rating available to any individual lawyer by Martindale-Hubbell, and he is recognized as an "Ohio Rising Star" and one of the "Top 100″ trial lawyers in Ohio by National Trial Lawyers.
Michael is a Fellow of the Litigation Counsel of America (LCA), which is a trial lawyer honorary society composed of less than one-half of one percent of American lawyers. Fellowship in the LCA is highly selective and by invitation only. Fellows are selected based upon excellence and accomplishment in litigation, both at the trial and appellate levels and superior ethical reputation.
Michael has also been recognized by the Akron Regional Chamber of Commerce and Ohio Governor John Kasich as a "30 for the Future Award" recipient.
More About Michael
When he is not protecting the rights of injured persons, Michael writes and lectures about timely legal issues volunteers his time with community-based organizations, and enjoys spending time with his family, riding his motorcycle during the summertime, and hitting the slopes during the wintertime.
Michael has served as a Representative at Large for the Ohio Association for Justice ("OAJ"), as a member of OAJ's Legislative Committee, and as Vice-President and chair of various committees for the National Alliance on Mental Illness – Summit County. Michael has also worked as a certified motorcycle instructor for Motorcycle Ohio (a division of the Ohio Department of Public Safety) and is a member of the Boston Mills/Brandywine/Alpine Valley Ski Patrol.
Michael is licensed to practice law in all Ohio state courts and the U.S. District Courts for the Northern and Southern Districts of Ohio. He attended Kent State University, where he earned his B.A. degree in journalism with a minor in political science.
Michael later attended the University of Akron School of Law, where he served as assistant editor of the Akron Law Review, was a member of its Jessup International Moot Court competition team, and served as executive editor of its Journal of Technology Transfer (now the Akron Journal of Intellectual Property).
Contact Information
Telephone: (330)762-0700
Fax: (330) 762-3923

Professional Leadership, Memberships, & Recognition
Top 100, The National Trial Lawyers (2019 – present)
Ohio Rising Star, Super Lawyers (2012-2018)
Top 40 Under 40, The National Trial Lawyers (2017-2018)
AV-Rated, Martindale-Hubbell
Fellow, Litigation Counsel of America
Rated as "Superb" for experience, industry recognition, and professional conduct, Avvo
2015 Greater Akron Chamber of Commerce 30 for the Future Award
2015 Alumni Practical Publication Award Recipient, University of Akron School of Law
American Bar Association, Member
Ohio State Bar Association, Member
Ohio State Bar Association, Jury Instructions Committee (2012 – present)
Ohio State Bar Association Leadership Academy (Class of 2013)
Akron Bar Association, Member
Akron Bar Association, Grievance Committee, Investigative Subcommittee (2012 – 2016)
American Association for Justice, Member (2006 – present)
Ohio Association for Justice, Member
Ohio Association for Justice, Representative-at-Large, 2013-2014, 2014-2015, 2015-2016 Board of Trustees
Ohio Association for Justice, Legislative, Subrogation, and Retention Committees (2014 – 2016)
Supreme Court of Ohio Lawyer-to-Lawyer Mentoring Program, Mentor (2013 – 2015)
Community Legal Aid, Volunteer Legal Services Program
National Alliance on Mental Illness, Summit County: Vice President (2015 – 2020); Board Member (2013 – 2020); Chair, Advocacy & Outreach Committee; Instructor, Family-to-Family Education Program
Torchbearer's, Communications Committee (2008 – 2013), Alumnus
University of Akron School of Law Alumni Association
Motorcycle Ohio Instructor, Ohio Dept. of Public Safety (2016 – 2022)
Motorcycle Safety Foundation Certified Riding Instructor (2016 – 2018)
Patroller/Outdoor Emergency Care Technician, BM/BW/AV Ski Patrol, NSP# 258998 (2021 to present)
Lectures
A Basic Understanding of Removal: Don't Leave State Court Without It, Ohio Association for Justice 2014 Winter Convention
Navigating the Uncharted Waters of Social Media Discovery During Litigation, Ohio Association for Justice, August 21, 2014 CLE
Social Media Discovery in Personal Injury Cases, Ohio Association for Justice 2012 Winter Convention
The Commercial Docket & Business Litigation, Ohio Association for Justice 2012 Annual Convention
Publications
The Chink in the Armor: Convincing Courts that the Medical Malpractice Statute of Repose is an Affirmative Defense May Lead to Additional Avenues for Avoiding the Statute – Ohio Trial, Summer 2014
Contributor, Electronic Discovery Litigation Pack – American Association for Justice, August 2013
Saving Medical Malpractice Claims from the Statute of Repose – Ohio Trial, Spring 2013
Discovering Social Media: Navigating the Uncharted Waters of Social Media Discovery During Litigation – Ohio Trial, Spring 2012