Michael's practice is focused on his passion – standing up for everyday people against those who refuse to take responsibility for their wrongful conduct. He represents clients in a wide variety of complex cases, including catastrophic personal injury, construction accidents, trucking and motorcycle accidents, product liability, wrongful death, nursing home negligence, and medical and professional malpractice.
Michael has experience with all stages of litigation and has handled matters before state and federal administrative agencies, has tried cases, argued appeals, and successfully handled mediations in both state and federal court.
[fusion_youtube id="JdoxOYpaqYM" alignment="center" width="900″ height="" autoplay="false" api_params="" hide_on_mobile="small-visibility,medium-visibility,large-visibility" class="" css_id="" /]
Michael has a proven track record of obtaining results for his clients in complicated injury cases. He recovered $2.7 million for his clients during 2015 – 2018.
Seven-figure gross recovery in a wrongful death/survivorship action against a commercial shipping operation that struck a recreational boat on Lake Erie
$801,000 gross recovery for a motorcyclist who suffered catastrophic personal injuries, including a debilitating brain injury, after crashing into heavy farm equipment
$800,000 gross recovery for a traumatic brain injury caused by an out-of-control semi tractor-trailer striking a parked (but occupied) semi tractor-trailer in a rest area
$625,000 gross recovery for catastrophic injuries arising out of a commercial construction tragedy where client fell through an unsecured roof hole onto concrete 35 feet below
$425,000 gross recovery for a wrongful death caused by a motorist turning left in front of a motorcyclist
$418,000 gross recovery for seriously injured clients who swerved to miss a motorist who pulled into their lane of travel and crashed into an embankment
$325,000 gross recovery in a products liability case where the client was ejected 16 feet head first into dirt wall when the backhoe he was operating suddenly separated from the tractor to which it was attached.
$250,000 gross recovery for a dog attack that resulted in permanent disfigurement and substantial loss of use of client's hand and forearm.
Michael's Rating
Michael is "AV-Rated," which is the highest rating available to any individual lawyer by Martindale-Hubbell, and he is recognized as an "Ohio Rising Star" and was one of the "Top 100″ trial lawyers in Ohio by National Trial Lawyers.
In 2017, Michael was selected as a Fellow of the Litigation Counsel of America (LCA), which is a trial lawyer honorary society composed of less than one-half of one percent of American lawyers. Fellowship in the LCA is highly selective and by invitation only. Fellows are selected based upon excellence and accomplishment in litigation, both at the trial and appellate levels and superior ethical reputation.
Michael was recognized in 2015 by the Akron Regional Chamber of Commerce and Ohio Governor John Kasich as a "30 for the Future Award" recipient.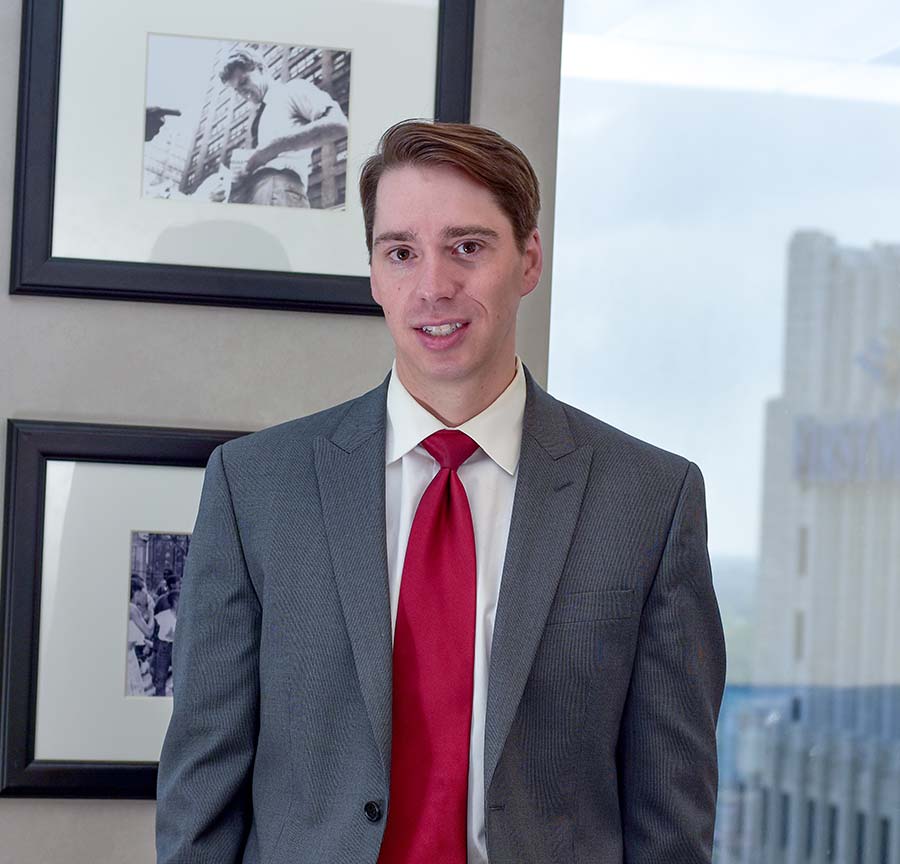 More About Michael
When he is not protecting the rights of injured persons in the courtroom, Michael writes and lectures about timely legal issues and regularly volunteers his time with community-based organizations. He served as a Representative at Large for the Ohio Association for Justice ("OAJ") from 2013-2016 and is currently a member of its Legislative Committee. Michael also serves as the Vice-President and has chaired various committees for the National Alliance on Mental Illness – Summit County.
Education and Certification
Michael is also a certified motorcycle instructor for Motorcycle Ohio (a division of the Ohio Department of Public Safety).
Michael is licensed to practice law in all Ohio State courts and the U.S. District Courts for the Northern and Southern Districts of Ohio. He attended Kent State University, where he earned his B.A. degree in journalism with a minor in political science.
Michael later attended the University of Akron School of Law, where he served as assistant editor of the Akron Law Review, was a member of its Jessup International Moot Court competition team, and served as executive editor of its Journal of Technology Transfer (now the Akron Journal of Intellectual Property).
Contact Information
Telephone: (330) 762-0700
Fax: (330) 762-3923

Professional Leadership, Memberships, & Recognition
Top 100, The National Trial Lawyers (2019)
Ohio Rising Star, Super Lawyers (2012-2018)
Top 40 Under 40, The National Trial Lawyers (2017-2018)
AV-Rated, Martindale-Hubbell
Fellow, Litigation Counsel of America
Rated as "Superb" for experience, industry recognition, and professional conduct, Avvo
2015 Alumni Practical Publication Award Recipient, University of Akron School of Law
American Bar Association, Member
Ohio State Bar Association, Member
Ohio State Bar Association, Jury Instructions Committee (11/2012 – present)
Ohio State Bar Association Leadership Academy (Class of 2013)
Akron Bar Association, Member
Akron Bar Association, Grievance Committee, Investigative Subcommittee (2012 – 2016)
American Association for Justice, Member (2006 – present)
Ohio Association for Justice, Member
Ohio Association for Justice, Representative-at-Large, 2013-2014, 2014-2015, 2015-2016 Board of Trustees
Ohio Association for Justice, Legislative, Subrogation and Retention Committees (2014 – 2016)
Supreme Court of Ohio Lawyer-to-Lawyer Mentoring Program, Mentor (2013 – 2015)
Community Legal Aid, Volunteer Legal Services Program
National Alliance on Mental Illness, Summit County: Vice President (2015 – present); Board Member (10/2013 – present); Chair, Advocacy & Outreach Committee; Instructor, Family-to-Family Education Program
Torchbearer's, Communications Committee (2008 – 2013), Alumnus (2013 -present)
University of Akron School of Law Alumni Association
Motorcycle Ohio Instructor, Ohio Dept. of Public Safety (7/2016 – present)
Motorcycle Safety Foundation Certified Riding Instructor, MSF#201611 (2016 – 2018)
A Basic Understanding of Removal: Don't Leave State Court Without It, Ohio Association for Justice 2014 Winter Convention
Navigating the Uncharted Waters of Social Media Discovery During Litigation, Ohio Association for Justice, August 21, 2014 CLE
Social Media Discovery in Personal Injury Cases, Ohio Association for Justice 2012 Winter Convention
The Commercial Docket & Business Litigation, Ohio Association for Justice 2012 Annual Convention