Toledo Birth Injury Lawyer
Expecting a child is such an exciting time. When planning for their baby's arrival, parents put their trust in the hands of the doctors, nurses, and other medical professionals involved in the labor and delivery process. They never think that those who are entrusted with their baby's birth could possibly fail to provide adequate care during the process, resulting in serious, sometimes fatal, injuries to the baby or mother.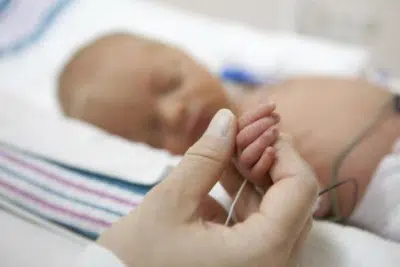 At Slater & Zurz, we have seen the devastating emotional, physical, and financial consequences of a serious birth injury. We make it our top priority to fight diligently on you and your baby's behalf to hold all negligent parties liable for the injury and all associated losses.
We handle all childbirth injury cases on a contingency fee basis, so you and your family don't have to worry about having to pay any up-front costs. We will only get paid if we secure damages on your behalf, allowing you to fight for compensation at no risk to you. When experience and diligence are critical, count on the Toledo birth injury attorneys at Slater & Zurz.
Common Birth Injuries
A birth injury is any injury a newborn baby suffers either before, during, or directly after their birth. Most birth injuries are minor and heal on their own. However, more severe birth injuries can result in disability and even death. More serious birth injuries include:
Motor, vision, and hearing impairments
Broken bones
Infection
Shoulder dystocia
Brain hemorrhage
Traumatic brain injury
Cerebral palsy
Birth asphyxia
Erb's palsy
Klumpke's palsy
Kernicterus
Hydrocephalus
Fractured skull
Spinal cord injuries
Coma
Wrongful death
Birth Injuries to Mothers
Mothers can also suffer injuries related to the birth of their children. Birth injuries that mothers can face during the labor and delivery process include:
Vaginal tears
Seizures
Infection
Back pain
Spinal membrane damage
Nerve damage
Hemorrhaging
Broken bones
Ruptured or prolapsed uterus
Post-natal depression
Post-natal traumatic stress disorder
Liable Parties in Toledo Birth Injury Cases
If you or your baby suffered injuries during the labor and delivery process, you can file a Toledo birth injury lawsuit to hold negligent parties accountable for their actions and secure damages for your losses. Many parties can be held legally liable for a birth injury, including:
Obstetricians or doctors
Anesthesiologists
Nurses
Other medical staff involved in the labor and delivery
Hospitals
Manufacturers of a defective medical device
Drug manufacturers, pharmacists, or pharmacies
Birth Injuries Caused by Medical Negligence
Doctors and other healthcare professionals have a duty to provide adequate care to their patients. When they fail to provide an acceptable standard of care and their patient is injured as a result, it is considered medical negligence. Situations that may be regarded as medical negligence include:
Failing to perform a timely C-section
Not adequately monitoring the fetus for signs of distress
Failing to quickly respond to a fetus in distress
Improperly using birthing tools, such as a vacuum extractor or forceps
Not providing adequate oxygen to the fetus
Medication errors, such as improperly administering medication, such as Pitocin
Not properly caring for the infant after their birth
Ineffectively treating excess bilirubin (jaundice)
The use of defective medical equipment
Failure or misdiagnosis of a mother's medical conditions
Securing Compensation After a Toledo, Ohio Childbirth Injury
Birth injuries can have devastating, life-long consequences. The child may require long-term treatment and care, such as surgery, therapy, and ongoing assistance.
If your child suffered an injury before, during, or shortly after their birth, and that injury was caused by negligence on the part of your doctor, part of the medical team, or the medical facility, you have the right to seek damages for your losses. Compensation in an Ohio birth injury claim may include:
Medical expenses (past and future)
Rehabilitation expenses, such as physical and cognitive therapy
Costs related to your child's disability, such as mobility equipment and life support
Lost wages and earning capacity of you and your child's other parent
Pain and suffering
Disability
Disfigurement
Emotional trauma
Mental anguish
Loss of enjoyment
Wrongful death damages
The types and amount of recovery you receive will ultimately depend on the circumstances surrounding the injury as well as its nature and extent. In each state, there is a time limit to file a birth injury lawsuit, known as the "statute of limitations." The Ohio statute of limitations for birth injury claims is one year. However, if the injured victim is a minor, the one-year time frame begins when he or she turns 18.
How a Toledo Birth Injury Attorney Can Help
Dealing with a birth injury is challenging and emotionally devastating. While you cope with the reality of the situation, you need a legal team who will fight for justice on your behalf. A team that will continually have you and your baby's best interests in mind and will stop at nothing to get you the compensation you so rightfully deserve.
We have a proven track record of success because we give every case our all. Should you work with Slater & Zurz, you can count on the following:
We will be readily available to answer your questions and address your concerns.
Our team will promptly update you with any developments in your case.
Our skilled team will leave no stone unturned, compiling all evidence supporting your case.
We will work with our highly-regarded team of medical, psychological, and financial experts to show liability and prove the nature and extent of your damages.
Our experienced birth injury lawyers will skillfully negotiate with the insurance company, only a full and fair settlement.
Should negotiations fail to result in just compensation, we will not hesitate to fight on your behalf in court to secure maximum damages.
We will continue to be there for you as your trusted advisor, friend, and confidant – even after your case is resolved.
Securing Justice for Birth Injury Victims in Toledo, Ohio
Fighting for justice in a birth injury lawsuit will likely be one of the most pivotal moments in your life. The outcome of your case will drastically impact you and your child's future and your ability to properly care for your child's current and future needs.
With so much on the line, you need a Toledo, Ohio birth injury firm with the knowledge, skills, resources, and tenacity to get you the outcome you deserve. You need Slater & Zurz.
Frequently Asked Questions
+
Every bicycle accident case is different. Several factors help to determine the value of your claim, including:
The nature and severity of your injuries
The number of your medical expenses and whether you require ongoing treatment
The number of lost wages and whether you will lose future income
Whether you sustained long-term or permanent injuries, disabilities, or disfigurement as a result of the accident
The amount of pain, suffering, and emotional trauma you have experienced
Our knowledgeable attorneys can review your case and accurately assess what your claim may be worth.
+
Your attorney will need to prove the doctor or others in the health care team were medically negligent and directly responsible for you or your child's injuries. To prove negligence, a skilled attorney will gather all evidence supporting your claims, such as the events before, during, and after the birth, medical records, medical expert testimony, and eyewitness accounts of what happened.
+
We know the financial toll a birth injury can take on you and your family. That is why we take your case on a contingency fee arrangement. This means that you will not be asked to pay anything up-front. We will only be compensated for our services when we secure compensation on your behalf. With no out-of-pocket costs, there is no financial risk in pursuing damages from the negligent party.
+
Most birth injury cases settle before ever going to court. However, it is best to be prepared to have the case go to trial if an acceptable settlement can't be reached through negotiation. That is why it is important to work with a birth injury lawyer who is willing and able to advocate aggressively on your behalf in court should it be necessary.
Top Birth Injury Attorneys in Toledo
Slater & Zurz is Toledo, Ohio's premier birth injury law firm. For over 30 years, we have protected the rights and best interests of mothers and babies who suffered unnecessary and preventable birth injuries.
We understand the devastation and uncertainty you and your family are facing. But we want you to know we are here for you – to offer our legal guidance and sincere support through every step of the process. We will utilize our extensive experience, resources, and steadfast commitment to secure justice on your behalf. When you work with Slater & Zurz, you can rest assured you – and your case is in capable hands.
Contact our Toledo office to learn more about seeking damages and speak with one of our Toledo personal injury lawyers today to arrange a FREE, no-obligation consultation. You can reach us 24 hours a day, 7 days a week, by calling (419) 658-7171 or contacting us online.