Toledo Car Accident Lawyer
Whether you sustained serious injuries or tragically lost your loved one in an auto accident, the skilled and dedicated legal team at Slater & Zurz is here for you. For over four decades, our Toledo car accident attorneys have fought on behalf of injured victims and their families. Recognized as one of Ohio's top personal injury law firms, we fight tirelessly for justice and make sure negligent parties are held responsible for their actions.
If a car accident resulted in your injuries or the wrongful death of a loved one, we strongly urge you to reach out to our firm. We consider it our duty and privilege to right the wrongs you have experienced and fight for maximum compensation for your losses. To get started, contact our Toledo personal injury law firm today.
Car Accident Statistics
According to the Insurance Institute for Highway Safety (IIHS), an estimated 3.5 million Americans are injured each year in motor vehicle accidents. An average of between 35,000 to 40,000 people lost their lives in crashes involving cars, trucks, motorcycles, bicycles, and pedestrians. And every year in Ohio, approximately 1,100 people lose their lives in car crashes.
Injuries Sustained in Ohio Car Crashes
An auto accident can change your life in a split second. Some injuries you receive may be relatively minor, and of which you can expect to make a full recovery. However, in more serious crashes, you may be left with a lifelong disability or disfigurement. You may never return to life as you once knew it and may even require ongoing treatment, surgery, or care. Car accident injuries vary significantly in type and severity but include: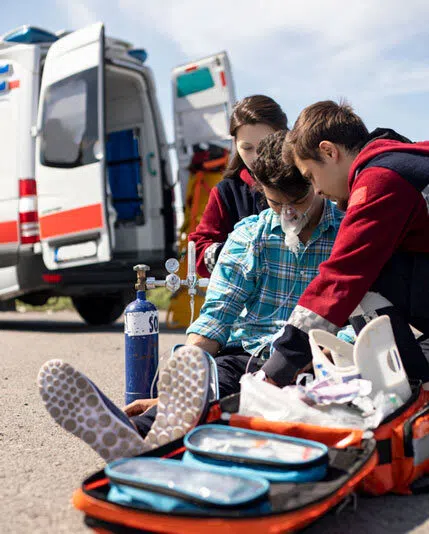 Broken bones
Lacerations
Burns
Whiplash
Concussions
Knee, hip, and shoulder injuries
Neck injuries
Internal organ damage
Paralysis
Loss of limb
Permanent nerve damage
Traumatic brain injuries
Wrongful death
Slater & Zurz LLP Can Help
After any injury, you need an attorney to protect your rights and fight for the compensation you need to recover mentally, emotionally, and financially from your accident. We can help by:
Ensuring you receive the highest level of medical treatment
Being available to answer all questions and address any concerns
Keeping you updated with any developments in your case
Meticulously investigating your accident and compiling every piece of evidence available that supports your claim
Accurately assessing your past, present, and future damages
Negotiating with the insurance company for full and fair compensation
Advocating skillfully on your behalf in court if an acceptable agreement cannot be reached.
Continuing to be there for you and your family, even after your case is resolved
Auto Accidents in Toledo
A serious car accident can occur under a wide range of circumstances. Whether you or a loved one were involved in a relatively minor rear-end collision or injured in a high-speed head-on crash, Slater & Zurz can assist you in receiving deserved compensation for your losses. Ohio car accidents are often caused by the following:
Reckless driving
The failure to yield
Crashes caused by distracted driving
Drivers under the influence of alcohol or drugs
Incidences of road rage
Driver fatigue
Dangerous road conditions
Speeding
Inexperienced drivers
Vehicle malfunction or faulty car parts
Our accomplished car accident attorneys have handled cases involving almost every type of accident possible. However, below, are some of the most common types of car crashes:
Head-on collisions
Rear-end crashes
Left-turn accidents
Hit-and-runs
T-bone collisions
Accidents at intersections
SUV rollovers
Uber & Lyft accidents
Multi-vehicle pileups
Regardless of how your accident occurred, our car accident attorneys in Toledo, Ohio, will perform a thorough investigation, establishing what happened and who was responsible.
Seeking Damages in an Ohio Car Accident Injury Claim
An auto accident can leave you with severe, life-altering injuries. Although you are unjustly left with the challenging and sometimes painful task of recovering from your injuries, you do have the right to seek the financial compensation you need and deserve. Types of damages you may be entitled to recover after a Toledo, Ohio car accident include but are not limited to:
Medical expenses
Costs for future medical care
Rehabilitation costs
Lost wages
Lost earning capacity
Cost to repair or replace your vehicle
Other property damage
Pain and suffering
Emotional trauma
Disability
Disfigurement
Loss of enjoyment
Loss of consortium
Our car accident personal injury attorneys will work with our assembled team of medical and financial experts to identify all past, present, and future losses, and assign a full and fair value of damages. Armored with this vital information allows us to fight for maximum financial compensation on your behalf.
Comparative Negligence in Ohio
Many injured victims mistakenly think they aren't entitled to compensation because they played a role in their car accident. In Ohio, this is not the case. Ohio is what is known as a "comparative negligence" state. What this means is our state's laws allow a person who is partially at fault for an accident to still recover damages, though the damages will be reduced by their percentage of fault. This law applies to any injured party as long as their percentage of fault is at or under 50%.
In simpler terms, this means that if you are found to be 30% at fault for the accident that caused your injuries, you can still seek compensation from other at-fault parties. However, the amount of damages will be reduced by 30%. For example, if you were awarded $100,000 in damages, that amount would be reduced by 30%, resulting in a final award of $70,000.
Injured Victims Have a Limited Amount of Time to File an Ohio Car Accident Injury Lawsuit
Every U.S. state sets the amount of time an individual has to file a personal injury claim. This time limit or deadline is known as a "statute of limitations."
In the state of Ohio, car accident injury victims have two years from when the accident took place to file a lawsuit against the responsible parties for damages they incurred. Past that point in time, your case will likely get thrown out of court, denying you the chance of recovering your rightful compensation.
Although Ohio gives individuals two years, it is never recommended to wait to begin your pursuit of compensation. There are several reasons for acting quickly after a car accident. First, you need to give your attorney ample time to adequately prepare your case. Acting quickly also shows the responsible party and their insurance company that you are taking this action seriously, which generally strengthens your position in the case. Lastly, delaying the process will often result in the deterioration of evidence. Material evidence may get lost or destroyed, and the memories of your eyewitnesses may begin to fade.
Suppose you sustained injuries and want to seek compensation for your losses. In that case, we strongly recommend acting as quickly as possible and seeking the services of one of our experienced car accident lawyers immediately.
Frequently Asked Questions About Car Accident Cases
+
After a car accident, you are not required to hire a lawyer. However, it is best to keep in mind that an insurance company will typically try to pay out as little as possible on your claim. To ensure the best outcome, it is always best to have an experienced car accident injury lawyer on your side – one who understands insurance companies' tactics and will fight for your rightful compensation.
+
If the other insurance company is trying to get a hold of you or asking you for a recorded or written statement, it is in your best interest not to say anything. They will likely attempt to use what you say against you to either deny the claim or minimize the payout. We highly recommend referring all calls from the insurance company to your lawyer.
+
It depends on whether the driver was working at the time of the accident. If they had the Uber or Lyft app off at the time, the driver's insurance company would be responsible for your damages. If the app was turned on and they were waiting to pick up or in the process of transporting a passenger, then both the driver's insurance and Uber or Lyft's contingent liability coverage can be accessed.
Consult with a Car Accident Lawyer in Toledo, Ohio
Suffering serious injuries in a car accident can forever change your life. However, if the accident was not your fault, you have the right to seek compensation for your losses under Ohio law. At Slater & Zurz, we use the full extent of our knowledge and resources to bring justice to injured victims and their loved ones. If another driver acted negligently and caused your or your loved one's injuries, we will fight diligently to hold them responsible. If you were injured in an auto accident, lost a loved one in a fatal crash, and want to learn more about your legal options, we welcome you to call our office to arrange a FREE, no-obligation consultation. One of our Toledo personal injury lawyers will thoughtfully listen to your story, explain your rights, and discuss your available options. You can reach our trusted legal team 24 hours a day, 7 days a week, by calling (419) 658-7171 or filling out our simple online form.
Articles to help you with your Car Accident & Injury Claims