Akron Burn Injury Lawyer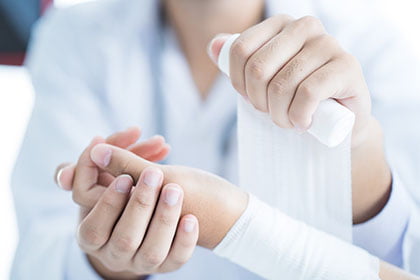 Burn injuries are some of the most painful, life-altering, and devastating injuries an individual can sustain. For more severe burns, a victim can suffer from significant scarring and permanent disfigurement. These injuries can require multiple surgeries and long-term rehabilitation. Burns not only affect a person physically but also cause considerable emotional trauma and can forever change their quality of life.
If you or a loved one suffered burn injuries as a result of a defective product or someone's negligent actions, you have the right to pursue compensation under Ohio law. At Slater & Zurz, we understand how devastating burn injuries can be. For this reason, we utilize all of our skills and resources to secure justice for our clients. We fight aggressively to hold the at-fault party accountable for their careless acts and obtain maximum recovery for burn victims in Akron and across the state of Ohio.
We welcome you to call our office today to learn more about how you can seek damages in a burn injury lawsuit. Our consultations are free, and there is absolutely no obligation.
Burn Injury Statistics
Burn injuries involve severe damage to the skin, causing the skin cells in the affected area to die. Most burn injury victims recover from their injuries; however, some burns can lead to severe injury and death. Below are some alarming statistics involving burn injuries in the United States.
According to the American Burn Association, approximately 10,000 Americans die from burn and smoke inhalation injuries each year.
Approximately 50,000 Americans are hospitalized annually for burn injuries.
Of these injuries, 43% are direct fire or flame-related, and around 35% involve scalding injuries.
72% of burn injuries happen in or near the victim's home, 9% take place at work, 5% occur on roadways, and 5% result from sporting or recreational events.
Levels of Burn Injuries
Burn injuries are classified into three main categories; first, second, and third-degree. Each degree is based on the severity of the damage. First-degree is the most minor of the three, with third-degree burns being the most severe.
First-degree burns
Also called "superficial burns," most first-degree burns involve sunburns or scalds. Although they can be very painful, they only affect the outer layer of the victim's skin. First-degree burns can heal in a matter of a few days to a week. Applying a cold cloth or cold water is often enough to treat the burn. Creams and lotions may also be applied to the affected area to aid in the healing process.
Second-degree burns
Also referred to as "partial-thickness burns," second-degree burns affect both the outer and middle layers of the skin. The burn area appears red and blistered and can be painful and swollen. The healing time for second-degree burns is typically a few weeks to a month. Treatment includes antibiotic ointments, dressing changes a few times a day, daily cleaning of the affected area, and possible systemic antibiotics.
Third-degree burns
A third-degree burn is the most severe level and completely destroys both layers of the skin, with damage extending into the underlying tissues. Commonly referred to as "full-thickness burns," treatment for this burn level often includes IV fluids, IV antibiotics, surgery to remove the dead tissue, and skin grafts. Healing time can range from a few weeks to several months.
Some Common Causes of Akron Burn Injuries
Burn injuries have severe physical and emotional consequences. Though sadly, most of these incidents are preventable. If you or a loved one sustained burns as a result of any of the following circumstances, you may be entitled to seek compensation in an Akron burn injury lawsuit:
Construction or workplace accident
Car, truck, or motorcycle accident
An incident involving a defective product
Nursing home abuse or neglect
Daycare accident
Structural fire (premises liability)
Improperly installed or maintained gas lines
Chemical spill
Defective wiring
Recovering Damages in an Akron Burn Accident Lawsuit
If a person or entity's negligence caused your burn injuries, you can seek compensation from the responsible party. Your recoverable damages will depend on the nature and extent of your injuries and the circumstances surrounding your accident. The compensation that may be available to you includes:
Economic Damages
Damages that are measurable and reimburse you for your monetary losses include medical expenses, rehabilitative care, lost wages and earning capacity, property damage, assistive care, and long-term or residential care.
Non-economic Damages
Damages that financially compensate a victim for intangibles include pain and suffering, emotional distress, disability, disfigurement, loss of companionship, and loss of enjoyment.
Punitive Damages
Although awarded in only a small percentage of cases, punitive damages aim to punish the wrongdoer for their actions. They are also intended to set an example, keeping others from acting in a similar manner. These damages are paid in addition to the economic and non-economic damages awarded to the injured victim.
No two burn injury cases are the same. To get a better idea of the amount of your entitled compensation, we recommend speaking to one of our qualified burn injury attorneys in Akron. You can discuss in greater detail the circumstances of your case, the nature, and extent of your injuries, and learn what damages may be available.
Proving Negligence in Ohio
In any burn injury or other personal injury case, Ohio law places the burden on the injured victim to prove negligence on the defendant's part. With over 100 years of combined experience, our Akron burn injury attorneys at Slater & Zurz know how to gather all necessary evidence to prove negligence in these cases. We compile proof by reviewing medical records, reading accident reports, interviewing witnesses, and hiring accident reconstructionists to show the other party's critical role in the accident that caused your injuries.
Four elements must be proven to show negligence:
Duty of care – The other party owed you a duty of care, meaning they should have acted or not acted in such a way as to prevent harm or injury.
Breach of duty – The defendant failed to exercise a reasonable level of caution and care.
Causation – Their failure to exercise reasonable care directly caused you harm or injury.
Damages – You suffered losses as a result of your injuries.
Frequently Asked Questions About Burn Injuries
+
Probably not. 95% of all burn injury and other personal injury cases are resolved before the court. Some factors may increase the chance of your case going to trial. If there is a dispute over fault or your damages are substantial, your case may need to be resolved at trial. However, our attorneys make every effort to reach a fair settlement before taking the matter to court.
+
It is always best to consult with an attorney. Given the seriousness of burn injuries, you shouldn't attempt to resolve your case without the help of a lawyer. An attorney will investigate, consult with experts, and establish fault against the responsible party. They will also ensure your past and future damages are accurately assessed so they can fight for your full and rightful compensation.
+
Any person or entity whose negligence or intentional misconduct caused harm or injury to the victim. This includes a person who purposefully started a fire, motorists, product manufacturers, construction site managers, and owners of unsafe private or public property. To hold a party liable, it must be shown they were negligent, and that the negligent act caused the victim's burn injuries.
Consult With a Burn Injury Lawyer in Akron
If you or a loved one were seriously injured in a burn accident, Slater & Zurz is the Akron personal injury law firm you can count on. For more than 30 years, we have brought justice to burn victims and their families by securing their rightful compensation.
We have held product manufacturers, negligent property owners, and employers, among others, accountable for the harm they caused. When you hire Slater & Zurz, you can rest assured, knowing your Akron burn injury case is in good hands. We are well-recognized for our relentless pursuit of justice and our unparalleled ability to secure maximum recovery. Insurance companies know we mean business and that we will not accept anything less than what our clients deserve.
To get started, contact our Akron personal injury attorneys for a FREE case review. They will review the facts of your case and identify the most effective course of action. Call (330)762-0700 or contact us online 24 hours a day, 7 days a week.