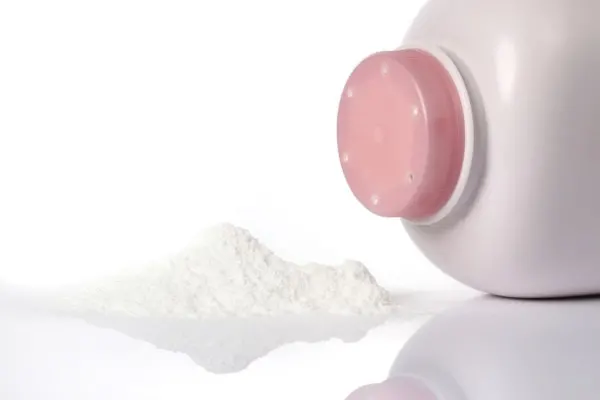 It is common for women to use talcum powder regularly for personal hygiene. But there have been suspicions in the medical community for well over 40 years that the use of talcum powder may be related to the development of cancer in the reproductive system. The concerns related to the fine particles in the talcum powder traveling through the vagina into the fallopian tubes increase the risk of ovarian cancer and fallopian tube cancer.
The possible link between ovarian cancer and talcum powder was originally discovered in a 1971 study that revealed talc particles in the ovarian tissue of cancer patients. This was the first study in which medical professionals realized women were at risk when using talcum powder on their genitals, sanitary pads, diaphragms, and condoms.
Talc particles easily made their way into the vagina and were able to travel into the reproductive organs. One study demonstrated the ability of carbon particles to travel through the vagina and into the fallopian tubes in as little as 30 minutes, leading researchers to believe the same was possible with the talc particles.
The debate raged on just how serious the risk was for developing ovarian cancer as a result of using talcum powder. Despite the original findings and subsequent studies that supported the original research, manufacturers of talc products like pharmaceutical giant Johnson & Johnson argued against the connection citing insufficient evidence.
Many women who regularly used talcum powder products have been diagnosed with ovarian cancer and some of these women have decided to take legal action against the manufacturers of these products.
Verdicts Against Johnson & Johnson
Deane Berg who is a resident of South Dakota filed a lawsuit against Johnson & Johnson claiming the company was negligent for not warning her that talcum powder could put her at risk for developing ovarian cancer. Ms. Berg used talcum powder regularly for over 30 years was diagnosed with ovarian cancer in 2006.
The jury found that Ms. Berg's use of baby powder contributed to her contracting ovarian cancer. Three doctors examined cancerous tissues from Ms. Berg and concluded that the talcum powder had caused her ovarian cancer.
In another lawsuit filed against Johnson & Johnson in Missouri, a jury awarded the family of Jacqueline Fox $72 million. Ms. Fox had used talcum powder products manufactured by Johnson & Johnson for her feminine hygiene for over 35 years. She developed ovarian cancer and died in October 2015 at the age of 62. Jurors found Johnson & Johnson liable for fraud, negligence.
Largest Jury Verdict To Date
On August 21, 2017, a jury in Los Angeles awarded a woman the largest verdict to date. The jury ordered Johnson & Johnson to pay $417 million. Eva Echeverria claimed in her lawsuit that talc in the company's baby powder product caused ovarian cancer. Ms. Echeverria used the company's baby powder daily since the 1950s and was diagnosed with ovarian cancer in 2007.
More lawsuits against Johnson & Johnson from women who developed ovarian cancer and fallopian tube cancer from using the company's talcum powder products are pending.
Have You Been Diagnosed with Ovarian or Fallopian Tube Cancer?
If you or a loved one has been diagnosed with ovarian cancer or fallopian tube cancer and used talc-based baby powder or body powder regularly over a period of time, you may be able to file a legal claim for monetary compensation against the manufacturers of these products.
Contact our Law Firm for a free consultation by calling 1-888-534-4850.