Cincinnati Burn Injury Lawyer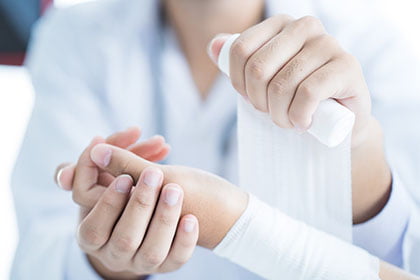 Victims of burns and other fire-related injuries can be left with physical and emotional scars that leave them struggling with life-long pain and suffering, lost wages, and staggering medical bills.
When those injuries are caused by another party, such as an employer who didn't follow proper safety procedures or a manufacturer who sold a defective product, the injured victim can seek compensation for their losses.
If you have suffered a burn injury or lost a loved one as a result of a fire or burn, contact Slater & Zurz for a FREE, no-obligation consultation. In your initial meeting, you can discuss every aspect of your situation with one of our skilled burn injury attorneys. We will then explain your legal rights and options, go over what you can expect during the process, and suggest how best to proceed with your case.
Should you choose to take legal action, we will handle your case on a contingency fee basis. That means that we will not ask you to pay any upfront or out-of-pocket fees, and we will only be paid when we successfully secure damages on your behalf.
Frequent Causes of Burn Injuries
According to the American Burn Association, almost half a million Americans suffered burn injuries annually, with 3,500 sustaining fatal injuries. There are many causes of burn injuries, some of which result from another party's intentional or negligent actions. Examples of some of the more common burn injuries include:
Negligence – If you sustained burn injuries due to someone else's negligent actions, you have the right to seek financial compensation. Negligence occurs in a variety of ways. For example, a landlord may have failed to fix or remedy a potential hazard, or someone knowingly created a dangerous situation that ultimately led to a fire.
Car Accidents – One of the leading causes of burn injuries is motor vehicle accidents, including crashes involving commercial trucks and motorcycles. If you are involved in a car accident, you can suffer burn injuries caused by the ignition of the vehicle's fuel or the car itself catching on fire.
Construction or other work-related accidents – According to the National Institutes of Health (NIH), approximately 15% of all burn injuries are work-related. If your burn injuries were caused by unsafe working conditions or faulty machinery, you may be able to seek compensation in addition to your workers compensation benefits. To find out if you are eligible, we recommend discussing the details of your accident with one of our Cincinnati burn injury attorneys.
Nursing Home Abuse and Neglect – Sadly, many nursing home residents suffer burn injuries. These injuries are often a result of unsafe conditions at the facility, the intentional acts of staff members or other residents, and improper supervision or neglect. If you or a loved one sustained burns while residing at a nursing home or a long-term care facility, you might be able to seek damages from the facility.
Compensation in a Cincinnati Burn Injury Case
The financial recovery you may be entitled to depends on several different factors. For example, the severity and location of the burn will directly affect the amount of medical treatment you will require, the amount of work you will miss, and the emotional toll your injuries will take.
Based on your injuries and the circumstances surrounding your accident, you may be able to seek some or all of the following damages:
Medical bills
The costs for future medical treatment
Rehabilitation, including physical therapy
Lost earnings
Diminished earning capacity
Property damage
Home and vehicle modifications (to accommodate your disability)
Physical pain and suffering
Emotional trauma
Mental anguish
Disability
Disfigurement
Loss of enjoyment
Loss of consortium
Wrongful death damages (if you lost a loved one to a burn injury)
Seeking Damages on Your Behalf
A key part of our winning strategy is to take the time and effort to assess the nature and extent of your damages thoroughly. Partnering with our team of medical, psychological, and financial experts, we carefully go over every aspect of your case, looking for every applicable loss, both past, and future.
We focus so intently on the available damages to ensure we fight for the maximum amount of compensation possible. We want to make sure you have the financial resources you need to heal from your injuries as fully as possible and work toward returning to the way of life you knew before your accident.
Our legal team recommends scheduling a free consultation with one of our skilled burn injury lawyers to learn more about the compensation you may be entitled to in your Cincinnati burn injury lawsuit.
What Sets Slater & Zurz Apart
At Slater & Zurz, we don't just sit back when your physical, emotional, and financial well-being is on the line. Our firm never stops fighting relentlessly on your behalf and refuses to back down to anyone.
Our Cincinnati burn injury lawyers have dedicated our careers to helping those who have been unjustly injured by the careless or intentional acts of others. With over a century of collective experience, you can rest assured that we will skillfully navigate every legal avenue on your behalf, and will do so with only your best interests in mind.
You are family at Slater & Zurz. So, when you need a relentless advocate on your side, you can count on us. And as skilled trial lawyers, we will fight aggressively in court if necessary to bring you the justice you deserve and the compensation you need to move on from this harrowing experience.
Frequently Asked Questions About Burn Injuries
Contact Us for a Free Consultation
Sustaining a burn injury can be absolutely devastating. The aftermath often includes numerous painful surgeries, rehabilitation, financial turmoil, and significant emotional suffering. Our burn injury lawyers at Slater & Zurz advocate for burn injury victims and take every available action to hold all at-fault parties liable for their reckless actions.
Insurance companies, employers, and manufacturing companies will work tirelessly to minimize payouts to burn victims seeking their rightful compensation. For this reason, if you or a loved one have suffered a burn injury, it is important to contact a Cincinnati personal injury lawyer with the experience and tenacity to take on these entities and fight for what you deserve.
When you face a long, costly road to recovery, you can count on Slater & Zurz to be there in every way we can. We understand your struggles and want to help you through this difficult time by providing skilled and aggressive legal representation and our sincere support.
When seeking full financial recovery, you need a strong ally and unwavering advocate on your side. That is why we urge you to contact our team of Cincinnati burn accident attorneys today. Call (513) 496-3331 or contact us online to arrange your FREE, no-obligation case review.