Canton Burn Injury Lawyer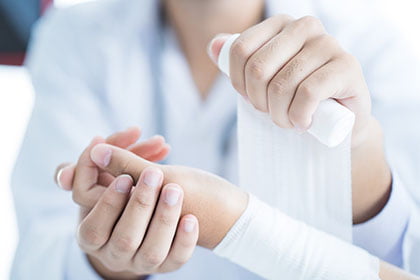 Few experiences are worse than being severely burned or losing a family member to a fatal burn injury. For most victims, such an incident results in physical, emotional, and financial setbacks that can have a devastating, lifelong impact.
If you sustained burn injuries that resulted from another party's actions or inaction, you can count on us to help you move forward and rebuild. We can help you through these tough times by offering our sincere support in addition to our unparalleled legal expertise.
For over 30 years, we have helped thousands of Ohioans secure maximum recovery. We want you to know that when everything is on the line, our Canton burn injury attorneys are here for you. We welcome you to contact our office to arrange a complimentary case review. We will discuss the many aspects of your accident and go over the options available to help you secure the largest recovery possible.
Burn Injuries in the United States
According to the American Burn Association, nearly 94% of burn victims survive their injuries. Other burn injury statistics include:
Nearly a half of a million Americans receive treatment for burn injuries each year.
Approximately 40% of victims experience burns over 10% of their body.
Nearly 30% of all fire-related deaths result from direct contact with flames
Approximately two-thirds of burn victims are left with permanent scarring and disfigurement.
Nearly 75% of all burn injuries take place at home.
68% of burn victims are male and 32% are female.
Types of Burn Injuries
Burn injuries can result in minor wounds that heal within a matter of days. But on the other end of the spectrum, these injuries can be catastrophic and leave victims with permanent disability and disfigurement. The extent of the wounds depends greatly on the cause of the injury itself. Common types of burn injuries include:
Motor vehicle accidents involving cars, trucks, and motorcycles
Bonfires or fire pits
Damaged or exposed electrical wiring
Exposure to chemicals, such as acid, bleach, cleaning supplies, and lye
Malfunctioning or poorly designed products
Hot liquids, such as coffee, tea, soup, and hot tap water
Poorly maintained or improperly used commercial equipment
Grills, gas stoves, kerosene heaters
Hazardous conditions (premises liability)
Nursing home abuse and neglect
Radiation exposure from defective medical or tanning equipment
Securing Damages in a Canton Burn Injury Case
Depending on the circumstances surrounding the accident, you may be able to receive significant compensation for your losses by filing a burn injury or wrongful death claim. Although the nature and extent of a victim's damages vary in each case, the following is a list of damages that may be available to you.
Medical costs (both past and future)
Rehabilitation expenses
Costs for in-home or residential care
Lost income
Lost earning capacity
Property loss or replacement
Physical pain and suffering
Emotional trauma
Disability
Disfigurement
Loss of enjoyment
Loss of consortium
Wrongful death damages
Maximizing Your Compensation
Our legal team has a reputation for maximizing our clients' compensation. We take a detailed look at the extent of your injuries, your past and future medical needs, the psychological toll your injuries have caused, and how your burn injuries will impact your physical, emotional, and financial future. We take the time and effort to assess every aspect of your case, so no potential opportunities for compensation are overlooked.
Ohio Statute of Limitations
In a burn injury case, you only have a certain amount of time to recover damages from the at-fault party. In Ohio, you are allowed two years from the date of the injury to commence legal action. Failing to act within those two years will likely deny you the right to pursue compensation. For this reason, we urge you to act quickly and get in contact with our skilled team of Canton, Ohio burn injury lawyers.
What to Do – And Not to Do After a Burn Injury
Burns can occur in a split second yet result in life-long consequences. Immediately following a burn accident, you might be in complete shock and considerable pain. There are, however, some steps you can take to treat your injuries and prevent further damage. Below are things the World Health Organization recommends you should do – and not do following a burn injury accident.
What to Do
Roll on the ground, apply a blanket, or douse the flames with water or fire-retardant liquids
Make sure the area is safe by switching off the electricity or removing the burn source
Remove clothing and wash the affected area to stop the burning process
Put the wound under a stream of cold water to reduce the temperature of the burn area
Wrap yourself or the burn victim in a clean sheet or cloth and call 911 or go to the nearest emergency room
What Not to Do
Do not tend to the burn victim unless the area is safe
Never apply ice to the burn as it will deepen the injury
Do not apply oil, past, or raw cotton to the wound
Avoid the prolonged application of cool water as it can lead to hypothermia
Do not put anything, such as topical medication or dressing directly on the wound until you or the victim has received the appropriate medical care
Our Canton Burn Injury Attorneys Are Here to Help
The dedicated team of attorneys at Slater & Zurz have helped victims of burn injuries in Canton, Ohio obtain a full and fair recovery for their losses. Should you choose our firm to represent you in your burn injury case, you can count on receiving not only the highest level of legal representation but our support and guidance throughout the entire legal process – and after your case is resolved.
We treat our clients like family and fight aggressively to represent their best interests both in and out of court. We highly value communication and ensure we are readily available to answer your questions and keep you updated with any developments in your case. We utilize all of our professional and financial resources to build a compelling case and compile an abundance of evidence that proves who and what is responsible for your injuries and the true source and amount of your damages. With so much on the line, you need a legal team who will fight for your rights and stop at nothing to secure justice – you need Slater & Zurz.
Frequently Asked Questions About Burn Injuries
+
Burns sustained from a product, such as a heating pad, or items with heating or chemical components, are sadly a common occurrence. The unnecessary long-term suffering of these burns is usually caused by a design defect, improper instructions, or manufacturing issues. Consulting with a burn injury lawyer in Canton can help you decide whether to pursue legal action based on your particular situation.
+
When a loved one's death results from burns caused by another party, you can seek compensation in a wrongful death lawsuit. If your loved one succumbed to their burn injuries, we urge you to speak to a qualified wrongful death lawyer. Whether the injuries were caused by an auto accident, work injury, or defective product, an attorney can help fight for justice on behalf of you and your loved one.
+
It depends. Your landlord might be liable for your burn injuries and associated losses in certain situations. Landlords are often responsible for an injured victim's damages when they fail to :
Install smoke alarms
Keep escape routes clear
Maintain fire escapes
Install fireproof doors
Ensure electrical wiring is safe
Experienced and Dedicated Burn Injury Lawyers in Canton, Ohio
Our Canton personal injury lawyers have seen first-hand the devastating impact burn injuries can cause. We know the struggles you and your family face during the healing process, both physically and financially. That is why we fight so hard to get you the compensation you are entitled to.
At Slater & Zurz, we are continually guided by our desire to help injured victims during the aftermath of their accidents. We are relentless in our pursuit of justice and go after those who are responsible for serious wrongdoing. We are known as one of Ohio's premier personal injury law firms because of our steadfast commitment to our clients and our refusal to back down from fighting to secure the compensation they so rightfully deserve. Let us put our extensive skills and unparalleled diligence to work for you. Contact us to arrange your FREE, no-obligation case review to learn more about your legal options following a burn injury. You can reach our Canton, Ohio burn injury law firm 24 hours a day, 7 days a week, by calling (330) 968-2547 or filling out our simple online form.