Columbus Burn Injury Lawyer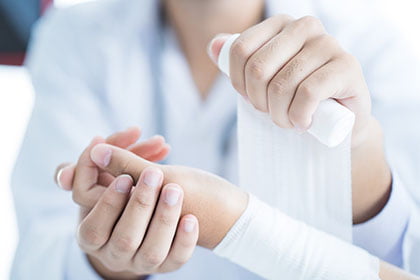 A burn injury can change your entire life in a matter of moments. Although mild burns can heal quickly, more severe burns, such as third and fourth-degree burns can require long-term hospitalization, skin grafting surgeries, and rehabilitation. You may also need extensive psychological counseling to overcome the mental and emotional toll your burn injury has caused.
According to the NFPA, nearly half of all fire-related accidents are preventable. If you suffered a burn injury or lost a loved one in a fire-related accident that was caused by another party's negligence or intentional wrongdoing, you might have the right to seek compensation.
Determining who was at fault in a burn injury case can be challenging and require extensive investigation. It is critical to turn to a trusted team of burn injury attorneys in Columbus to ensure the at-fault party is identified and held responsible for their actions. Contact Slater & Zurz today to discuss your legal options with a skilled lawyer during your free, no-obligation case review.
The Most Frequent Sources of Burns
According to the American Burn Association, approximately 500,000 people seek treatment for burns annually in the U.S., with nearly 6% of those victims succumbing to those injuries.
From our over 30 years of experience handling Ohio burn injury cases, we can say that a severe burn injury is perhaps one of the most devastating injuries one can suffer.
Medical professionals categorize burn injuries into four categories or "degrees." First degrees are the most minor, requiring only minimal, at-home treatment. Second-degree burns usually require a little more time and attention to heal but will likely not cause permanent damage. However, the victim will likely need extensive medical treatment, including skin grafting surgeries and hospitalization after sustaining third and fourth-degree burns.
Below are some of the most common sources of burn injuries in the United States, according to the ABA:
Direct contact with flames – Fire or flame causes 46% of burn injuries.
Scalding – Extremely hot liquids, such as hot bath water, spilled coffee, and steam, can lead to scalding injuries, which make up 32% of all burns.
Thermal burns – Approximately 8% of burns are caused by direct contact with very hot objects, such as ovens and irons.
Electricity – Contact with electricity, often due to faulty wiring or hazardous working conditions, cause approximately 4% of all burn injuries.
Chemicals – Burns caused by hazardous chemicals, such as bleach, ammonia, and battery acid, make up about 3% of all burn injuries.
Inhalation, sunburns, fireworks, and other causes account for the remaining 7% of injuries.
Car Accidents
Many burn victims suffer burn injuries as a result of motor vehicle accidents, such as car, truck, and motorcycle crashes. Burn injuries are typically caused by flames when the vehicle's fuel ignites or friction burns from coming in contact with the concrete or asphalt.
Construction Accidents
Construction and other serious workplace accidents often fire, explosions, and electrocution. However, the most common type of work-related burn injury results from thermal burns caused by scalding pipes, extremely hot water, and steam. Unsafe working conditions and defective equipment are often to blame for these accidents. In some cases, a victim might be entitled to financial compensation in addition to their workers' compensation benefits.
Building Fires
Building fires result from a wide variety of sources. Lightning strikes, faulty electrical wiring, and defective household products are common sources of fires in apartments, condominiums, houses, hotels, and nursing homes. Depending on the circumstances of the fire, the building owner or management company might be liable for the victim's damages if their negligent actions led to the incident.
Defective Products
One of the main sources of burn injuries is dangerous or faulty products. Examples include:
Heaters and humidifiers
Electric blankets
Kitchen appliances
Batteries or battery-related products
E-cigarettes or vaping devices
Camping equipment
Flammable clothing
Hairdryers and curling irons
Household chemicals
If these products were poorly made or did not come with the proper warnings, the product manufacturer would likely be responsible for the burn injury victim's losses.
Compensation in a Columbus Burn Injury Case
Burn injuries can not only have devastating effects on your physical and emotional health but can wreak havoc on your finances. The costs to treat burns and cope with their aftermath can be tens – even hundreds of thousands of dollars.
Fortunately, if you or your loved one's injuries were someone else's fault, you have the right to seek compensation under Ohio law. Although the amount and type of compensation available vary based on each case's specifics, you may be entitled to the following:
Hospital bills
Prescriptions
Other medical expenses
Rehabilitation
Property repair or replacement
Lost wages
Lost earning capacity
Assistive care
Physical pain and suffering
Emotional trauma
Disability
Disfigurement
Loss of enjoyment
Wrongful death damages
It is important to keep in mind that there is a time limit for taking legal action in a Cleveland burn injury case. Per ORC 2305.10, you only have two years from the date of the accident to commence legal action. If you fail to act within that two-year time frame, you will likely forever be denied the right to seek damages from the at-fault party. For this reason, we recommend arranging a FREE consultation with one of our burn injury lawyers right away.
Burn Injury Resources
As burn victim advocates, Slater & Zurz is committed to providing the tools victims need to heal from – and cope with their injuries. Several national foundations offer resources to those impacted by burns and other fire-related accidents. Many also work to stop future burn injuries by teaching fire safety and prevention. These foundations include:
The American Burn Association
The Centers for Disease Control and Prevention
The Children's Burn Foundation
The National Fire Protection Association
The U.S. Fire Administration
The U.S. Consumer Product Safety Commission
If you need any assistance in getting the resources you need or want to learn more about fire prevention, please reach out to our Columbus, Ohio burn injury firm by calling (614) 756-2714.
The Slater & Zurz Difference
Not all law firms are the same. Unlike many burn injury law firms in Ohio, we treat our clients like family and stop at nothing to get them the justice they deserve.
Our experienced injury attorneys have seen first-hand the devastating effects serious burn injuries cause. We understand they can turn your life upside-down and forever change your – and your family's future. That is why we fight so hard to right the wrong you have experienced and get you the financial recovery needed to fully compensate you for all of your past and future losses.
At Slater & Zurz, we understand the importance of communication. Especially during this difficult time, you need to know the latest developments in your case. But you also need someone you can talk to – an ally and a confidant. Someone who can answer your questions, address your concerns, and be there during those challenging moments. That is why we work hard to make ourselves readily available to you and be there whenever you need us. That is the Slater & Zurz difference.
Experienced Burn Injury Lawyers in Columbus, Ohio
After sustaining serious burn injuries in a car accident, workplace accident, or after using a defective product, you need expert legal representation from a skilled Columbus injury attorney.
At Slater & Zurz, our team of qualified attorneys has assisted burn injury and other injured victims in recovering maximum compensation from the at-fault parties for over four decades. Burn accident cases can be challenging, so the experience is critical.
Our legal team knows how to fully investigate the circumstances surrounding your burn accident, locate and compile compelling evidence, and accurately assess the full extent of your past and future losses. We will skillfully negotiate for maximum recovery outside of the courtroom; however, we will not hesitate to advocate aggressively on your behalf at trial if negotiations don't result in fair compensation.
We welcome you to contact our Columbus personal injury lawyer today to learn more about your legal options during a FREE, no-obligation consultation. You can reach us at (614) 756-2714 or contact us online. We are here for you, 24 hours a day, 7 days a week.