Toledo Burn Injury Lawyer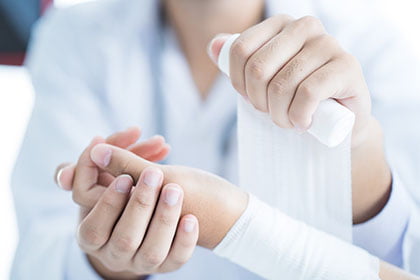 Victims of burns and other fire-related injuries often suffer extraordinary physical and emotional trauma, leaving them and their families with monumental medical expenses along with months, years, and even permanent loss of income.
Burn injuries can drastically change your life in nearly every way. But if someone else caused the accident that left you or your loved one with severe burn injuries, you have the right to seek damages under Ohio law.
For over four decades, the Toledo, Ohio, burn injury lawyers at Slater & Zurz have fought relentlessly to recover damages on behalf of injured victims and their families. We use all of our available resources to secure your much-needed and much-deserved compensation, giving you the means to recover physically, emotionally, and financially from your devastating accident.
When experience and dedication matter, call our experienced team of burn accident attorneys. We will go over the circumstances that led to your injuries, explain your legal rights, and go over all available legal options in securing your rightful compensation.
Types of Burn Injury Cases
Burn injuries can stem from a wide variety of circumstances, with many resulting from another person or entity's negligent actions. In these cases, you have the right to seek compensation for your losses. Some common burn injury cases involve the following:
Building fires, including apartment, hotel, and house fires
Workplace and construction site accidents
Car, truck, and motorcycle accidents
Tanker explosions
Fires at restaurants, retail stores, and nightclubs
Electrical wiring fires
Locked or blocked fire exits
Defective or dangerous products
Scalding pipes or water
Nursing home abuse
Tanning beds
Hazardous chemicals, such as bleach, gasoline, and strong acids
Radiation burns from x-rays or radiation therapy
The Four Degrees of Burn Injuries
Doctors classify burns into four different categories, depending on the extent of the burn itself.
First-degree – The most minor of the four degrees, first-degree burns only affect the top layer of the skin. Although they can be red and painful, they typically heal within a few days and don't leave any permanent scarring.
Second-degree – Also referred to as "partial-thickness burns," second-degree burns affect the first and second layers of skin. They take longer, typically up to a month to heal, usually have blisters, and can appear shiny.
Third-degree – These burns are deep and severe, completely damaging the skin. Third-degree burns require immediate medical attention and may result in skin grafting surgeries and permanent scarring.
Fourth-degree – The most severe level of burns, fourth-degree burns completely destroy the nerves, along with the skin and tissue. They can also destroy the muscles and tendons even reaching the bone. Skin grafting and extensive rehabilitation are typically needed. Permanent scarring and disfigurement generally result from sustaining fourth-degree burns.
Complications Resulting From Burns
Although first and second-degree burns typically heal with few, if any, possible issues, victims run the risk of developing serious complications when they suffer more severe third and fourth-degree burns. According to the Mayo Clinic, these complications include:
Shock
After a severe injury, such as a burn, a victim can go into shock, a life-threatening condition that results from an insufficient supply of oxygen within the body. Signs of shock include:
Rapid pulse
Cold, clammy skin
Pale skin
Yawning
Shallow, rapid breathing
Loss of consciousness
Heat Exhaustion
When a victim's body temperature rises to over 106°, they are at extreme risk of permanent disability and death if they don't receive medical treatment right away. Symptoms of heat stroke and heat exhaustion include:
Confusion
Slurred speech
Altered mental state
Seizures
Hot, dry skin or excessive sweating
Loss of consciousness
Infection
Burns and other wounds can easily become infected when bacteria is present. Signs of infection include:
Increased pain
Redness
Swelling
Foul odor
The victim has a temperature of over 100.4°
In rare cases, when an infection goes untreated, it can lead to sepsis or toxic shock syndrome, which can both have fatal consequences.
Scarring
According to the American Academy of Dermatology, a scar is a permanent patch of fibrous tissue. Scarring is the body's way of healing and replacing lost or damaged skin and tissue. Most will fade over time, but more extensive scarring can be permanent. Keloids, which are thick raised scars, are caused by the overgrowth of scar tissue and can take weeks or even months to develop.
Other complications that can accompany burn injuries include:
Fluid loss, including hypovolemia (low blood volume)
Hypothermia (dangerously low body temperature)
Difficulty breathing due to the inhalation of smoke or hot air
Tightening or shortening of the muscles, tendons, and skin
Bone and joint problems
Seeking Damages in an Ohio Burn Injury Lawsuit
When seeking damages in a burn injury case, the amount of compensation you can recover will depend on several factors, namely the severity and nature of your injuries and whether you were partially responsible for the accident.
Given the circumstances of your case, you may be entitled to any of the following damages:
Medical bills
Costs for future medical care
Rehabilitation therapy
Assistive care
Lost income
Lost earning capacity
Property damage
Physical pain and suffering
Mental anguish
Emotional trauma
Disability
Disfigurement
Lost quality of life
Wrongful death damages
The healing process can be extraordinarily lengthy following a severe injury, such as a burn. That is why our Toledo burn injury attorneys take the time to carefully assess any and all future needs, working closely with a team of medical, psychological, and financial experts to ensure you receive all of the much-needed and deserved compensation.
Ohio is a comparative negligence state. So, if you played a part in the accident that caused your injuries, you still have the right to seek damages as long as you were not more than 50% responsible. However, your portion of the responsibility will reduce the compensation you are awarded. For instance, if you awarded $100,000, but you were 20% at fault, you will ultimately receive $80,000 in damages.
No Recovery, No Fee
We understand the financial strain a burn injury can cause. For this reason, our Toledo burn injury attorneys handle burn accident cases on a contingency fee basis. This arrangement allows you to get skilled legal representation without having to pay anything out-of-pocket. If we win your case and secure damages on your behalf, our fees will be paid solely by using a portion of your award or settlement. Therefore, you have no risk in seeking financial compensation for your losses.
Call Slater & Zurz today for a FREE consultation. (419) 658-7171
+
It depends on the circumstances of your accident. If the product's design, manufacture, or marketing failed to uphold the proper level of care and posed a risk to you as a consumer, they may be responsible for your injuries and associated losses. If you were using the product in a manner in which it was not intended, they would likely not be liable. We recommend speaking to a lawyer to learn more.
+
If your skin is red and void of any blisters, you likely have a first-degree burn. You have sustained a second-degree burn if the skin has blisters and has thickened. If your burn looks leathery, dry, and dark red, it might be a third-degree burn. Lastly, if your burn is not painful and appears white or charred and you can see muscle or bone, you have suffered a fourth-degree burn.
+
Determining the source of a fire or burn injury can be a difficult task. It typically requires an in-depth investigation by medical and forensic experts. Because these cases can be challenging, it is best to have a Toledo, Ohio burn injury attorney to ensure the proper investigations are done to determine the source; and ultimately the party responsible for your burn injury accident.
Toledo, Ohio's Top Burn Injury Lawyers
If you or a loved one suffered severe burn injuries, you need experience and tenacity on your side. At Slater & Zurz, our Toledo personal injury lawyers are relentless in our pursuit of justice and fight diligently on behalf of injured victims and their family members.
We know just how devastating these injuries can be. They can turn your life – and your family's lives upside-down, leaving you struggling to heal physically from your burns and recover from your financial losses.
But if the actions of another party, such as a negligent building owner or product manufacturer, led to the accident that caused your burns, you might be able to seek compensation from the responsible party. We recommend speaking with one of our burn injury lawyers in Toledo to learn more about your legal options and what you can expect when pursuing damages in a burn injury accident claim. You can reach us anytime, day or night, by calling (419) 658-7171 or contacting us online.