Dayton Motorcycle Accident Lawyers: Slater & Zurz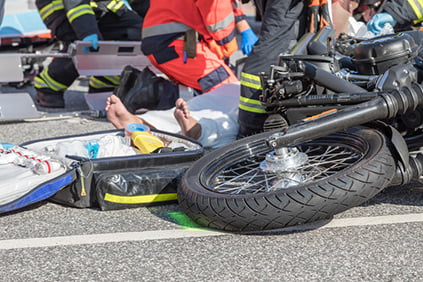 Motorcycle accidents can be life-changing, leaving victims with severe injuries and mounting medical expenses. If you've been involved in a motorcycle accident in Dayton, Ohio, it's essential to seek the help of an experienced Dayton motorcycle accident lawyer to ensure you receive the compensation you're entitled to.
At Slater & Zurz, our team of skilled personal injury attorneys has a proven track record of helping clients recover the maximum compensation for their losses. We understand the devastating impact motorcycle accidents can have on victims and their families, and we're here to provide the support and legal representation you need.
Why Choose Slater & Zurz as Your Dayton Motorcycle Accident Lawyer
With over 31 years of experience in personal injury law, Slater & Zurz has established itself as a leading law firm in Dayton, Ohio. Our team of attorneys has successfully represented thousands of clients and has recovered millions of dollars in compensation. Here are just a few reasons why you should choose Slater & Zurz as your Dayton motorcycle accident lawyer:
Proven Track Record: Our firm has a history of winning cases and obtaining substantial compensation for our clients. We're not afraid to take on insurance companies and fight for what you deserve.
Comprehensive Legal Expertise: Our attorneys have extensive knowledge of Ohio personal injury law, which allows us to build a strong case for your motorcycle accident claim.
Personalized Attention: At Slater & Zurz, we believe in providing personalized service to our clients. We take the time to understand your unique situation and develop a tailored legal strategy to maximize your compensation.
No Fees Unless We Win: We work on a contingency fee basis, which means you don't pay any legal fees unless we win your case.
Understanding Motorcycle Accident Claims in Dayton, Ohio
Motorcycle accidents often result in severe injuries, including broken bones, traumatic brain injuries, and spinal cord injuries. These injuries can lead to long-term physical and emotional pain, as well as financial strain, due to medical bills and lost wages. When you hire a Dayton motorcycle accident lawyer from Slater & Zurz, we'll work diligently to investigate the circumstances of your accident, gather evidence, and build a strong case to seek compensation for your losses.
In Ohio, motorcycle accident claims are typically based on the principle of negligence. To establish negligence, we'll need to prove the following:
Duty of Care: The at-fault party (usually another driver) owed you a duty of care to act responsibly and avoid causing harm.
Breach of Duty: The at-fault party breached this duty of care by acting negligently or recklessly.
Causation: The at-fault party's actions directly caused your injuries.
Damages: You suffered damages, such as medical expenses, lost wages, pain, and suffering, or property damage.
The Statute of Limitations for Motorcycle Accident Claims in Ohio
It's important to note that Ohio has a strict time limit for filing personal injury claims, known as the statute of limitations. In most cases, you have two years from the date of the accident to file your claim. If you fail to file within this time frame, you may lose your right to pursue compensation. A Dayton motorcycle accident lawyer from Slater & Zurz can help ensure you meet all necessary deadlines and navigate the complex legal process.
Your Next Steps…
Don't let a motorcycle accident define your future. Reach out to Slater & Zurz, your trusted Dayton motorcycle accident lawyer, for a free consultation to discuss your case and explore your legal options. Our experienced attorneys are dedicated to helping you get the compensation you deserve, so you can focus on your recovery and move forward with your life. Call us today at (937)752-5605 or complete our online contact form to schedule your free, no-obligation consultation.
Frequently Asked Questions
+
After a motorcycle accident, prioritize your safety and health. Call 911 if you or anyone else involved has been injured. Exchange information with the other driver, including their name, contact information, and insurance details. Take photos of the scene, including damage to your motorcycle and any visible injuries.
Do not admit fault or discuss the accident with the other party. It's crucial to seek medical attention, even if you feel fine, as some injuries may not be immediately apparent. Finally, contact a Dayton motorcycle accident lawyer from Slater & Zurz to discuss your legal options.
+
The value of your claim depends on the extent of your injuries, the cost of medical treatment, lost wages, property damage, and other factors unique to your case. Our experienced attorneys will thoroughly assess your situation and pursue the maximum compensation you deserve.
+
The length of time it takes to resolve your case depends on various factors, including the complexity of your claim and the willingness of the at-fault party's insurance company to negotiate a fair settlement. Some cases can be resolved quickly, while others may take months or even years. Rest assured; our attorneys will work diligently to achieve the best possible outcome for your case.
+
Ohio follows a comparative negligence rule, which means you can still recover compensation even if you were partially at fault for the accident. However, your recovery will be reduced by the percentage of fault assigned to you. For example, if you were 20% at fault and your damages are $100,000, you can recover up to $80,000. If you are found to be more than 50% at fault, you won't be able to recover any compensation.