Cleveland Car Accident Lawyer
Are you feeling overwhelmed after a car accident and need legal representation? Look no further than Slater & Zurz, Cleveland's premier car accident lawyers. We understand how difficult it can be to navigate the legal system while dealing with injuries or losing a loved one, which is why we're here to fight for your rights and get you the compensation you deserve.
With over 30 years of experience, we've helped countless clients recover millions of dollars in settlements. We know firsthand the struggles that come with car accident cases, and we're here to make the process as smooth as possible for you.
At Slater & Zurz, we offer a free consultation to discuss your case and give you honest feedback about your potential claims. Plus, we work on a contingency fee basis, so you won't have to worry about paying any out-of-pocket fees. We only get paid if we recover damages for you.
If you or a loved one has been injured in a car accident, take action now and contact us. Our dedicated team of lawyers is ready to fight for your justice and help you get the compensation you deserve.
Common Types of Car Accident Injuries
Car accidents can result in serious, even fatal, injuries. Some of the most common injuries sustained in a car crash include the following:
Lacerations – Broken glass, loose objects, and vehicle parts often cause lacerations or cuts. Although many cuts are minor, more severe cuts can cause considerable blood loss and damage to internal organs. If the injury is not treated right away, it can lead to serious issues, even death.
Burns – When a vehicle catches on fire or a part of the body comes in close contact with a hot surface or chemicals, the victim can suffer burns. More severe burns may require skin grafting and surgery.
Soft Tissue Damage – Damage to muscles, ligaments, and tendons can lead to serious, sometimes permanent, injuries. A common example of a soft tissue injury is whiplash, caused by a vigorous back-and-forth motion in the neck. Whiplash can result in severe, lingering pain for the injured victim.
Fractured and broken bones – The significant impact caused by a collision often results in fractured or broken bones in the legs, arms, chest, and pelvis.
Loss of limb or amputation – Car crashes are the leading cause of trauma-related amputations. In a collision, a victim's hands, feet, or limbs can become so severely damaged that the finger, toe, or limb cannot be saved and must be surgically removed. There are also times when the appendage is crushed or severed during the accident.
Traumatic Brain Injuries – A TBI is an injury to the brain caused by a strong blow or jolt to the head. The initial impact causes the brain to collide with the skull, damaging a portion of the brain. The brain often continues to swell and push against the skull, reducing blood flow. The lack of blood flow to the brain can cause severe, sometimes permanent, brain damage.
Ohio's Driving While Texting Laws
Distracted driving is one of the leading causes of car accidents in the U.S. According to the NHTSA, more than 3,000 deaths occur each year as a result of a distracted driver. One of the most common ways a driver becomes distracted is by using their cell phone. To address this danger, many states, including Ohio, have enacted cell phone usage laws.
Under Ohio Revised Code 4511.204, it is illegal to drive while using a cell phone for text-based communication. It is, however, legal to use hands-free or voice-operated features while driving. In addition, motorists under the age of 18 are banned from cell phone usage while driving.
Take Action after a Cleveland Car Accident
The steps you take after a car crash will greatly impact the outcome of your car accident claim. To maximize your chances of obtaining full compensation for your injuries, take the following actions right away:
Seek immediate medical care – After a car accident, you may not think you have been badly injured, but some injuries do not show up until much later. It is always best to receive a thorough medical examination to identify and addressing any injuries.
Call the police – After being involved in any car accident, it is essential to obtain an official report of the incident. Call the police, provide them with accurate information about the accident, and get a copy of the police report for your records.
Document the scene – Immediately after the accident, obtain evidence from the scene, including witness statements and photos and video of the accident scene, the vehicles involved, and your injuries. It is also a good idea to write down details of what happened before, during, and after the accident. These details may be crucial in proving your claim.
Speak with a Cleveland car accident lawyer – An essential step to take after a crash is to speak with a knowledgeable car accident attorney right away, especially before speaking with the insurance company. A skilled lawyer will handle all communication with the insurance adjuster to ensure nothing you say or do can be used against you at a later time.
Don't Wait to File Your Cleveland Car Accident Claim
Under Ohio Revised Code Section 2305.1, you have two years from the date of your injury to file a car accident injury claim. If you don't file a claim within this time frame, you may not be able to receive compensation. Filing a claim soon after your injuries will help you obtain the maximum compensation.
Frequently Asked Questions
+
Ohio is a comparative negligence state. This means that if you are partially at fault for the accident, you can still recover damages – as long as your portion of the fault is 50% or less. However, your settlement will be reduced by your percentage of fault. For example, if you were awarded $100,000, but you were found to be 30% at fault, your final award would be $70,000.
+
In any personal injury claim, the term "damages" refers to the number of losses caused by the at-fault driver's actions. Damages fall into two categories: compensatory and punitive. Compensatory damages compensate the victim for any injuries or damages they suffered as a result of the accident. Punitive damages, however, are awarded to the victim solely to punish the at-fault party. They are typically only pursued in the most severe cases.
+
In Ohio, drivers are required to carry a certain amount of auto insurance coverage to legally operate a motor vehicle. The minimum state requirements are as follows:
Bodily injury liability coverage – $25,000 per person and $50,000 per accident
Property damage liability coverage – $25,000 per accident
+
Absolutely. Insurance companies often try to assert the injured person can work, so they can pay less on the claim. It is essential to have documentation from your doctor showing you are unable to work for a certain period of time due to your injuries. Our attorneys work closely with employers and doctors to prove your inability to work and to accurately show the amount of your past, present, and future lost wages.
+
Evidence is essential in receiving the maximum compensation possible. Proving the following elements is critical in any car accident case:
Who was at fault for the accident
The accident caused your injuries
The nature and extent of your injuries
Our skilled attorneys will work with a team of experts, medical professionals, and others to build a strong case seeking maximum compensation for your injuries.
Download Our Free Personal injury Guide
This personal injury guide contains information about the personal injury lawsuit process and answers many questions about filing your injury case.
Personal Injury Lawsuit Guide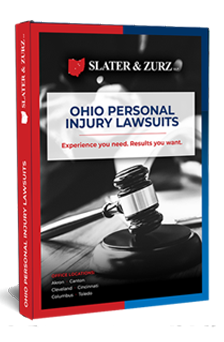 A Cleveland Car Accident Lawyer Can Help
Our dedicated legal team has helped thousands of Ohioans obtain much-needed compensation for their injuries. Our Cleveland car accident lawyers will file your claim, deal with the insurance companies, accurately calculate your current and future damages, negotiate on your behalf, and represent you in court, if necessary. We will take over the task of fighting for the compensation you are entitled to so you can focus on getting better.
Consult with our qualified and capable Cleveland injury lawyer today. Doing so can ensure you recover the compensation you need to heal from your injuries and pay for your expenses. To get started on your auto accident claim, contact the dedicated legal team at Slater & Zurz today.