Hair Relaxer Cancer Lawsuit: Standing up for Victims
At Slater & Zurz, we have made it our mission to stand with those affected by the physical and emotional upheaval that arises from health complications due to defective or harmful products. As experts in the field of personal injury law, we are well-equipped to fight for justice for victims of harmful beauty and personal care products, particularly in cases related to hair relaxer cancer.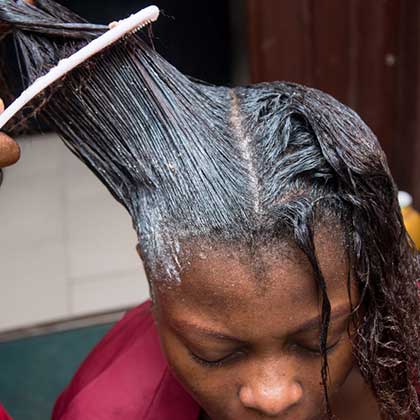 The Dangers of Hair Relaxers and Cancer
Hair relaxers, beauty products primarily used to straighten naturally curly or kinky hair, contain potent chemicals capable of altering hair structure. However, recent studies and reported cases suggest a link between certain hair relaxers and an increased risk of developing various types of cancer, including ovarian and uterine cancer.
You may be entitled to compensation if you have been diagnosed with ovarian or uterine cancer after the regular use of hair relaxer products.
Call us at
(888)534-4850
or
fill out this form
.
Advocating for Victims of Hair Relaxer Cancer
At Slater & Zurz, we are committed to combating the manufacturers of harmful products like certain hair relaxers linked to cancer. Our team of skilled attorneys possess extensive knowledge in complex product liability laws and leverage thorough investigation techniques to build strong cases for our clients.
Our Expertise
Our team brings decades of experience in personal injury law, including product liability lawsuits, to the table. This background empowers us to navigate the complexities of hair relaxer cancer cases and to advocate zealously for victims and their families.
Building a Strong Case
We begin every case with a comprehensive investigation. By carefully examining the product, its chemical composition, marketing practices, and potential manufacturing flaws, we construct a compelling argument to maximize our client's compensation.
Holding Manufacturers to Account
In a hair relaxer cancer lawsuit, demonstrating manufacturer liability is of paramount importance. We pursue claims based on various aspects of product liability law, including design defects, manufacturing defects, and failure to warn. Through meticulous analysis of these elements, we aim to hold manufacturers accountable and secure fair compensation for our clients.
Seeking Fair Compensation
Victims of hair relaxer cancer may be eligible for compensation covering medical bills, lost income, pain, and suffering, and more. By employing aggressive negotiation and litigation tactics, we ensure our clients receive the maximum compensation they're legally entitled to.
Download Our Free Hair Relaxer Lawsuit Guide
If you're considering filing a hair relaxer lawsuit, the hair relaxer lawsuit guide can provide you with in-depth information and answer common questions to help you navigate the process. It also offers guidance on how to file your lawsuit.
Hair Relaxer Lawsuit Guide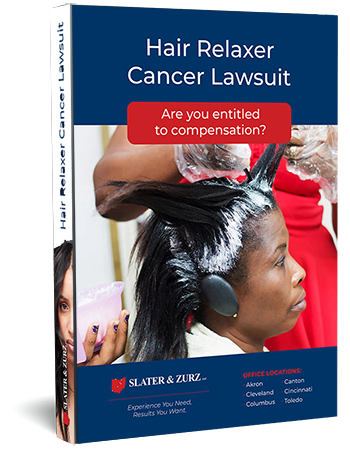 Why Choose Slater & Zurz
Choosing Slater & Zurz for your hair relaxer cancer lawsuit means selecting a law firm with a proven track record of success. Our unwavering commitment to our clients and the pursuit of justice sets us apart. We understand that each case is unique, necessitating a tailored approach. Our expertise in hair relaxer cancer lawsuits enables us to create persuasive legal arguments that resonate with courts and juries.