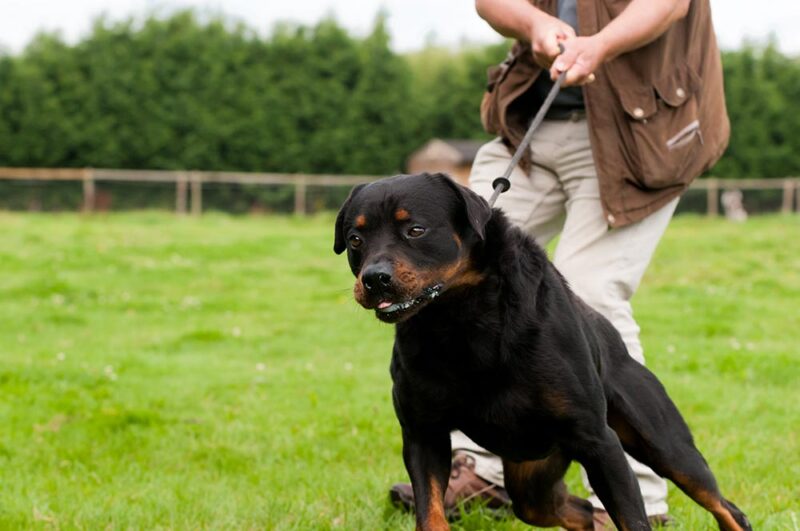 If you or a loved one is bitten by a dog or other domestic animal, one of the first things you should do after seeking immediate medical treatment is to notify all local agencies involved in monitoring these types of emergencies—mainly your local police department, your county dog warden and your local health department. Then call a dog bite lawyer to discuss your case.
Police Department notification is particularly important if the animal is unknown to you and may be running wild in the area. The dog may have been identified as "dangerous" or "vicious" and may put other area residents or pets at risk. If the dog can be found, the dog warden will try to ascertain if the animal is up-to-date on its rabies vaccinations and, if not up-to-date, whether it is necessary to quarantine the animal. If the dog can't be found, notified authorities can be on the lookout for it.
The dog warden will submit a report to the county health department which will take a bite incident report and submit any necessary requests for rabies testing to the Ohio Department of Health's (ODH) Public Health Laboratory. ODH tracks animals suspected of being infected with the disease statewide and maintains statistics. (The actual testing is done at the Centers for Disease Control (CDC) in Georgia).
There are 118 local health departments in Ohio. This includes general (county) health districts, city health districts, and combined city and county districts. A Board of Health governs each entity. How to locate your local health department can be found at odh.ohio.gov. If you cannot reach the department outside normal working hours and no emergency phone number is provided, contact the sheriff's department for that area.
What if you don't know how to make these important contacts?
If it sounds like too many phone numbers to locate in a time of overwhelming stress, there is a local law firm that will provide you—free of charge–with a list of agencies that you need to notify right away, within 24 hours of the bite incident if possible.
If you have the following additional information, it will be helpful to the authorities:
Description of the biting animal
Name of the owner
Name of the person exposed
Location of the bite
Circumstances of the bite or attack
Rabies vaccination status of the animal if known
Rabies is a virus that can infect any species of mammal and can travel to the brain of an infected human. Once symptoms develop, it is almost always fatal. Although cases are rarely seen in the United States, it is not something to be taken lightly. The Ohio Health Department's Zoonotic Disease Program reported 20,654 rabies exposure events in the state in 2015—77% of them involving dogs, the most common domestic animal transmitting the disease to humans. Only 26 of the thousands tested were confirmed cases of rabies.
Of the four types of animals most tested for rabies by ODH from 2009 to 2014, dogs actually had the least instance of the disease. There were 6,013 dogs tested in the five-year period, but only .02 percent tested positive.
In contrast, rabies testing of 5,144 bats showed 4.53 percent testing positive, more than any other species tested. Of the 5,638 raccoons tested, .38 percent tested positive and only .06 percent of 5,244 cats tested returned a positive result.
Following the report of a bite in Ohio, a rabies risk assessment is performed and the following questions are asked by the health authorities:
Is the biting animal a concern for rabies transmission?
Was there a bite or saliva exposure to broken skin or mucous membranes?
Is the animal available for 10 days of observation or rabies testing?
Is the bite to the face or head of a young child?
If the answers to these questions make it appear as though rabies is a possibility, the dog-bite victim will begin rabies treatment.
Other dog-transmitted diseases
There are at least eight other dog-related diseases in Ohio that the Ohio Department of Health is concerned about and that are defined on their website. They are:
Brucellosis – Bacteria that can thrive in apparently healthy animals. Dogs become infected through contact with birthing materials and fetuses.
Campylobacteriosis and Salmonellosis – Gastrointestinal illnesses of animals and humans caused by bacteria commonly found in feces of infected animals and food products contaminated with the bacteria during processing or preparation.
Leptospirosis – Shed in the urine of infected animals, the transmission of this bacteria usually occurs through exposure to contaminated water or soil although it can occur through direct contact. It can affect a wide range of domestic and wild animals, including dogs.
Lyme disease – Bacteria spread by ticks. Although mice are the primary reservoir of infection, people, dogs, and horses are susceptible to infection. A vaccine for Lyme disease is available for dogs.
Spotted fever rickettsiosis – A group of several diseases including Rocky Mountain Spotted Fever which can infect dogs. In Ohio, it is spread by ticks. Infected dogs rarely develop signs of the disease, but skin lesions, fever, and nose and eye discharge can be symptoms.
Visceral larvae migrans (toxocariasis) – In this illness, larvae of dog and cat roundworms migrate through a person's internal organs. Roundworm eggs are shed in the animal's feces. Avoiding areas likely to be contaminated by feces is the best way to avoid this infection.
Cutaneous larval migrans, more commonly known as hookworm, is transmitted from animals to humans through contact with the skin and environments contaminated with the larvae.
A handy checklist for what to do if bitten by a dog
On this website, you will find "What to Do If Bitten By a Dog," you will find a checklist that you can carry or post at home to remind you about what to do if you or a member of your family are suddenly attacked by a dog. Briefly, there are eight things to keep in mind:
Do not wait. TAKE ACTION! Damages from a dog attack may include mental suffering, permanent scarring, pain, loss of future earning capacity, medical expenses, and psychological counseling, to name a few. The outcome could be determined by what you do right away.
Immediately seek MEDICAL TREATMENT and keep a record of it.
Contact Slater & Zurz law firm at 888.534.4850 to obtain names and numbers of all LOCAL AGENCIES: Police, Dog Warden, Health Department.
Ask Health Department to verify the dog received RABIES vaccinations.
WRITE DOWN EVERYTHING. Keep a log with details of the incident, your medical treatment, your pain, contact with the dog owner, and anything else you think is important.
Record the dog owner's NAME and ADDRESS if you can get it.
Take clear photos of your injuries.
For a FREE COPY of the book on dog attacks and to schedule a FREE CONSULTATION to discuss your potential financial compensation.
How dog bite law works in Ohio
In Ohio, dog owners or whoever is in charge of the animal has "strict liability" for control of the animal. They are responsible for the dog's actions unless the dog was being teased or tormented or the victim was a trespasser. Minus these exceptions, the victim of a dog attack does not have to prove the dog owner was negligent. He or she must simply prove the dog attacked and the attack caused injuries or damages. In Ohio, the victim may file a lawsuit under both the strict liability and negligence causes of action.
There is a "statute of limitations" on when one can file these actions. If a dog bite victim files a claim under Ohio's strict liability statute, he has six years (6) from the date of the incident. If he files a negligence claim, he has two (2) years. Every case is different and there are exceptions. This is why if you are taking legal action in a dog bite case, you should not delay in setting up a consultation with a dog bite lawyer even if it turns out you will be allowed more time to file the case.
Where to turn for help
Homeowners' insurance policies are typically responsible for the damages that result from dog attacks. However, insurance companies don't readily hand out large sums of money to victims. They often attempt to minimize the value of a claim, procrastinate about paying it or completely deny it.
If you or a loved one has been injured by a dog, you want to know where to get the help you need to supply documentation for your claim. Slater & Zurz has convenient offices in Akron, Canton, Cleveland, Cincinnati, Toledo, and Columbus and is available to assist dog bite victims at all times including weekends, holidays, and evenings. Contact the dog bite lawyers at Slater & Zurz LLP at 888.534.4850, or send a message through the website.
We advocate strongly on behalf of injured victims of dog bites across Ohio, with convenient locations in
Akron
,
Canton
,
Cincinnati
,
Cleveland
,
Columbus
, and
Toledo
.