Cincinnati Car Accident Lawyer
According to the National Highway Traffic Safety Administration, nearly 3.5 million people are injured each year in automobile accidents. Being involved in a car crash can be a devastating experience, often resulting in serious injuries, lingering emotional trauma, and a considerable financial burden. Victims and their families are often angry and frustrated and understandably want justice for their pain and suffering.
Reckless drivers should not be able to endanger the health and safety of others without facing the consequences. Filing a claim could make them realize the effects of their behavior and prevent them from making poor decisions in the future.
The Cincinnati personal injury lawyers at Slater & Zurz are committed to helping those who were wrongfully injured in an auto accident receive the maximum compensation. We have seen firsthand the significant physical, emotional, and financial toll a car accident can take on victims and their families' lives. Our team of seasoned Ohio auto accident attorneys will work tirelessly throughout the claims process to obtain fair and justified compensation, giving you the peace of mind to focus on your recovery.
Common Causes of Car Accidents in Cincinnati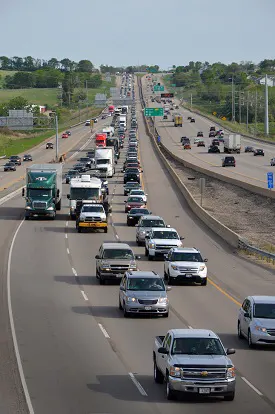 In an auto accident, a driver is at fault if his or her negligence proximately caused the collision. Each year, far too many people are hurt in vehicle-related crashes in Hamilton County, including trucking accidents, motorcycle accidents, and pedestrian accidents. Some common causes of auto accidents in the Cincinnati area are:
Driver Fatigue – When a driver is fatigued or drowsy, it can greatly impair their ability to respond to conditions on the road. In severe cases, a fatigued motorist can fall asleep at the wheel, causing them to drift out of their lane, off the road, or oncoming traffic.
Distracted Driving – Nearly 15% of auto collisions are caused by distracted driving. When a driver multitasks, they cannot maintain the focus and attention needed to operate a motor vehicle safely. Perhaps the most common distraction is a driver's cell phone. Many drivers take their attention off the road to talk, text, email, and check social media while driving. Other common distractions include talking to passengers, eating and drinking, using a GPS, reaching for an item within the vehicle, and tending to children and pets.
Ignoring Traffic Laws – Approximately 40% of auto collisions occur at intersections. Running red lights, not stopping at a stop sign, or failing to yield to oncoming traffic drastically increase the chances of causing a serious accident.
Driving Under the Influence – Being under the influence of drugs or alcohol severely affects a driver's ability to drive. According to the CDC, nearly 28% of all traffic-related fatalities are caused by alcohol or drug-impaired driver.
Reckless Driving – Drivers who switch lanes too quickly, weave in and out of traffic, or tailgate are blatantly disregarding the safety and property of others. In more serious situations, reckless driving can also lead to cases of road rage.
Speeding – Running late to work, keeping up with traffic, or simply intentionally driving over the speed limit are among the top causes of traffic accidents.
Inexperienced Driver – According to the AAA Foundation for Traffic Safety, drivers between the ages of 16 and 17 are three times more likely than adult drivers to cause a car accident. Contributing factors include a lack of focus, speeding, and driver intimidation.
Dangerous Road Conditions – Burnt-out streetlights, malfunctioning traffic signals, missing road signs, poorly marked work zones, potholes, and faded lines on the road are all dangers that put motorists at risk. These are often a result of a government entity's negligence in keeping the roadways safe.
Cincinnati Car Accident Injuries
Physical Injuries
Injuries that arise from car accidents can be as wide-ranging and unique as the accidents that caused them. Auto accidents cause our bodies to release a significantly high amount of adrenaline, which can mask pain and injuries. That is why it is essential to seek medical attention immediately after being involved in an auto accident. There are hundreds of different types of auto accident injuries treated at Cincinnati hospitals, such as the University of Cincinnati Medical Center, Good Samaritan Hospital, The Christ Hospital, Mercy Health, and St. Elizabeth Covington. Common injuries include: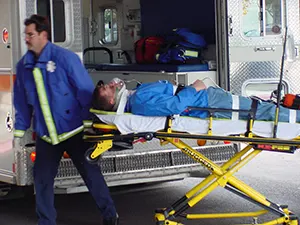 Traumatic brain injuries
Spinal cord injuries
Broken bones
Internal organ damage
Paralysis
Loss of limb
Nerve damage
Knee and hip injuries
Lacerations
Burns
Concussions
Whiplash
Emotional Trauma
Auto accidents are traumatic events that can lead to long-lasting psychological effects. Being involved in a serious car accident can lead to feelings of panic, stress, and anxiety that can linger long after the collision is over. Emotional trauma caused by a car crash can include: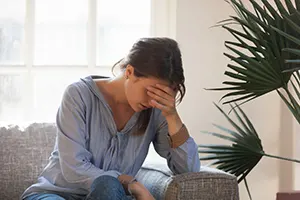 PTSD
Fear
Anxiety
Depression
Fear or anxiety about driving
Irritability
Difficulty in focusing
Sleep loss
Social withdrawal
Nightmares
Mood swings
Startling easily
Suicidal thoughts
Motor vehicle accidents are the leading cause of post-traumatic stress disorder among civilians in the United States. Crippling memories, mood swings, avoidance, and withdrawal are all emotional reactions to PTSD. Obtaining immediate treatment for PTSD and other forms of emotional trauma can help a crash victim find peace of mind and hope for the future.
The Financial Burden of a Car Accident
Car accidents can generate a heavy financial burden, especially if you experience significant physical and emotional effects. Considerable financial distress can arise from a car crash, including: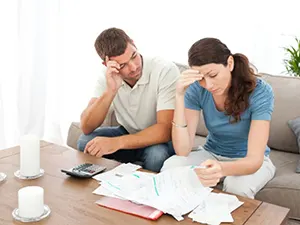 Medical expenses
Lost wages
Property damage
Costs of future care
Auto repair or replacement
What Damages Can I Collect?
Awarding monetary damages is an attempt to make the injured party "whole," or as they were before the car accident. The appropriate compensation amount depends on each case's circumstances, including the extent of your injuries and the amount of property damage caused by the accident. You have a right to seek compensation if you were involved in a car accident caused by a negligent party. This includes relief for:
Medical bills
Future care, such as physical therapy and in-home care
Lost wages
Pain and Suffering
Disfigurement
Disability
Loss of consortium
Ohio Wrongful Death Compensation
When you experience the most terrible loss of a loved one, you have the right to seek compensation from a negligent driver. The compensation is not only about your loved one's fatal injuries; it is about the pain and anguish you and your family are going through. Our dedicated Cincinnati wrongful death lawyers will advocate diligently on your behalf to obtain compensation for the following:
Burial and funeral expenses
Loss of income
Loss of services
Loss of companionship and society
Grief and mental anguish
What to Do After a Cincinnati Auto Accident
After an auto accident, it is essential to protect your rights and ensure you receive the maximum compensation. Auto insurance companies may try to get you to settle for less than what you deserve. Taking the following steps will ensure you receive fair compensation for the insured's actions:
Call the Police – After moving to a safe area and tending to any injured parties, call the police. Even if the accident appears minor, it is always good to call law enforcement and obtain an official report of the incident.
Give an Accurate Report – When speaking to law enforcement about the accident, it is crucial to accurately report what, where, when, and how the accident occurred. Giving false information or an account may discredit you, making it more challenging for you and your lawyer to prove negligence on the other driver's part.
Get Driver Information – Everyone involved in the accident should exchange information, including their name, address, phone number, driver's license, license plate numbers, vehicle year, make and model, and car insurance information.
Do Not Apologize – Many people's first inclination is to apologize after being involved in a collision. Do not apologize, even if you feel you may have been partially at fault. An apology may be used against you as an admission of guilt, making it more challenging to receive fair compensation.
Gather Evidence – It is important to take the time to gather all evidence at the scene of the accident. Take photographs and video of the crash scene and all damage to the vehicles involved. If it is safe to do so, take photos before the vehicles have been moved. Pay close attention to any skid marks, weather conditions, debris, and property damage.
Gather Witnesses – Having an eyewitness is extremely beneficial in proving who was responsible for the accident. They are typically unbiased and can support your version of events.
Document Everything – In great detail, write down what, where, when, and why the accident happened. Try to do this as soon after the accident as possible, as you may forget important details as time goes on.
Seek Medical Attention – After a car accident, it is essential to be evaluated by a doctor. An emergency room or urgent care physician can diagnose visible injuries and any injuries that are not immediately apparent. Receiving medical care as soon as possible will give you the best chance of a full recovery.
Track All Costs Associated with the Accident – Document and retain the proof of all costs resulting from the accident. This includes receipts, invoices, and explanations of the benefits of medication, treatment, equipment, and prescriptions.
Avoid social media – If you are involved in an auto accident, insurance companies will likely access your social media accounts to find evidence that disproves your version of events or the extent of your injuries.
Do Not Speak to the Insurance Adjuster – Insurance companies are looking out for the other party's best interests. Politely decline to speak with them and let your Ohio car accident attorney facilitate any communication.
Seek Skilled Legal Representation – Coping with the aftermath of an accident while dealing with insurance companies can be frustrating and stressful. Hiring a Cincinnati auto accident attorney to ensure your rights and best interests are protected allows you to focus solely on your recovery.
How to Determine Fault in a Cincinnati Car Accident
The state of Ohio is an "at-fault" state, meaning if you are involved in an auto accident that was the other party's fault, you can seek relief for the injuries and damage caused by the crash. In some cases, several factors contribute to an accident, and the fault may lie between two or more parties. For instance, you could be partially responsible if your tail lights were out and another party rear-ended you.
Under Ohio's comparative negligence law, an injured party is not barred from receiving compensation if they bear some responsibility for the accident. You can still recover damages if your share of the fault is less than the other party's. For example, if you were found to be 30% at fault, your total compensation would be reduced by 30%. In other words, if you were awarded $100,000, you would ultimately receive $70,000.
It is common for insurance companies to attempt to place some of the faults on you. This way, they will not have to pay the full monetary relief. Our Cincinnati car accident lawyers will use all available evidence to prove you were not at fault. This evidence includes the police report, officer's testimony, the findings of an accident reconstructionist, witness testimony, photos, video, dashcam or store security camera footage, and your testimony. To ensure you receive the maximum compensation, contact our Cincinnati personal injury lawyers at Slater & Zurz today.
In Ohio, you must file a personal injury lawsuit within two years of the car accident. That is why it is essential to contact our Cincinnati auto accident lawyers immediately at (513)496-3331.
The Cincinnati Car Accident Lawyers at Slater & Zurz
Dealing with the aftermath of a car accident can be overwhelming, but you do not have to go through this alone. Our dedicated and compassionate Cincinnati car accident attorneys at Slater & Zurz will be by your side, providing our unwavering support and guidance. We are committed to protecting the best interests of Ohio residents and will do everything within our power to get you the compensation you deserve. Our auto accident attorneys in Cincinnati have over 40 years of experience evaluating and litigating personal injury claims.
Sometimes, going to court is the only way to recover the maximum compensation for your damages. We have experienced trial lawyers who never hesitate to take a case to trial. Our skilled litigators will present the evidence needed to show the other party acted negligently and is responsible for your damages.
Having a skilled Cincinnati car accident lawyer on your side can be essential in helping you obtain fair compensation for your injuries. We will use our experience, resources, and knowledge to advocate aggressively on your behalf, ensuring you receive the compensation you deserve. All of our cases are taken on a contingency fee basis, meaning we do not get paid unless we recover compensation for your injuries. You can reach Slater & Zurz 24 hours a day, 7 days a week, by calling (513)496-3331. Contact our office today for a free consultation to discuss your Cincinnati car accident case.
Articles to help you with your Car Accident & Injury Claims