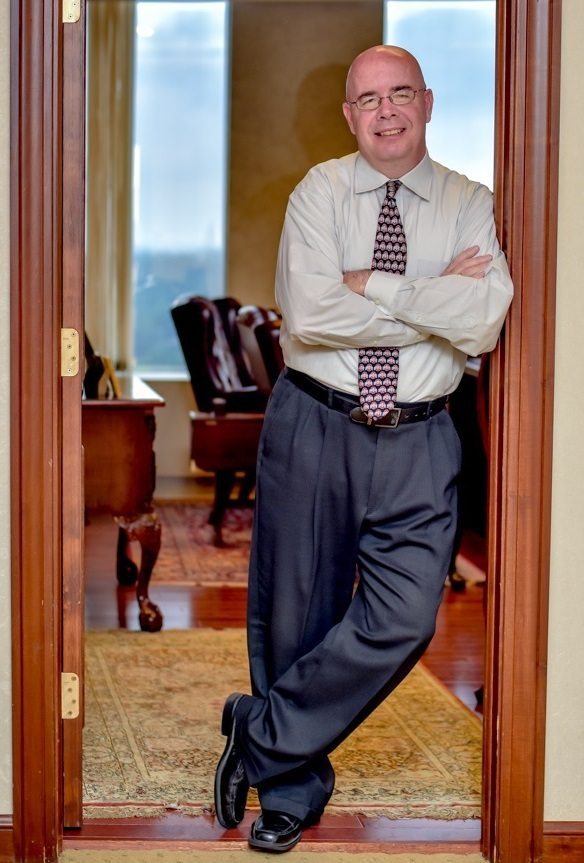 A love for the law isn't what drew Jeff Hawkins into practice. But it's what kept him there.
In his mind, he recalled, he simplified his choice down to becoming an attorney…or working in a factory. The prospect of helping his fellow man made the choice that much easier for him.
And once he started, he saw the profession for what it was and, more importantly, for what it could be.
His distaste for factory work helped him steer clear of treating his clients like they were spare parts on an assembly line, giving each his undivided attention throughout the entire process.
"I really do like helping people through the worst time of their lives," he said. "My clients come to me scared and worried, and I get them back on track. Helping them makes me love what I do."
Before The Bar
Jeff grew up in the small town of Canfield, Ohio – just miles from Akron where he works every day. In fact, he has spent his nearly 35-year career practicing Ohio law.
The youngest of three siblings, he played football, basketball, and baseball growing up, which gave way to his favorite pastime as an adult.
"I love the Indians. I love the Buckeyes. And I love the Browns," he said. "I go to the games as often as I can."
His older brother and sister didn't enter law, but after Jeff graduated from Canfield High in '79, he spent two years at Ohio State before graduating from Youngstown State in '83. In 1987, he had his law degree from Ohio Northern University Pettit College of Law and passed the Bar.
Findlay, Ohio was his first stop and where he took up prosecution, then entered private practice. But for the last 15 years, Jeff has called Slater & Zurz home. He also served appointments as Solicitor for the villages of Bluffton and Arcadia.
"I've done just about everything a person could do as an attorney," he says.
He Really Knows How To Help His Clients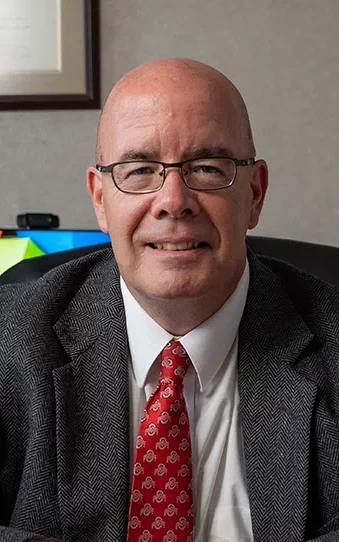 What does all that experience mean? It means there are few questions he can't answer, little he hasn't seen in a courtroom. It's the reason most people in Ohio know Jeff Hawkins is the one to call when they're facing a divorce.
"After working in all the different specialty areas, I found family law the most fulfilling," he said. "After all that I've experienced, it's nice to never have to say I don't know something when my client asks."
Family law encompasses a variety of legal needs: divorce, dissolution, separation, annulment, child support, custody and visitation, grandparent rights, and more.
"It's safe to say that I'm probably the busiest guy in the building," Jeff says. "But the best way to serve my clients is to never let myself get too emotional over what's going on."
In an area where emotions typically run very high, Jeff knows, "If I get freaked out, my clients are going to get freaked out, too."
"There's a saying in family law that you're seeing good people acting badly," he said. "In criminal work, you're seeing bad people trying to act good."
The key to successfully resolving what could very well be a highly contentious divorce is to be as straightforward as possible.
"I tell them what they want and what the courts want are very rarely the same thing," he says. "I tell them how it's really going to be."
The Family
Whether his wife, Annie, of 21 years lets Jeff take that same approach at home we don't know, but separating work and home is sometimes an acquired skill.
The couple has two grown sons, Erik and Hayden.
"I brought Erik to work and he shadowed me for a couple of days when he was younger, and that was all he needed to see to figure out he did not want to be an attorney," Jeff joked. "Hayden is a musician; he didn't have much interest in entering the legal field either."
But both boys kept mom and dad busy throughout their youth playing baseball and basketball.
And with three grandchildren, they're expecting a lot more time on the fields, to which they feel grateful and blessed.
Experience That's Second To None
Jeff Hawkins' career has given him a wealth of experience. That he spent that career all within the borders of Ohio means his knowledge of the state's legal processes is second to none.
Serving on both sides of the aisle – for the state and as a defense attorney – Jeff afforded himself a unique perspective that truly benefits his clients. Cases are resolved with as little turmoil as possible. He is routinely thanked for his professionalism and calming demeanor.
"I've been a family lawyer for more than 30 years and have helped hundreds of people," he says. "That type of experience is extremely important…for many reasons – the most important being my clients can expect a realistic outcome for their case.