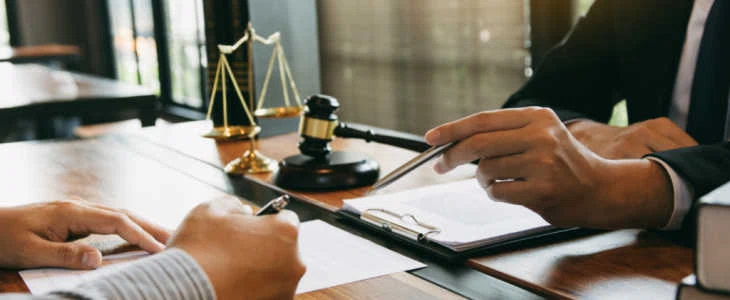 When you hire someone to do a job for you—a plumber, a mechanic, a doctor, or an attorney—you expect that person to do a good job. Most of us recognize that we can't expect perfection, but we do expect competence without costly blunders. If a plumber floods your basement with sewage, if your car's "check engine" light comes on as you're leaving the mechanic's shop, or if you end up in the emergency room after following your doctor's orders, you can call an attorney to help vindicate your rights.
But what if the attorney you hired to handle your personal injury case isn't being straight with you, or is repeatedly rebuffed by the court?
Consult another attorney! It's possible to switch attorneys in the middle of a case, with no risk and no additional cost.
There are many reasons to switch attorneys mid-case.
There are a number of reasons that you might consider switching attorneys in the middle of your case:
Poor communication. Your attorney doesn't return your calls or emails or doesn't let you know about significant case developments or decisions, leaving you uncertain about the status of your case.
Lack of trust. You may lose confidence in your attorney because of poor communication because the attorney doesn't adequately explain what's happening in your case, or because he or she doesn't treat you with the respect you deserve.
Sloppiness. Papers your attorney shares with you contain information unrelated to your case (name, court, case number or other obvious matters stated incorrectly), misspellings, or other evidence that the attorney hasn't paid attention to the facts in your case.
Lack of professionalism. The attorney seems unfamiliar with the facts concerning your case, arrives late for hearings or appointments, fails to file documents by critical deadlines, loses documents that you've already provided, and the like.
Poor results early on. The attorney's pretrial motions, requests for information from an opposing party, and other efforts that you were assured would be fruitful are all, or mostly, unsuccessful.
Inexperience or incompetence. The attorney doesn't seem to know the law that applies to your particular case, or how to proceed in accordance with court rules. This can include a failure to obtain necessary evidence (medical evaluations, accident reconstruction analyses, identification of witnesses), or a failure to include essential information in papers filed on your behalf.
Switching attorneys in an ongoing personal injury case should be easy and should not cost you anything extra.
Personal injury cases – contingency fees:
In most personal injury attorney cases, are charged a contingency fee. Under a contingency fee agreement, the client pays nothing upfront. Generally, the attorney pays costs arising as the case progresses, including the cost of depositions (interviews have been taken under oath with attorneys for both sides present), as well as expert evaluations and reports (accident reconstruction; medical diagnosis, prognosis, and causation; vocational evaluations, etc.).
If and when the attorney gets a favorable settlement for the client or wins at trial, the attorney receives an agreed-upon percentage of the amount obtained for the client and is reimbursed for the costs paid upfront. An attorney who loses gets nothing.
What a responsible attorney should do when you switch:
A responsible attorney whom you'd like to take over your case should help you switch at no extra cost and with no risk to you. If you are considering a change, don't fire your existing lawyer until you've made arrangements for a new attorney to represent you. You want to be left with no one on your side while your case is proceeding.
Once you've decided to make a change, talk to the attorney you'd like to have as a replacement concerning the details of switching. Here are the steps that need to be taken:
(1) You must notify your current lawyer in writing that you wish to terminate his or her services. This termination notice should be sent by certified mail so you'll know for certain that the lawyer received the notice.
(2) Provide a copy of the termination notice to your chosen new attorney—after you've made arrangements with that attorney to take over your case.
That's it! Assuming that he or she is reputable and responsible, the new, replacement attorney should take care of all the rest:
Contact the former lawyer to get your file (which belongs to you, not your former lawyer).
Negotiating with the original lawyer concerning the division of fees, based on the time spent or to be spent by each. If the lawyers can't agree, they can submit the fee dispute to binding arbitration with the local bar association. A responsible attorney will ensure that you face no additional charges as a result of switching to him or her. Before you switch, ask the prospective new attorney how he or she will handle the apportionment of fees.
Reimbursing the former lawyer for expenses paid upfront.
Formally entering his or her appearance in court as your new attorney.
Notifying all other parties or their counsel that he or she will be representing you from that point forward.
Picking up your case from that point forward, minimizing any delay arising from the change of attorneys.
You should not have to deal with your former lawyer after sending him or her the termination letter. Your new attorney should handle all the rest. If the new attorney doesn't care enough about your case to take care of these tasks, placing these burdens on you, consider finding someone else!
Switching attorneys in non-contingency fee cases may cost you additional fees.
In some cases, attorneys charge an hourly fee instead of a contingency fee:
Divorce, dissolution, and child custody cases.
Tort defense cases (negligence, assault, battery, invasion of privacy, etc.). The keyword is "defense"—you aren't likely to win any money from which your attorney can be paid. Instead, you may have to pay the person who sued you. If the claim against you is or may be covered by your homeowner's or auto insurance, the insurance company may select and pay for your attorney.
Criminal defense cases.
Breach of contract cases.
In these cases, you must pay the attorney whether you win or lose. Your existing attorney may expect to be paid for all the time spent before the switch. A new attorney may expect you to pay an hourly fee for all the time spent going forward, including time spent "catching up"—reviewing facts, law, arguments, and papers filed by both sides.
Because of the additional costs, you might consider speaking with your existing attorney and trying to resolve your differences.
Find a new attorney before firing your existing lawyer.
If you are involved in an ongoing lawsuit, don't fire your current lawyer until you've arranged for another attorney to take over your case. There are a number of factors that may affect a new attorney's ability or willingness to take over your case.
Timing. If your trial date is approaching, it will take a new attorney time to become familiar with your case, obtain important information that your existing lawyer failed to get, clear his or her schedule to accommodate your trial date or seek a continuance (delay the trial), and/or attempt to settle the case on favorable terms.
Pre-trial rulings. The court may have already issued a ruling excluding evidence essential to your claims, dismissing part of your case, or otherwise limiting your ability to win. Sometimes, these rulings can be overcome; sometimes, the only way to address these rulings is on appeal—after trial and the entry of final judgment. This may take more than a year, after which you may have to go through another trial before obtaining judgment on all the relevant facts.
Insufficient information. Your existing lawyer may not have obtained the evidence necessary to win your case. Typically, attorneys gain pertinent information through depositions (recorded interviews taken under oath in the presence of both parties' attorneys) and sworn answers to written questions. Attorneys also consult experts knowledgeable about a case's subject matter, and witnesses who may have first-hand information about what happened. Your existing lawyer's failure to obtain this information at the proper time may bar a new attorney from thoroughly investigating and evaluating your case.
Because of the impediments that may face a new attorney taking over your case, it's essential that you arrange for a new attorney to take over before you fire your existing attorney. It's never a good idea to leave yourself without any attorney while your case is proceeding. Having no attorney can be worse than having one who performs poorly.
If you're dissatisfied with your current lawyer, you should consult a new attorney and make the decision to switch as soon as possible.
The longer your case progresses, the more opportunities there will be for your current lawyer to make mistakes from which you may not be able to recover. If your current lawyer isn't familiar with the facts of your case or the law that applies, he or she can cause permanent damage, such as by losing a motion seeking permanent dismissal of your case without a trial (a "motion for summary judgment"), with only a remote chance of overturning that dismissal on appeal.
If a vehicle responsible for your injuries (either because of inherent defects or because of the negligence of that vehicle's driver) is destroyed before its inspection by an expert, evidence of the vehicle's condition immediately after the accident will be lost forever. If an elderly or ailing witness with extensive knowledge of some aspect of your case dies prior to giving testimony, the wealth of evidence that the witness could have provided may die with him or her.
There are errors that not even the best attorney in the country can overcome. Don't wait and allow your potentially winning case to be destroyed by a lawyer whose competence is questionable.
Slater and Zurz offer you a free consultation to discuss your claim. Never wait to call to get quality legal help. The Law Offices of Slater and Zurz in Ohio can take action on your legal malpractice attorney.