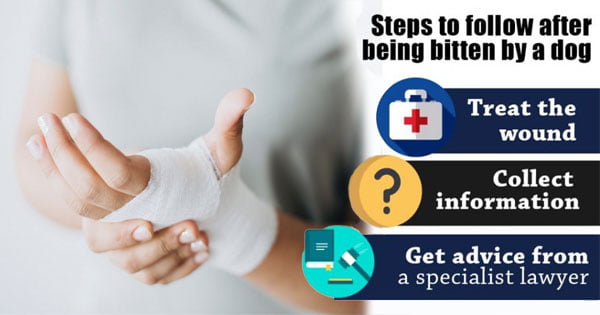 Nearly every year, about 4 million people in the United States are bitten or attacked by a dog. This kind of case falls under the tort law category, which covers personal injury law. Ohio dog bite laws can become complicated depending on the state, county, city, regulations, and laws. So, you'll want to consult with a dog bite lawyer regarding the facts of the case and possible recourse.
If you or a loved one has been bitten or attacked by a dog in Ohio, you need to take a few steps to ensure the person gets the medical attention they need. You will also need to find out who owns the dog—this is crucial to understand as you move forward with your dog bite lawyer as you seek compensation for injuries suffered.
Did you know Ohio ranks as the third state in dog bite claims?
Slater and Zurz are one of the top firms that deal with dog bite claims and lawsuits. They have 30+ years of experience as a legal team and have handled hundreds of these unfortunate claims throughout the State of Ohio.
Our law offices are located in Akron, Canton, Cleveland, Columbus, and Cincinnati, Ohio, and we are here to assist you and your family. You will ultimately want to call them once you are medically sound and need advice on proceeding.
Things to Know About Ohio Dog Bite Laws
The State of Ohio is a strict liability state. In other words, a dog bite in the state means the owner(s) of that particular dog is responsible for all personal injuries and damages to you and your property if any. There are also 24 cities in the state where specific breeds are banned altogether, including pit bulls.
Some cases don't require the owner of the dog to be responsible for the attack.
These situations include:
If you trespassed or committed a crime on the dog owner's property
If you committed a crime against another person
If you teased, tormented, or abused the dog in some way on the dog owner's property
Clearly, every case circumstance is different. The more detailed information that you provide in your documentation is always ideal.
Steps to follow:
Seek medical help as soon as possible
Determine who owns the dog
Put together photos, doctor's notes, and your notes on the incident
Call your trusted, experienced dog bite lawyer at Slater and Zurz
Step 1. First, You Should Seek Medical Attention
In Ohio or any state, you must follow some simple steps if a dog attacks you. You want to make sure you get medical attention to treat the wound area and plan in place with your local medical professionals.
Also, you or the victim of the attack may need a series of rabies vaccinations. The CDC has stated that one in five dog bite victims requires medical attention immediately. You don't want to wait since the outcome could be fatal, especially if the animal carries rabies, which is deadly to humans. If the victim suffers from chronic medical conditions or is suffering from an immune system condition, the attack puts them at great risk for infection or a fatal outcome.
The rabies issue is more of a problem if the dog is a stray. Your doctor could want you to receive a series of rabies vaccinations just for precaution. Health officials in your area must then monitor the dog for 10 days by law to determine if rabies is an issue.
Dog bites can also easily injure or tear nerves and tendons, not to mention lacerate flesh. The bite or wound area can become infected if not properly tended to.
Step 2. Who Owns the Dog That Attacked You in Ohio?
Is the dog that bit you astray or belongs to someone in your neighborhood? These are important questions, and knowing the answer is essential as you move forward with the claim against homeowners insurance or a lawsuit against the dog's owner.
This way, you can contact a dog bite lawyer at Slater and Zurz with the correct information so that they can facilitate potential recourse efficiently.
Step 3. Put a File of Pertinent Information Together for an Attorney
Any important documents such as photos, notes about the incident, medical treatments and documents, owners of dogs, addresses of dog owners, etc. All of this information is what you will need to make a claim. Slater and Zurz's dog bite lawyers will need to know this information to put together a solid case against the dog owner's home insurance company. Without this information, it won't be easy to make your claim effectively.
The more information they have, the better and easier it will be for them to serve you. Slater and Zurz dog bite lawyers can help get the compensation you deserve and will need for medical care, injuries, pain, and suffering, potential loss of job, and income, etc.
Step 4. Call Your Dog Bite Attorneys Slater and Zurz Today!
The dog bite lawyers at Slater and Zurz want to make sure you get the compensation you deserve. They operate on a contingency. This means the firm will only collect a percentage if you are awarded compensation for your claim.
Many times, dog bite cases never make it to trial. Typically, these cases are based on evidence, medical records, and proving how the dog bite or attack occurred and who owns the dog. The dog bite claim can get complicated in Ohio, and understanding the laws and what you can do is best left to a team of dog bite lawyers who understand this kind of personal injury case.
The majority of these cases can be resolved through homeowners' insurance policies, but some aren't that simple and may require filing a lawsuit. Regardless of the matter, the professionals at Slater and Zurz legal team in Ohio have the experience and know-how to help you every step of the way through your frustrating injury ordeal.