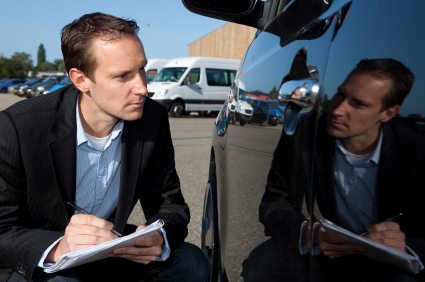 Any Ohio citizen with a driver's license has probably dealt with one of the following three scenarios:
selling their used car;
trading-in a used car;
dealing with the aftermath of an automobile accident
Whether an Ohioan is trying to sell an old clunker, looking to upgrade their vehicle or trying to get a fair deal for their totaled automobile after a car wreck, the skill of valuing a vehicle is extremely important. At some point in an Ohioan's lifetime, they've had to deal with the burning question:

How much is my car actually worth?
There are several ways to go about this seemingly arduous process, most of which are as simple as a few keystrokes on the internet. The first great tool that helps you in valuing your car can be found through the National Automobile Dealers Association (NADA). Once here, the process is as simple as entering your current ZIP code, make, model, and year of your vehicle. You'll also be prompted to locate some specifics on your car, such as whether it is a four or six-cylinder engine, how many doors are on the car, and whether it is a basic, sport, or limited model. Finally, you'll enter your mileage and get to choose additional options included in your vehicle. At this point, it's good to add that new CD player you had installed, the navigation system you put in, or the power moonroof you opted for. All these extras raise the value of your vehicle. The website will then give you itemized values of your vehicle, and you're ready to go!
Another popular website belongs to Kelley Blue Book, found at www.kbb.com. Much like the NADA website, you'll be prompted to enter the statistics and options on your vehicle. You'll then receive a similar range of values depending on what you plan to do with your car (trade, sell, etc) and what condition it is in (clean, average, rough).
Both these websites are extremely valuable when deciding how much to sell your car for, or what you should receive on a fair trade-in.  The issue arises when you've been involved in a car accident, and you're trying to find the value of your car.  If you've ever dealt with a situation where your car had to be totaled as a result of another driver's negligence, you realize this is where an insurance company comes into play.
An insurance company considers several factors before they will arrive at a value for your car. First, they send investigators to car dealerships in your geographic area trying to price out how much your specific vehicle is selling for on the current market. Normally, they will consider three or more different dealerships in determining that number. They will also look at the entire marketplace of the area you live in. This includes what private sellers are pricing your vehicle at – they may even look at what your car is going for on Craigslist. Once they arrive at their number, they should provide you with information as to how they calculated the proposed value of your car. This includes dealership or seller names, mileage, extras, and price.
While it is a good idea to have a basic understanding of your car's value through the aforementioned websites, insurance claims inspectors and adjusters will also go through another process to devalue your reliable vehicle. Every scratch, dent, mark, and imperfection will be scrutinized. Property in your vehicle can be undervalued. They do not take into consideration the value of not having a car payment, having a reliable vehicle, or the sentimental value of your treasured automobile.
To be fully compensated for the full value of your vehicle after a car accident, as well as any injuries you have suffered, it is best to contact a personal injury lawyer.  An injury lawyer has experience dealing with hard-nosed insurance companies.   Their goal in serving you will be to find the value of your car, as well as your injuries, and obtain full compensation for the car wreck you were involved in.
To discuss your automobile accident or injury and get advice on how to find the full value of your car with a knowledgeable, experienced Columbus personal injury lawyer. Contact the Ohio accident law firm of Slater & Zurz LLP for a free consultation by calling (888)534-4850