Doctors generally inform their patients about the risks of procedures they are about to undergo. Most patients expect to be treated with great care and assume that these risks will be minimized. What if this doesn't happen and you become the victim of a surgical error? Are you going to need a lawyer?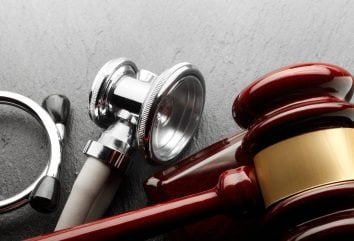 Failed surgeries can leave patients with pain, inconvenience, significant additional expense, and even death caused by medical professionals' preventable mistakes. If a surgical injury or death could have been avoided in the absence of a caregiver's negligence, the injured patient (or next of kin in the event of death) is probably entitled to compensation for those avoidable mistakes.
Even if a patient has signed "informed consent" documents before "going under the knife," this is not an automatic bar to a lawsuit for a botched surgery.
Every doctor owes the patient a duty to exercise "ordinary care."
Every health care provider owes the patient a duty to exercise ordinary care in providing medical care to the patient. The standard of care is the level of care an ordinary and prudent health care professional with the same training and experience would provide under similar circumstances in the same community. It is difficult, but not impossible, to demonstrate that a doctor's conduct fell below the accepted standard and that no other reasonable doctor in a similar situation in the community would have done what that doctor did (or didn't do).
Medical malpractice lawyers routinely use expert witnesses—typically, doctors with experience in the same area of medicine as the doctor accused of malpractice—to demonstrate that a doctor's conduct fell below the standard of care. In most instances, proof that a doctor's conduct was below the standard of care demonstrates negligence. Proving that a doctor's conduct did not meet the standard of care is one of the most important tasks of a medical malpractice lawyer.
A good medical malpractice lawyer should have the knowledge, skill, experience, and connections within the medical community to identify experts whose testimony can credibly establish that the doctor failed to meet the standard of care applicable in the community.
At Slater & Zurz LLP, we've successfully handled countless medical malpractice cases in which carefully chosen experts convinced doctors, their attorneys, insurance adjusters, judges, and juries that our clients were entitled to substantial compensation based on the doctor's negligence. After listening to what a client has to say, we leave no stone unturned when we review the client's medical records, assess all the facts, gather all essential evidence, and select well-seasoned experts who can establish that the doctor breached the duty of care owed to our client. If you believe that your surgery was botched by your doctor, call or email our professional team to schedule a free consultation. We'll let you know whether we believe you have a good case. If we take your case, you won't pay us unless and until we negotiate a good settlement in your favor or win your case in court.
Everything that goes wrong in surgery is not necessarily the result of malpractice.
A tragic outcome during or after an operation is not necessarily the fault of the hospital, doctor, or surgical team. A poor outcome alone is not enough to show that the standard of care was violated.
For example, a patient who is allergic to anesthesia but is unaware of the allergy can't alert the doctor of the allergy. Assuming that the doctor or hospital staff asked the patient about allergies, the patient's unfortunate experience after being anesthetized during surgery may not be a result of malpractice.
Three elements must be proved to establish medical malpractice:
The existence of the standard of care within the medical community;
The doctor's (or hospital's) breach of that standard in failing to provide care and treatment consistent with that standard; and
Proof that the doctor's or hospital's medical negligence—and not some other factor—actually caused injury to the patient.
There are many types of surgical errors.
Here are some of the kinds of errors that can occur during surgery:
Performing surgery on the wrong body part or organ or on the wrong patient.
Performing unnecessary surgery, resulting in additional surgeries or leaving the patient with significant physical impairment.
Using unsanitary instruments leads to infection.
Negligently leaving surgical instruments, sponges, or other items inside the patient's body.
Negligently damaging parts of the body not being operated on, such as causing nerve damage to an internal organ or unnecessary tissue damage.
Making reckless decisions under pressure.
Here are some common mistakes that can take place before surgery:
Not taking the appropriate patient history or disregarding pertinent history.
Misreading, failing to read, or ignoring lab results.
Unreasonably delaying surgery, causes further, unnecessary complications.
Failing to recognize symptoms, or misdiagnosing the source of the patient's problem.
Failing to advise a patient of all potential surgery risks.
Failing to devise a practical and reasonable surgical plan.
Failing to make appropriate sanitary preparations for surgery.
Here are some common mistakes a doctor can make after surgery:
Failing to follow up with a patient, including failing to respond to the patient's expressed concerns after surgery.
Discharging a patient prematurely.
Misreading or ignoring post-operative lab results.
Here are some tips if you believe something went wrong before, during, or after your surgery:
Document everything!
Unusual or unexpected symptoms (pain, fever, rashes, nausea, and the like).
Inability to do things you've always been able to do.
Dates and times of symptoms or inability to function as you have in the past.
What side effects (or after-effects) either your primary care doctor or your surgeon told you to expect after surgery, and whether what you're experiencing is different.
The name of every doctor or other medical provider you contact or speak to, along with the hospital or office with which the provider is affiliated, dates of all contacts, and the names of nurses and even clerical staff who provided any advice or suggestions. Addresses and phone numbers, as well as copies of any emails between you and providers or their offices or staff members, can also be helpful.
2. Talk to your surgeon and/or primary care doctor. Let him or her know about your concerns—the problem may be something simple that can be easily and quickly resolved. Whether or not your doctor suggests a solution, make a note of what you were told (including dates and times).
3. Seek a second opinion if you're not satisfied with what your doctor tells you.
4. If you're not satisfied, you should contact a medical malpractice lawyer as soon as possible.
You MUST act as soon as possible!
In Ohio, with a few exceptions, the statute of limitations—the time within which you must file a medical malpractice claim or forfeit it—is one year after the malpractice was committed or you stopped dealing with the particular doctor who committed the malpractice concerning the subject of the malpractice. If your dealings with the doctor in question continued but had to do with your spouse's hemorrhoids, your child's weight problem, or anything other than your surgery, you may have to make your claim within one year after the botched surgery. Don't take a chance! Contact a medical malpractice lawyer immediately to ensure your claim is properly asserted before the statute of limitations expires.
The compensation a victim may receive in a medical malpractice case consists of two main components.
There are two types of compensation that can be recovered in a medical malpractice case—economic and non-economic damages.
Economic damages include past and future medical care, living and transportation expenses relating to the malpractice, lost income, and lost earning capacity (if you are no longer able to perform the job you did before the malpractice occurred).
Non-economic damages can be more difficult to prove because they are intangibles like pain and suffering, emotional distress, loss of enjoyment of life, and loss of society and companionship with a spouse or other family members.
Economic damages can be recovered at face value—if you spent $15,000 out-of-pocket on doctor visits, prescription medications, outpatient therapy, home care, and/or travel to and from medical appointments made necessary by the malpractice, you may recover that $15,000 to the extent that it isn't reimbursed by insurance.
However, even if you can prove extensive non-economic damages, Ohio law limits those damages to a maximum of $350,000 unless your injuries are "catastrophic," resulting in (1) permanent and substantial physical deformity, the loss of use of a limb, or loss of use of a bodily organ system, or (2) your inability to care for yourself and perform life-sustaining activities.
One with a high income can potentially recover millions of dollars in economic damages based on lost income over a course of years, as well as highly expensive medical treatment, even in distant locations. Meanwhile, an unemployed student who relies on standard insurance or low-income coverage such as Medicaid will have difficulty proving substantial economic damages—both future income and medical expenses.
A good medical malpractice lawyer can anticipate the likely economic damages a typical patient will sustain and will ask pertinent questions designed to elicit elements of a client's economic damages that the client may overlook but may be recoverable.
We offer a free consultation, after which you pay nothing unless we win your case.
Because of our experience with medical malpractice victims, we understand what you and your family are going through. If you contact our offices, we will listen to your story and evaluate the merits of your claim free of charge. We will discuss the strengths and weaknesses of your claim. If we represent you in a medical malpractice case, you don't need to pay anything upfront.
Unless we win your case, either by judgment or settlement, you will have no obligation to pay us anything. If we are successful, we will accept an agreed-upon percentage of the amount we win for you as our fee.
We have the experience and resources necessary to win medical malpractice cases.
We've won over $500 million for our clients in personal injury cases, including countless medical malpractice cases. Because we've handled so many cases throughout Ohio, we know experts who can evaluate your claim and testify concerning the accepted standard of care that applies in your community.
Based on our experience with medical malpractice cases and the insight we've gained and continue to gain from consulting medical experts, we can assess the strengths and weaknesses of any given case. This assessment enables us to determine whether a settlement offer is reasonable. Because a fair settlement saves time and gets money to our clients much more quickly than going to trial, we will push for a fair and reasonable settlement whenever possible. However, if the medical provider and/or facility refuses to make an acceptable offer, we aren't afraid to take any case to trial.
If you suffered from medical malpractice before, during or after surgery, trust an experienced law firm dedicated to vindicating the rights of medical malpractice victims to handle your claim.
Nothing can restore the peace of mind of a trusting patient harmed by the negligence of his or her surgeon. A person harmed by the inexcusable negligence of a surgeon or hospital staff cannot be fully restored to his or her prior good health. It is essential to begin an investigation into all aspects of a botched surgery or inadequate follow-up while the evidence is still fresh and before the statute of limitations expires. Reach out to an experienced, full-service medical malpractice law firm with expertise in surgical malpractice and personal injury cases and a demonstrated track record of success.
Like so many others who have placed their trust in us, you can rely on Slater & Zurz to thoroughly evaluate your claim, answer your questions, determine whether something went wrong before, during, or after surgery, and advise you of the best path forward. Call or email our team of dedicated professionals for a free consultation. We're here to serve your legal needs with compassion, dedication, and the drive to win for you.