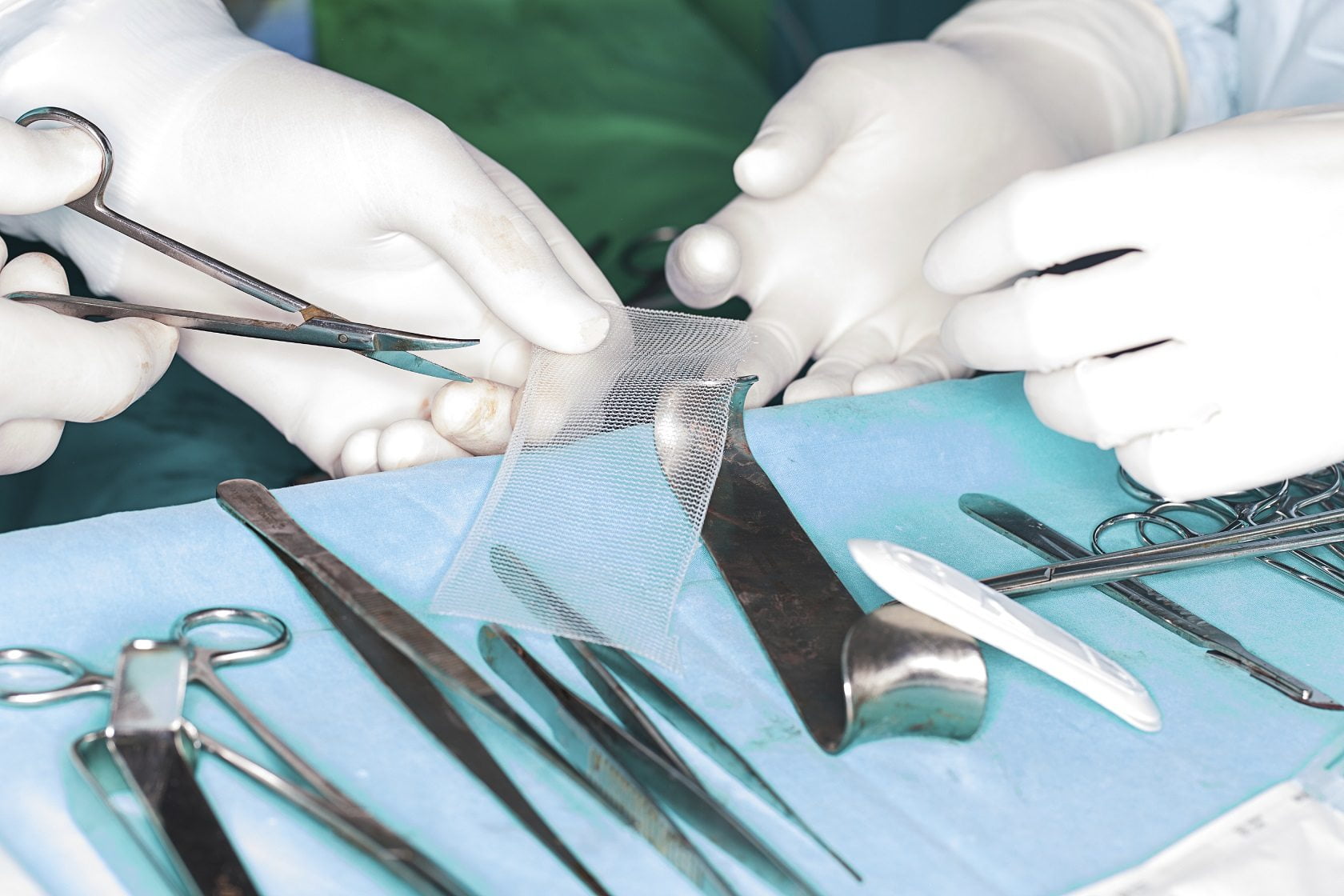 Surgeons in the U.S. perform one million hernia repairs every year, according to the Food and Drug Administration, making this surgery a fairly common practice. What is also becoming more frequent is the legal action surrounding the use of mesh patches that sometimes fail following hernia repair surgery and make many patients eligible to be compensated for their injuries.
A hernia is a medical condition that normally occurs in the groin or abdominal area but can develop elsewhere in the body. An organ or piece of tissue protrudes through muscle or connective tissue that usually keeps it contained. This causes painful pressure or discomfort.
Hernias are caused by a number of factors, including persistent coughing, long-term constipation, congenital defects, obesity, pregnancy, improper lifting, an infection causing fluid buildup, surgery, or other organ perforations. A hernia will not improve or be cured by antibiotics alone.
What is Hernia Mesh?
Hernia mesh is a small net or screen surgically implanted across the area surrounding the hernia. It is designed to make tissue grow into the mesh. The mesh helps hold damaged tissue and muscle together and strengthens the tissue as it heals, preventing the recurrence of the hernia.
Mesh products have been used in surgery since the 1980s. In the early 2000s, various manufacturers began to make permanent mesh devices out of a special type of plastic with an inert coating material designed to make the devices bio-compatible inside the human body. In many cases, this did not happen as the mesh patches had issues that made them incompatible with the human immune system producing complications greater than an untreated hernia.
Is there Help for Hernia Mesh Victims?
For more than 30 years, the law firm of Slater & Zurz, with offices in Akron, Canton, Cleveland, Cincinnati, and Columbus, has been helping injured people recover and heal from injuries caused by all types of negligence.
Their product liability and Columbus personal injury lawyers at Slater & Zurz have witnessed the impact of cases from hernia mesh complications and other cases. They know that victims are dealing with more than medical bills and pain management. More than 6,000 hernia mesh lawsuits are currently pending in the state and federal court systems.
At Slater & Zurz, our hernia mesh lawyers believe that the manufacturers of defective products should be held accountable for disregarding patient safety and for marketing a product that worsens a condition the product was intended to repair.
If you or a loved one are among the thousands of people who deserve justice for the pain and suffering you have experienced due to mesh-related complications, call Slater & Zurz for a free consultation to determine if you have a viable claim.  You need an experienced Columbus medical malpractice lawyer to receive the settlement or court verdict you deserve.
Complications of Hernia Mesh Surgery
Problems with many mesh implants appear soon after surgery, but some take months or years to discover. Some of the more serious complications mesh implants have been alleged to have caused are:
Intestinal blockage (Bowel obstruction)
Mesh detachment and migration (implant erodes in the body and pieces break away)
Mesh shrinkage
Adhesions to other organs or tissue from scar tissue formation
Bowel perforation
Chronic pain
Incarceration (herniated tissue that cannot be massaged back into the abdomen)
Strangulation (an untreated incarcerated hernia affecting the small intestine)
Nerve damage
Neurological changes
Autoimmune response—the immune system rejects the mesh as foreign, leading to inflammation.
Damage to other organs, including long-term problems with the liver or kidneys
Internal infections of tissues and organs at the site of the repair
Almost all of these conditions will likely result in hernia recurrence and revision surgery.
Symptoms of Hernia Mesh Problems
Symptoms of hernia mesh failure or apparent signs of defects should be reported to your physician immediately. They include:
Abdominal pain
Inflammation, bruising, swelling, or increased warmth at the implantation site.
Fever, chills, nausea, vomiting, or flu-like symptoms
Major bleeding or blood in the urine
Lump or lumps at the surgery site
Cramping, bloating, constipation, diarrhea
Fatigue
Lack of healing
Fluid buildup at the surgical site (seroma)
Abnormal connections between organs, vessels, or intestines (fistula)
Biofilms (a film of bacteria that is highly antibiotic-resistant which adheres to a surface and necessitates mesh removal)
You do not want to delay reporting a problem with hernia mesh, as this may seriously impact your ability to take legal action and be compensated for the misery you may have endured or are about to experience.
Major Hernia Mesh Recalls
Three major companies are among those that have dealt with hernia mesh patch recalls. From 2005 to 2007, a New Jersey medical technologies firm, the C. R. Bard Corporation, issued several recalls for its Kugel Mesh as the result of problems associated with bowel tears. Based on the outcome of a Rhode Island mesh product liability case against them in 2010, Bard agreed to pay a global settlement of $184 million to settle more than 2,000 pending Kugel lawsuits.
Mass litigation involving other devices followed as consumers claimed the use of surgical mesh in their surgical procedures caused serious injuries and complications.
In 2012, the FDA issued a warning to Atrium Medical Corporation of New Hampshire for its failure to respond to numerous complaints of infections caused by a mesh patch known as C-QUR. In 2015, a federal judge issued an injunction against Atrium, prohibiting them from manufacturing and distributing the product.
A year later, in 2016, Johnson & Johnson's Ethicon Manufacturers, also a New Jersey corporation and the makers of the Physiomesh patch, initiated a voluntary recall after analyzing data from two large independent hernia registries. A hernia registry is a form of data collection from both physicians and patients that aims to improve hernia care to patients and improve outcomes of hernia surgery. The registries Ethicon studied showed rates of surgical recurrence were higher than average with hernia repairs done with Physiomesh. In 2016, the mesh was recalled due to evidence it had caused infections, perforated organs, and migrations of the mesh to other parts of the body. More recently Johnson & Johnson had a lawsuit filed against them for manufacturing, marketing, and selling a defective medical device for incisional and inguinal hernias.
In 2018 the FDA issued additional safety warnings and product recalls for hernia mesh products claiming they were the main cause of bowel perforation and obstruction complications.
Liability in a Hernia Mesh Lawsuit
A hernia mesh victim may have another avenue to pursue if he or she can show evidence of an error made by his or her physician or another health care professional, generally concerning the way the mesh was implanted.
If you think this is likely, you will want to pursue a discussion of liability with your hernia mesh attorney. There are several distinctions between the two kinds of lawsuits—medical malpractice and product liability–and you should be aware of some requirements the plaintiff (you) must meet before a medical malpractice lawsuit can proceed.
Compensation in a Hernia Mesh Claim
If you believe you have suffered injuries due to hernia mesh implantation, the following damages could be included in your hernia mesh lawsuit. Your Slater & Zurz hernia mesh attorney can give you more detail about this.
Past and future medical expenses related to injuries caused by hernia mesh
Past and future pain and suffering related to the injuries caused by hernia mesh, including the treatment and recovery process and pain and suffering related to any necessary revision surgery
Past and future wage loss, including the past and future loss of the capacity to earn
Punitive damages, if appropriate. These are damages that exceed simple compensation awarded to punish the defendant for grossly negligent, intentional, malicious, or reckless behavior.
What Happens to Hernia Mesh Lawsuits in Ohio
Hernia mesh lawsuits in Ohio are consolidated into "multidistrict litigation" (MDL) rather than filed as class action lawsuits.
MDL aims at consolidating and expediting many similar claims while still addressing the unique aspects of each individual case. (Class actions are typically brought in the name of one or two plaintiffs on behalf of a large group of similarly situated victims.) Compensation in MDL is determined individually on the merits of each case. It is based on the extent of damages suffered by an individual claimant.
Hernia Mesh Settlement Value
As stated previously, there is prior litigation on hernia mesh and other types of mesh used in surgeries in other parts of the body. Many of the problems with hernia mesh devices stemmed from their incompatibility with the human immune system. Once implanted, the devices triggered an immune system attack resulting in various complications. Another problem was that the outer coating of the hernia mesh devices degraded too quickly, causing the mesh to attach to other organs or tissue.
However, awards in hernia mesh claims depend on individual circumstances–the severity of the injury, the strength of the case, and the permanency of the damage caused by the faulty mesh. It is possible some of the manufacturers represent large corporations that have deeper pockets, but it is difficult to say exactly what the average settlement value will be
A hernia mesh attorney at Slater & Zurz can help you estimate what your case could be worth.
Why Choose Slater & Zurz
You may never have considered suing someone or filing a lawsuit against a large company, but when your whole life has been upended by another's negligence, you may change your mind. You have medical costs and additional surgery to deal with, and your finances will likely be affected. When you are searching for a law firm that is always professional, but its lawyers can be very aggressive when necessary, look no further than Slater & Zurz.
Our medical malpractice lawyers have more than four decades of experience in personal injury cases. They offer a wealth of knowledge, vast resources, and unwavering personal support to their clients.
They have a proven record of success, with over half a billion dollars recovered representing clients.
Slater & Zurz doesn't back down from the big guys. The law firm has been part of a legal fight seeking compensation for victims of C-8. Dow Chemical released this lethal cancer-causing chemical into rivers and streams from which drinking water in Ohio and West Virginia originates.
The medical malpractice lawyers at Slater & Zurz are focused on you and want to give you the attention you deserve following the ordeal you have already been through. They offer you 24/7 communication and a free initial private consultation with no limit on how much time you spend with an attorney.   In other words, your visit is not restricted to an hour.
What is even better is that you do not pay any legal fees unless you win your case. Your hernia mesh attorney will explain how this works and answer any other questions you may have.
Cases such as hernia mesh lawsuits are difficult to attempt to litigate yourself. They can become very complex and require the expertise of medical malpractice lawyers like those at Slater & Zurz.
Time Available to File Suit
The statute of limitations on hernia mesh lawsuits begins when the injured party knows or should have reasonably known about their injury (the onset of complications). Under most circumstances, the victim has two years from that date to file a lawsuit.
The "discoverability rule" means the victim has discovered or should have known the defendant's conduct caused their damages/injury. This can get very complex and may involve when the time limit to sue has passed.
Trying to figure out the statute of limitations issues by yourself is not advisable. Contact an attorney experienced in these matters, like the hernia mesh attorneys at Slater & Zurz.