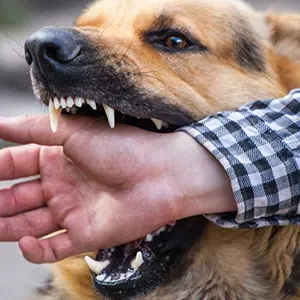 According to the CDC, approximately 4.5 million people are bitten by a dog every year in the United States. Over 800,000 of these dog bite victims must seek medical care for their injuries. Dog bites can not only be extremely painful and frustrating – but they can also be costly. If you or a loved one was injured in an Ohio dog bite attack, it is important to understand your rights so you can recover fair compensation for your injuries.
Strict Liability
Under Ohio, Revised Code 955.28 B, a dog's owner, keeper, or harborer is liable for any injuries caused by the animal. This pertains to all dog bite incidents, as long as the injured party was not involved in any of the following:
Provoking, tormenting, or abusing the dog
Unlawfully trespassing on the dog owner's property at the time of the attack
Committing, or attempting to commit, a crime at the time of the attack
Ohio is a strict liability state, meaning that it does not require the injured party to prove the dog owner was in any way negligent. The state views all dogs as threats to public safety. Therefore, dog owners are required to take proactive steps to protect the public from their animals.
Many states have a so-called "one bite rule," which in short says that a dog owner cannot be held liable for injuries caused by their animal if the dog had no prior history of attacking anyone. The idea behind this rule is that if the dog owner were unaware of the dog's aggressive or dangerous behavior, they would not have known to take appropriate action to ensure the safety of others. Fortunately, for Ohio dog bite victims, our state does not follow the one-bite rule.
Ohio's Dog Bite Reporting Law
Under Ohio law, dog bite victims must file a report with the local health commissioner within 24 hours of the attack. The report is essential in supporting your dog bite injury lawsuit if you decide to pursue legal action against the dog owner. The report provides the contact information for the dog's owner as well as the dog bite victim, a description of the dog, where the incident occurred, and the details of the attack. After the report is filed, the dog will likely be quarantined at either a kennel or the owner's home and assessed for rabies.
When Your Dog is Attacked by Another Dog
Dogs are considered an owner's personal property in the state of Ohio. That means that if a dog was injured or killed by another dog, the owner of the dog who attacked is only liable for the value of the deceased dog or the difference of value from immediately before and after the injury. Because pets have minimal market value, damages are rarely awarded for the loss of a dog. However, damages are often awarded to compensate the dog's owner for the expenses incurred to treat the animal, such as veterinary bills.
Statute of Limitation for Dog Bite Injury Claims
A victim has six years from the date of the incident to file a dog bite injury lawsuit in Ohio. If the victim is a child, they have six years from their 18th birthday to file. However, to increase your chances of obtaining maximum recovery from your injuries, it is always best to act quickly and pursue legal action right away.
Defenses in a Dog Bite Lawsuit
Ohio dog owners are generally responsible when their pet injures someone. This includes biting, knocking them over, or chasing them, causing the person to fall. But there are cases where the dog owner should not be held liable for the injured party's losses. Depending on the circumstances, a dog owner and their attorney may argue with the injured person:
Provoked, tormented, or abused the animal
Was unlawfully trespassing at the time of the injury
Was committing or attempting to commit a crime at the time of the incident.
A defendant can successfully argue the dog acted as a result of being provoked by the injured individual – even if the injured person did not intentionally try to provoke the animal. Examples of unintentional provocation include:
Accidentally stepping on a dog's tail
Intervening during a dog fight
Petting an animal while it is eating
Pulling on a dog's ears, legs, fur, or tail
What to Do After a Dog Attack
The time immediately after a dog attack can be chaotic. But if a dog has bitten you or a loved one, there are a few essential steps you should take.
Wash the wound with soap and water, apply an antibacterial ointment, and cover with a sterile bandage.
If the dog owner is present, ask for his or her contact information. Also, be sure to ask for a copy of the dog's vaccination records if they are available. If a copy is not available, ask for their veterinarian's contact information.
Seek medical attention immediately. Even if the injury appears minor, you should have a doctor thoroughly assess and treat the wound. Dog bite injuries often become considerably worse over time, largely due to the high likelihood of infection.
Contact the dog's veterinarian to see if the dog's vaccinations are up to date. If they are not, have your doctor test you for infectious diseases commonly carried by dogs, such as rabies.
File the required dog bite report with your regional health commissioner within 24 hours of the incident. This report will serve as a key piece of evidence if you choose to file an Ohio dog bite injury lawsuit.
Speak to a dog bite lawyer right away. Medical bills can add up quickly. Receiving compensation in a dog bite claim can help you recover from the significant financial burden caused by your injuries.
Recovering Damages in a Dog Bite Case
If you or a loved one was bitten by a dog, you can pursue compensation for your physical, emotional, and financial damages. Depending on the circumstances of your case, you may be entitled to the following:
Past and future medical expenses
Rehabilitation costs
Lost wages
Lost or diminished earning capacity
Property damage
Disfigurement
Pain and suffering
Mental anguish
Diminished quality of life
Wrongful death
Insurance's Role in a Dog Bite Claim
Victims of dog bites can file a claim with the dog owner's homeowners or renters insurance company. The personal liability and medical payment portions of these policies generally include dog bite liability, typically offering between $100,000 to $300,000 of coverage. If the claim exceeds the policy limit, the dog owner is liable for any damages above that amount.
After a dog bite, recovering from your injuries should be your top priority. Hiring a qualified dog bite attorney to handle your case will allow you to focus solely on your recovery. A dog bite attorney can provide invaluable assistance throughout the process by:
Managing all communications with the insurance company or attorneys
Gathering evidence to build a strong, compelling dog bite injury case
Negotiating on your behalf to obtain fair compensation for your losses
Skillfully representing you in court if an acceptable settlement can't be reached
Keeping you updated with any developments in your Ohio dog attack claim
Schedule a Free Consultation with a Qualified Dog Bite Attorney
The reputable legal team at Slater & Zurz has been helping Ohio dog bite injury victims for over 30 years. We understand the state's dog bite laws and know what avenues to pursue to get you the maximum compensation for your losses.
We offer free, confidential consultations to dog bite victims to ensure you receive quality legal advice at no cost. We also accept all dog bite injury cases on a contingency fee basis, allowing you to pursue compensation without any up-front costs. We receive payment for our services when we successfully recover on your behalf. In the unlikely event, we do not recover, you owe us nothing. To learn more about your legal rights and how to proceed with a dog bite injury claim, contact Slater & Zurz at 888.534.4850. We are here to help 24 hours a day, 7 days a week.