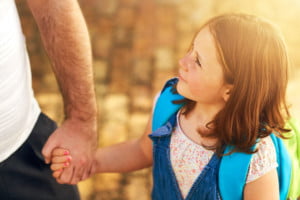 Traditionally, mothers have seemed to fare better in the family court system when it comes to who receives custody of the children after a divorce.   This may be true because family structure used to mean Dad worked and Mom took care of the children.   But, in recent years, there has been much more emphasis on the important role a father plays in his child's life, and many family law attorneys are giving special focus to fathers' rights.
Family experts say the importance of a loving father in a child's life links to seemingly unrelated things like a child's language development. When fathers are affectionate and supportive, it greatly affects a child's cognitive and social development and instills an overall sense of well-being and self-confidence. Increasingly, fathers assert they are capable caregivers and should have as many legal rights as mothers.
Reasonable and Fixed Visitation
There are two general types of visitation recognized by the family court system—reasonable and fixed. Reasonable visitation is the term many courts use to give non-custodial parents rights to visit with their children." A vague, as opposed to a specific visitation order, aims to promote cooperation between parents in settling on a visitation schedule.
Fixed visitation is when the judge orders times when the non-custodial parent has parental visitation. Courts are more inclined to establish fixed visitation when it appears there is still conflict between parents or when the parents will not cooperate with each other. It can also be instituted to provide some stability for the children at a confusing time in their lives or as an alternative when a "reasonable visitation" plan is not working.
Most legal experts and family law experts today advise fathers seeking custody of their children, or more visitation time with them, to ignore negative stories about the court's gender bias and go into a custody court with the attitude they will not be relegated to the standard visitation schedule– a few hours one weekday evening and every other weekend.
Fathers need to fight for their rights. They will be looking for family law attorneys who are knowledgeable and experienced in Ohio law, like the family law attorneys at Slater & Zurz law firm.
How Ohio Fares in Awarding Custody Time
According to Custody X Change, an organization that provides tools and software for parent scheduling, Ohio is not one of the better states for providing a noncustodial parent (usually a father) with visitation time.  Although 40% of states aim to give equal time to parents, according to the X Change, Ohio only provides 23.7% custody time to noncustodial parents, or about 80 days per year.   Only six states rank lower—all with custody percentages in the low 20s.
Twenty states offer 50% parenting time, according to the X Change, which means about 180 days per year, so there is quite a difference in custody time traditionally granted throughout the various states.
Living in a state where fathers are not often winners in custodial time is going to mean more time and effort for the Dad who refuses to accept the status quo, according to one Akron divorce lawyer. Divorce lawyers caution that when fathers sign the final divorce decree, their visitation plan with their children is all but sealed. It is not easy to change the conditions of visitation after the fact, and the father may have to show a substantial change in his circumstances.
Tips to Help Secure Custody of Your Children or Receive More Visitation Time
The following tips were compiled from several articles about custody and divorce written by legal experts and family law advisors.
Hire a Lawyer.
Legal and family experts recommend that any person with child custody or child support issues seek the counsel of an attorney who is knowledgeable in family law and well-acquainted with father's rights laws in the state of Ohio.  These family law attorneys are available at Slater & Zurz law firm.
A Slater & Zurz child custody lawyer can explain to the client their rights, how to approach the issues facing them, and the possible outcomes of the case. Legal help is essential for any father who wants to remain involved in his child's life. Some very important decisions may be made that will affect the father's and his children's lives, perhaps forever, and fathers need to be well-represented. There may be no second chance to correct things you wish you would have done differently.
Document Everything.
This is an easy thing to do which could prove invaluable—keeping a record of everything that happens in your divorce case. If you are denied an opportunity to see your children, make a record of this and the reason given as to why you cannot see them.
If you visit your child when he or she is in the custody of their mother, keep a detailed log of the times you visited and what you did. Keep records of any financial assistance provided during this time.
If you have agreed on an informal parenting plan with your soon-to-be ex-spouse, maintain records of how both parties follow it.
Get More Involved in Your Children's Lives if You Aren't Already.
You should be able to show the court that you are active in your children's school lives and that you take an interest in their intellectual development. You should be able to show that you take them to doctor's appointments, sporting events, and anywhere else they need to go.
Prior to awarding full custody rights, a judge may inquire into the parent's relationship with the child. During a child custody proceeding, a parent should be prepared to respond to questions about that relationship.
Get Your Finances In Order.
Your ability to provide for your children will likely come up in court. Make sure your finances reflect that you can provide for your children and illustrate exactly how you will accomplish that.
If you earn more money than your spouse, there's no reason to hide it. It could put you in a better position to provide for your children. Higher earnings may also put you in a better position to provide for educational and healthcare needs and other necessities.
Present Great References to the Court.
Unless the judge restricts personal references, show the court that other people have high opinions of you. Encourage friends and family to express how effective a parent they think you are. Also, gather references from your children's teachers, coaches, church group leaders, and neighbors. This is evidence a judge can go by when deciding about a child's future.
Do Not Compromise Before the Divorce is Settled.
Be firm about what you want to accomplish. You want more time with your children, shared custody, or full custody. If you have agreed to divorce mediation, do not compromise before the mediation begins and give your ex-spouse the advantage. Stick to your guns.
Don't Hurt Your Own Case.
Avoid mistakes like public confrontations with your "ex," moving in with a significant other during the divorce, taking the kids unannounced for long periods of time, and criticizing your "ex" in front of others. Any of these actions could come back to haunt you in your custody battle.
Also, don't try to "influence" the court. The judge has a way of reaching the right verdict more often than not.
If you have questions about anything, talk with your father's rights attorney before you act. He is there to help provide you with the best outcome for this family law situation.
"The Best Interest of the Child" Standard
Ohio Revised Code (ORC) 3109.04 (F) outlines what factors the court can consider in determining "the best interests of a child." The court can consider other factors but must consider all relevant factors, which include:
The wishes of the child's parents regarding the child's care;
If the court has interviewed the child in chambers regarding the child's wishes and concerns as to the allocation of parental rights and responsibilities concerning the child;
The child's interaction and interrelationship with the child's parents, siblings, and any other person who may significantly affect the child's best interest;
The child's adjustment to the child's home, school, and community;
The mental and physical health of all persons involved in the situation;
The parent is more likely to honor and facilitate court-approved parenting time rights or visitation and companionship rights;
Whether either parent has failed to make all child support payments, including all arrearages that are required of that parent under a child support order under which that parent is an obligor;
Physical abuse, sexual abuse, or neglect by either parent or a member of the household;
Whether a residential parent or one of the parents subject to a shared parenting decree has continuously and willfully denied the other parent's right to parenting time in accordance with an order of the court;
Whether either parent has established a residence or is planning to establish a residence outside the state.
Slater & Zurz Law Firm Can Help
In a divorce, the court must evaluate each custody case individually. The biological father can have a difficult time presenting his case if the mother is resistant to having the father involved in the child or children's life.
Slater & Zurz has several family law attorneys with expertise in handling these matters and would like to meet with you to discuss your case. The initial consultation is free of charge, and there are no limits on the meeting time.