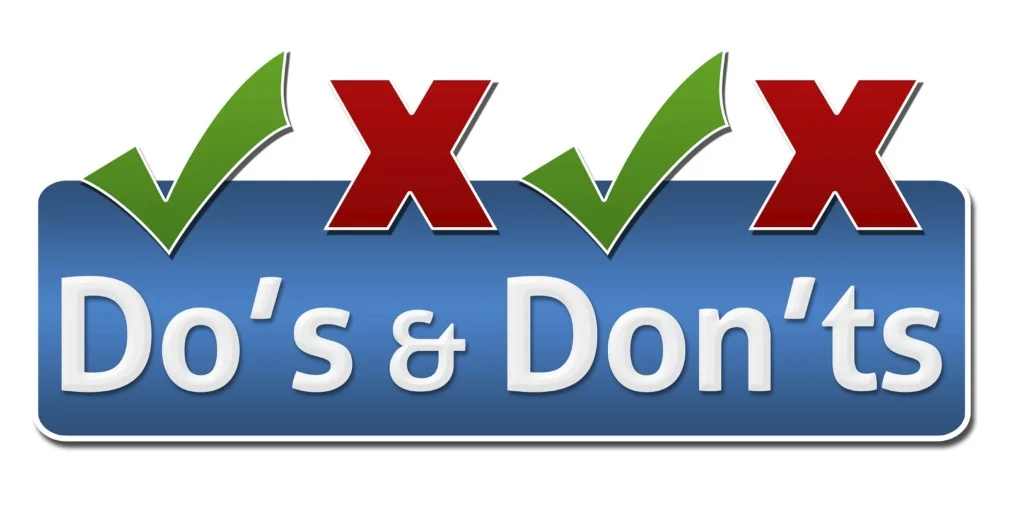 If you are about to get a divorce or just wondering about the divorce process, you may want to learn more about it. Divorced friends may have told you that divorce was the worst thing that ever happened to them. Others, for various reasons, tell you it was the best thing that ever happened to them. The range of emotions may go from deep feelings that your spouse has betrayed you to the joy that you are getting a new start and ending what has been a very troubled relationship.
A potential client told us that she wished there was a checklist of do's and don'ts for divorce. Divorce has an emotional side and a legal one. We consolidated these two areas and here is our list of 8 do's and 8 don'ts for divorcing people.
Divorce DO's
Although it may be extremely difficult, be honest and upfront with everyone from the beginning of the divorce process. This means be reasonable, be cooperative, and don't be untruthful. Talk with your attorney about what to do when you do not believe you can cooperate for a good reason.
Think about your health and your well-being. From time to time, do something nice just for yourself—give yourself a day off work and plan an activity, perhaps a golf date or visit a museum.
Become as knowledgeable as you can about the divorce process. The more you know, the better questions you can ask, and the surprises will be fewer.
Make sure you are aware of your financial situation and have all the necessary documents handy. If there is something out of line, unpaid credit cards, for example, do everything you can to get your financial affairs in order. Don't keep bills in both of your names, as this can cost you considerably.
Document. Document. Document everything that happens. This is your mantra in the divorce process. It will save you many headaches.
If there are children, remember to spend quality time with them kids. They are not getting a divorce and they really need the attention of both parents at what is likely an unsettling time for them.
Realize that you need an Akron Divorce lawyer, which should be different from your spouse.
You don't need social media. Many divorcing people regret they didn't heed this bit of advice.
Divorce DON'Ts
Don't be negative about your soon-to-be former spouse in front of your children. This can be difficult, especially when your "ex" disappoints the children, but try to be the better person and hold your tongue.
Don't destroy evidence. This goes back to being truthful and can get you in a lot of trouble if your actions are discovered.
Don't give up hope for the future.
Don't get involved in a rebound relationship. This could be used against you, especially in a child custody battle.
Don't try to stop children from seeing their parents. If you are truly afraid for their safety, talk to your divorce lawyer about what to do.
Follow the rules of the court. Talk to your Cleveland divorce lawyer if you don't think you can do that. You may still have to do what the court asks, but your attorney may have some other ideas.
Forget about everything you planned to make your former spouse look like a jerk. You may be the one ending up looking immature.
Don't get greedy.
If you are planning a divorce or dissolution or find out your spouse has started proceedings, you should talk to an attorney to discuss your legal options.
Our family law attorneys are very familiar and experienced with Ohio domestic relations law and will be happy to help you and suggest the best path for you to follow. We realize the emotional aspects of divorce and the difficulties you may be going through.