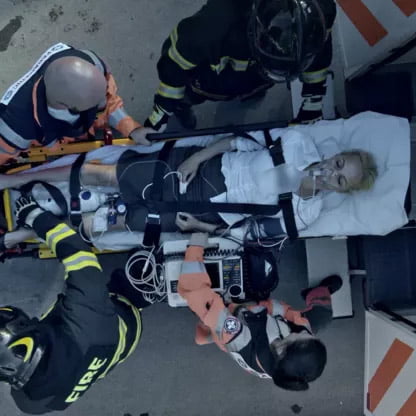 A personal injury claim is how you recover compensation when you're injured and another person was at fault. Ohio personal injury lawyers help clients file personal injury claims after all kinds of different accidents.
Knowing what to expect from the personal injury claim process can help you feel prepared and confident about your first meeting with a personal injury attorney. After you take this initial first step, your lawyer will oversee most of the proceedings on your behalf, leaving you to focus on healing while they handle your finances.
Why You Should Always Call a Personal Injury Lawyer After Being Injured in Ohio
After an injury, one of the biggest mistakes people often make is failing to contact a personal injury lawyer right away. This happens for different reasons.
Most people have a basic understanding of how a car accident claim works. A car accident injury victim might just call up the car insurance company to report the accident — not realizing that this is a common, costly error that seriously reduces the amount of compensation received.
In other cases, an injured individual may not even realize that money is owed to them. For example, if you suffer a slip and fall injury due to a wet hotel lobby floor, you might just chalk the accident up to your own clumsiness and foot the bill. This is another major mistake.
A personal injury attorney will be quick to inform you that the hotel's insurance company can be forced to pay for your injuries. A public place like a hotel is legally required to keep its property safe and free of hazards.
It's common for an injured person to have valid grounds for a personal injury claim without even realizing it. And even if you do realize it, allowing a lawyer to handle communication and negotiation with an insurance company will leave you with a higher payout than if you try taking on the claims process by yourself.
Choosing an Ohio Personal Injury Lawyer
Once you've received medical care for your injury, your first step should be to find an experienced personal injury attorney to take on your case. When injuries are severe, immediate relatives like a spouse, parent, or adult child may need to hire a lawyer on behalf of the injured individual.
Many personal injury lawyers offer free consultations. This is a chance to hear what a lawyer has to say about your case. If they think they can win your case, they'll probably offer to represent you. 
Before you agree to work with a personal injury lawyer, do your research. Look into a potential lawyer's practice history, case results, and online reviews. If a lawyer has a track record of winning cases like yours, it's a good sign that you're putting your case into the right hands.
Steps in a Personal Injury Case
Once you've begun working with a personal injury attorney, they'll begin the claims process for you. Most personal injury cases go through the same four stages:
Investigation
The demand letter
Insurance negotiations
Settlement
During the investigation, your lawyer will thoroughly research your accident and collect evidence. They may need to collect materials like:
Medical bills and receipts
Proof of lost income
Police reports
Medical statements
Witness testimony
Security camera footage
The personal injury lawyer will take all of this evidence and build a case for negligence against the other party. They'll also identify the cost of your injuries to establish a target compensation goal.
Your lawyer will handle most of the work for you, but there are some steps you can take to help strengthen your case. The following advice is from John Lynett, an Ohio personal injury attorney at Slater & Zurz:
There is no better evidence of how an accident occurred than taking pictures and, if possible, video footage of the aftermath. After this evidence is secured, the steps to take include the following:
Gather information: Make sure all names, contact, and insurance information is collected at the accident scene for the at-fault party and any witnesses.
Seek medical attention: Even if the injuries seem minor, seeking a doctor's care and proper evaluation is essential. If the injuries are more serious, you will likely be treated at the scene or taken to a hospital.
Get all the treatment needed: Not only will this treatment benefit you physically, but it also documents your injuries and progress for the insurance company.
Keep a journal: While not always necessary, it may be beneficial to keep a journal that describes how the injuries are affecting you in your own words. Describe how the injuries impact your activities, pain levels, and mental state.
Once they have a case built, your lawyer informs the insurance company of your claim through the demand letter, undergoes negotiations, and works to achieve a settlement.
Taking a Personal Injury Case to Court in Ohio
Most personal injury cases end in settlement. Taking a case to court can become a lengthy and expensive process. Most insurance companies would rather settle than take on the expense of a court case.
However, sometimes taking an Ohio personal injury case to court is necessary — especially when an injury is severe and the compensation is for a significant amount.
If your personal injury attorney finds that the insurance company cannot be persuaded to settle for a fair amount, they'll initiate the legal process.
When a case goes to court, it goes through four basic steps:
Filing a complaint
The discovery process
Litigation
Court verdict
Once your case is heard by the court, the court verdict will determine how much money the insurance company has to pay.
Why Timing Matters in an Ohio Personal Injury Case
A personal injury case goes through many stages before the decision to go to court is made. That's why it's important to contact a personal injury lawyer as soon as possible after your accident — this will help ensure that you have enough time to file if your case ends up in the small percentage of those that go to court.
If you've been injured in Ohio, the clock is ticking on your chance of gaining fair compensation. Contact an experienced Ohio personal injury attorney at Slater & Zurz today to learn more about your options.