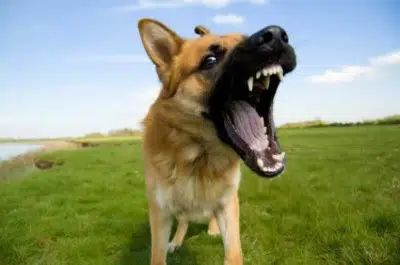 Searching for an Ohio dog bite lawyer is something you never expected. It's nearly impossible to anticipate a dog attack. You probably have many questions about what to do and what actions to take. We are here to help you.
We've been assisting dog-bite victims in Ohio for over 30 years. Contact our dog bite attorney for a free consultation by calling 888.534.4850 or send us a message by filling out the FREE CASE REVIEW on the right. We will provide you with the information and guidance you're trying to find.
We charge nothing whatsoever for an initial consultation, and you will be under no obligation to hire our firm. We always respond to calls and messages immediately. This includes Saturdays and Sundays.
Dog Ordinances and Ohio Dog Bite Laws
Ohio has dog ordinances that place specific requirements on dog owners. They must control their pets and prevent them from harming people.
Ohio also has laws that govern dog attacks. Owners are held liable for injuries to their dog's cause.
Ohio laws and ordinances determine what will happen to a dog that bites someone.
If you would like to know more about these laws and ordinances, contact us for a free consultation. We will explain.
To review these Ohio laws, visit the following link: Ohio Dog Bite Laws.
Dog Attacks in Your Neighborhood
Dog bites usually happen close to home. An attack by a neighbor's dog, a friend's dog, or a family member's dog. Here are a couple of examples from actual residents who have contacted us:
"I was at my friend's house. His husky bit my hand and wouldn't let go. I pulled the dog's jaw open with my other hand, and it bit that one too. My hands are pretty bad. I had to go to the E.R. and get stitches. Please call me to discuss what I am supposed to do."
"My daughter was bit by my neighbor's dog yesterday. The dog crawled under our gate and bit her twice. She has a huge wound on her arm and one on her leg. What can we do about this?"
We helped these clients take action. Even though the dog owner was a neighbor and a friend, we understand these are sensitive situations where you don't want to ruin a relationship. Having us handle it helps.
The majority of Victims Are Kids.
The majority of these cases we've handled over the last 30 years involve children. There is nothing worse for a parent than seeing a son or daughter hurt. Dog bite cases that involve children need to be handled carefully. There are usually injuries to the face and the emotional trauma can be severe. It can have a huge impact on the child's future. We help you prepare by delivering the results your child needs. It's important to get a fair amount of compensation to deal with the dog bite injuries your son or daughter may have to live with for the rest of his or her life.
We are Ohio dog bite lawyers who get positive results for our clients. Our extensive experience and vast resources help us do that. Here are a few examples of the results we have helped our clients receive:
A young boy was viciously attacked by a dog and sustained multiple injuries. We helped the boy, and his family received a settlement of $230,000.
A woman was taking her dog for a walk when a neighbor's dog attacked her dog. In her attempt to save her dog, she was also attacked. We helped her receive a settlement of $50,000.
A claim to recover compensation for the injuries you sustained in a dog attack will be handled by the dog owner's insurance company. The insurance company has a team of professionals who are paid to make sure you receive the least amount possible. We won't let that happen. We are your weapon. Our dog bite lawyers know how to deal with insurance companies. We will ensure you are treated fairly and receive the compensation you deserve.
Frequently Asked Questions
Q1. What is the statute of limitations for a dog bite?
A. The statute of limitations for a strict liability claim is six years for adults. A minor victim's six years begin on his or her 18th birthday as it is sometimes necessary for a child to be full-grown to see the damage from an attack.
Q2. What to do if bitten by a dog?
A. In Ohio, or in any state, it is imperative if you're attacked by a dog that you follow some simple steps. You want to make sure you get medical attention to treat the wound area and have a plan in place with your local medical professionals.
Find out who owns the dog. Is the dog that bit you a stray, or belongs to someone in your neighborhood? These are important questions, and knowing the answer is essential as you move forward with the claim against homeowners insurance or a lawsuit against the dog's owner.
Any important documents such as photos, notes about the incident, medical treatments and documents, owners of dogs, addresses of dog owners, etc. All of this information is what you will need to make a claim.
Q3. What type of attorney do you hire to defend you in a dog bite claim?
A. Personal injury lawyer handles dog bite injury cases. It is best to work with a law firm that specializes in dog bite cases, such as Slater & Zurz. They have been handling dog bite cases for over 30 years all over the State of Ohio.