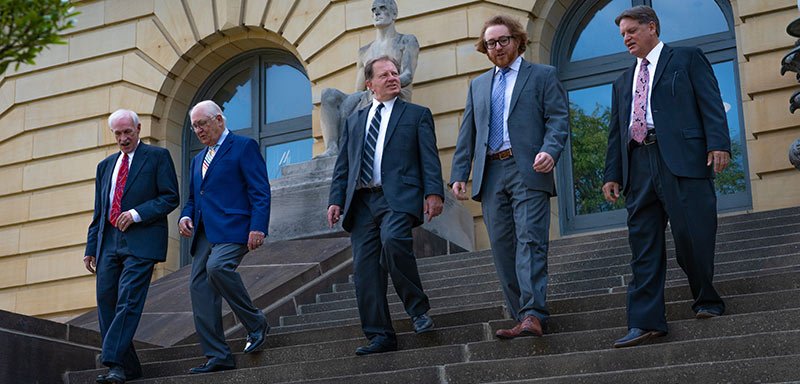 PART II
The system is difficult to navigate, but Slater & Zurz elder abuse specialist Brandon Dean has some advice to get the process started quickly.
"I urge concerned family members to contact the Ohio Department of Health because they can initiate an on-site investigation within 30-60 days," Dean says. "It takes several months to get records otherwise."
When the Ohio Department of Health starts its investigation, it involves interviewing staff and checking records – records that would likely be unavailable for several months.
Meanwhile, Brandon requests records. Unfortunately, a majority of nursing homes keep "horrendous" records and rarely, if ever, turn over a full set.
"If we can't get records from the nursing home, the next place we go is the acute care facilities; Emergency Rooms, Hospitals, and independent family physicians," Dean says. "I always immediately request records from outside medical facilities, because Hospitals keep significantly better records."
Actually, if nursing homes kept better records, Dean says it would result in far fewer lawsuits.
"I would sue less nursing homes if they possessed and turned over complete records," he says. "If there were records that the patient was actually getting treatments, appropriate interventions were in place, and incidents were appropriately documented/explained, I wouldn't be so critical.
"Are they getting the appropriate ounces of fluids each day? Are they getting the correct doses of medication? If I see incomplete records, what am I to think?
"It's an uphill battle for sure, and it can get very frustrating," he says. "But there are things people can do on their own to be proactive."
When an incident is reported, Dean says if the victim or their loved ones have been keeping their own records, it's a tremendous help.
"People should always keep their own records, with times, dates, names of which doctor or nurse they dealt with, and what the interaction was about," he said. "We can use their records to challenge the facility's information."
What Can You Do?
While many experts have weighed in, some calling for greatly improved transparency and public access to reviews and appeals processes, others have argued that such measures violate the patient's rights to privacy.
While the debate continues, the best recourse if you suspect your loved one has been injured while in the care of one of these facilities is to contact your own attorney.
Nursing home abuse lawyer Brandon Dean is meticulous and determined to find the truth. He's been specializing in nursing home abuse for years and knows how to find your family justice.
He offers these tips:
Keep your own records, noting times, dates, who you spoke with, and what the interaction was about.
Check on your loved ones as often as you can, visiting them in their homes and asking the staff a lot of questions.
Always insist your loved one be taken to an acute care hospital for all injuries because they keep better records your attorney can access.
Make sure to call an attorney who specializes in elder abuse cases.
One of the reasons many people hesitate to call our nursing home abuse lawyers is because they assume a large cost.
But meeting with Brandon Dean won't cost you any upfront costs. The consultation is completely free. We at Slater & Zurz earn our fee by winning your case. If we do not win your case, there are no fees.
We're waiting to take your call, day or night, seven days a week. If you suspect your loved one has been injured due to the negligence of their elder care facility, call and speak to our dedicated nursing home abuse & neglect lawyers. We have the experience to get you the result you deserve.