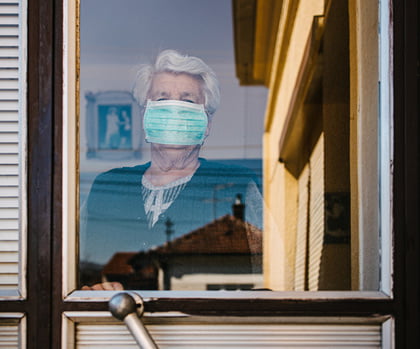 In the United States, residents and staff in hundreds of nursing homes and long-term care facilities have been stricken with COVID-19, the respiratory disease caused by the most recent strain of coronavirus. COVID-19 is an acronym for the Corona Virus Disease that first surfaced in 2019. On April 12, 2020, the New York Times proclaimed that nursing home residents are "sitting ducks."
One of the first "hot spots" for COVID-19 was a Kirkland, Washington nursing home where two-thirds of the residents and 47 employees came down with the virus, and 37 died. Although some states are beginning to see fewer new cases per day, the number of those afflicted in the United States exceeds a half-million people, and over 20,000 Americans have died. Because we haven't tested even one percent of the U.S. population, these figures are probably dwarfed by the real numbers of infected people, including those presumed to have died of old age or other infirmities.
A nursing home's neglect in failing to protect a coronavirus-free resident from COVID-19 after the pandemic became widely known—as well as its failure to treat a resident with the virus—amounts to nursing home abuse, just like the nursing home's failure to prevent or treat bedsores, failure to provide appropriate meals or medications, or failure to check on the resident.
At Slater & Zurz, we have a solid track record of success in handling nursing home abuse cases. If your loved one contracted COVID-19 or was otherwise harmed in a nursing home, call or email our team to set up a free consultation with one of our elderly abuse attorneys. We'll review your case, answer your questions, and recommend a path forward to get you and your loved one the compensation you deserve.

Addressing the problems posed by COVID-19 in nursing homes is a challenge for both families and nursing homes.
Complete isolation of residents who have COVID-19 from those who have not been exposed is not always feasible.
Keeping residents with the virus in separate wings, or at least separate corridors, reduces the risk that uninfected residents will be exposed. Federal regulations don't require that every nursing home resident diagnosed with COVID-19 be kept in an isolation room.
The Centers for Disease Control and Prevention (CDC) recommends only that those with the virus be placed in private rooms, preferably with their own bathrooms. The CDC has not prohibited nursing homes from accepting new residents who have the virus, as long as the recommendations are followed.
The CDC guidelines do not fully address the high-risk COVID-19 poses to both staff and residents, even though most residents are elderly and extremely susceptible because of other health conditions. The guidelines also ignore lapses in infection control evident at some facilities.
Limiting visitors have had some success but are not universally effective.
In March, the Centers for Medicare and Medicaid Services (CMS) imposed strict limitations on nursing home visits, with some exceptions for end-of-life situations. Any person who has been infected can spread COVID-19 before showing any symptoms. Some people never show tell-tale signs of the disease but can still transmit it to others. Simply taking someone's temperature is no guarantee that the person isn't infected and can't transmit the disease.
The lack of regular family visits often contributes to residents' feelings of isolation and loneliness, giving rise to depression, feelings of hopelessness, and even a loss of the will to live. Of particular concern are those residents with dementia or other mental limitations who may not understand why their loved ones have stopped visiting. Many nursing homes have begun to address the need for residents to connect with their families and vice versa and are employing different strategies:
Alternative means of communication, such as FaceTime, iPads, Skype, and social media.
Counselors focus on residents' mental health and wellness.
Group emails to families with updates on their loved ones.
Social media postings inform families about events, conditions, and changes affecting their loved ones.
Removing loved ones from nursing homes when feasible has both advantages and disadvantages.
Advantages:
Some view the risk of exposure inside a nursing home to be so overwhelming that families should remove their loved ones if at all possible. The risk of death to already frail individuals if infected militates in favor of removal.
Removing a resident from a nursing home may protect him or her from COVID-19 if no household member has already been exposed. The likelihood that a nursing home resident will be exposed may
depend in part on the protocols adopted by the nursing home: whether residents are confined to their rooms (with meals delivered to them instead of served in a common dining room); whether any visitors or other outsiders are admitted for any purpose; whether the staff is given proper protective equipment; and whether residents are readmitted after hospital stays or medical appointments where they could have contracted the virus. Other factors include whether any staff members "patch together shifts" at two or three facilities, increasing their chances of exposure; whether staff members have paid sick leave and will stay home when ill; and/or whether staff members have health insurance.
Disadvantages:
If the resident is taken home, any household member working outside the family home can acquire and transmit the virus. Similarly, if the resident was infected in the nursing home but has not yet shown any symptoms, he or she can spread the disease to vulnerable family members at home.
Some nursing home residents require specialized care that the family can't duplicate at home. As hospitals prepare for a projected rise in new COVID-19 cases, hospitals may be unable or unwilling to admit a nursing home resident if home care proves to be too much for the family. In addition, the nursing home might not readmit the resident because of the possibility of exposure while living with the family.
Nursing homes should be proactive in addressing issues critical to residents' safety.
Nursing homes should take the lead to ensure residents' safety by assessing critical virus-related issues and acting to provide the best protection possible:
Training staff in transmission prevention and the use of all safety equipment.
Establishing procedures for early identification and management of residents with any COVID-19 symptoms or known exposure to the virus.
Developing protocols for anyone entering the facility.
Ensuring sufficient supplies (masks, gloves, gowns, test kits, disinfectants, soap, paper towels, hand sanitizer, tissues, etc.), equipment, and resources to accommodate increased demand.
Developing personnel policies and procedures, including paid sick leave and assessment for illness upon arrival for work.
Planning for staff shortages due to illness.
If you have questions about your loved one's care, ask the nursing home administrator.
If you're not completely satisfied that your loved one is receiving appropriate care, don't keep your concerns to yourself! Without in-person visits, you can't ensure that your loved one is being treated well and is not being exposed to any unnecessary risks, including COVID-19. Here are some questions you may want to ask:
Does our loved one understand why we aren't able to visit?
Is our loved one lonely or isolated?
How are you handling residents' feelings of loneliness and isolation?
Have you discontinued communal dining and group activities as recommended by the CDC?
Have you replaced communal activities with anything to help our loved ones and other residents feel connected while at the same time maintaining physical distancing?
What can we do to help restore our loved one's sense of connectedness?
Can you help us arrange a video chat with our loved one?
Have any staff members or residents been confirmed or presumed to have COVID-19?
What are your policies concerning staff illnesses?
Do your employees have adequate personal protection equipment (PPE)? If so, do they have to reuse masks or gowns or any other PPE, or are they able to dispose of used items as recommended?
Does our loved one have an ample supply of soap, hand sanitizer, tissues, and paper towels?
How often are common surfaces and appliances—counters, elevator interiors, door handles, wheelchairs, walkers, sinks, toilets, and the like—wiped down with disinfectant?
How have your employees been trained to deal with COVID-19, including residents exposed or infected and residents who haven't?
Will you let us know immediately if our loved one is exposed to COVID-19, shows any symptoms, is scheduled to be tested or tests positive?
Pay attention to anything your loved one says, and ask questions.
Nursing home residents have enforceable rights under Ohio law. They have the right to a safe and clean living environment and appropriate medical treatment and nursing care.
Until the coronavirus restrictions were imposed, they had the right to visit at any time. They had the right to unrestricted and private communication with family members. For the time being, visits have been virtually eliminated because of COVID-19. Private conversations may not be fully private, depending on the technology to which residents have access and the devices they can use.
Until the coronavirus-related restrictions are lifted, make the most of any contact you may have with your loved one. Ask him or her as many questions as you can concerning the treatment provided at the nursing home, his or her feelings, and physical condition. Be upbeat and cheerful when interacting with your loved one—express any concerns to the nursing home administrator.
If your loved one develops COVID-19 or suffers any other form of nursing home abuse, rely on an experienced, full-service law firm dedicated to vindicating the rights of nursing home residents.
Nothing can completely restore the peace of mind of a nursing home resident who is abused or neglected by the very people whose duty it is to provide compassionate and competent care. This injury is compounded when the resident is unable to visit with trusted family members on whom the resident depends on helping resolve problems at the nursing home or when the resident's condition makes it impossible to communicate effectively using the types of devices that are expected to take the place of direct human contact.
At Slater & Zurz, we take the rights and concerns of nursing home residents and their families seriously. We understand the resident's need to communicate with family members and the family's need for reassurance that a loved one is receiving proper care. If your loved one has suffered abuse or neglect while under the care of a nursing home, call our nursing home abuse lawyer for a free consultation to discuss your case. One of our nursing home abuse attorneys will evaluate your claim and suggest the best path forward. We're here to serve your legal needs with compassion, determination, and the drive to win.