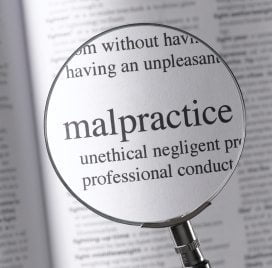 Legal malpractice occurs when a lawyer damages his client by a negligent action or lack of action. A legal malpractice lawyer's role is to file suit against the offending lawyer and attempt to find justice for the former client.
An attorney is required to exercise the degree of care, skill, and diligence that a lawyer of ordinary skill and knowledge possesses and exercises in a particular area of law. A person suing his or her lawyer for malpractice must demonstrate that "but for" the failure of the attorney to exercise the level of care required, the outcome of the case would have been different.
Although legal malpractice is generally referred to as attorney negligence, legal malpractice can occur in any area of law and can take many forms such as simple negligence, gross negligence, breach of contract, breach of fiduciary duty, and fraud.
Examples of Legal Malpractice Cases:
• A lawyer who handled the purchase of real property for a client conducted a title search but failed to find a lien on the property. A substantial settlement resolved the case.
• In a case involving lottery winnings, a lawyer improperly changed his fee agreement from an hourly rate contract to a contingency fee contract without properly notifying the client. The attorney obtained a windfall of more than one million dollars by doing this. The plaintiff was ultimately successful in canceling the contingency fee agreement and receiving all that was due to her.
• A law firm failed to investigate or diligently pursue a medical malpractice case. The law firm did not file the lawsuit in a timely fashion but instead manufactured an excuse to return it to the client just before the statute of limitations was about to expire leaving the client without a viable remedy and no time to hire another lawyer. The case was resolved for a substantial amount for the law firm's wrongful actions.
• In a divorce case, the attorney failed to adequately investigate the husband's retirement account resulting in an unequal divorce settlement. Again, a legal malpractice attorney was able to settle the case for a substantial amount for the injured party.
• A lawyer trustee represented beneficiaries in a trust funded by mineral interests. He convinced them to sign their rights to the trust away and also to sign a release of all claims against the lawyer. This case, too, was settled for a substantial amount.
Elements of an Ohio Legal Malpractice Case
To proceed with a legal malpractice case in Ohio, you must also meet these elements:
An attorney-client relationship must have been established
Your lawyer breached the required duty of reasonable care owed to you by doing something or failing to do something
The attorney's breach of duty must be a cause of damage or injury to the client
Injury, loss, or damage must have been, in fact, suffered by the client
Statute of Limitations on Legal Malpractice
A statute of limitations defines the maximum amount of time a person can wait before filing a lawsuit. If a person files suit beyond the time identified in the state's statute of limitations, he or she runs the risk of having their lawsuit dismissed.
In Ohio, you cannot sue more than one year after the date of the incident for which you are claiming malpractice or one year from the date your relationship with the attorney has ended. The latter event of the two is the one that governs.
If you believe you are in need of a legal malpractice attorney, please make an appointment to discuss your situation with one of the experienced malpractice attorneys at Slater & Zurz LLP. To schedule a free consultation, call 888-534-4850 or send us a website message.