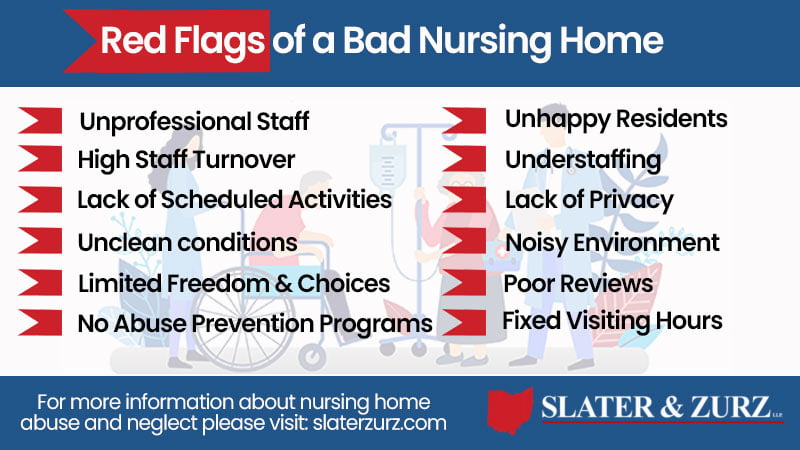 Though it is often the only option for families, choosing to place a loved one in a nursing home is a difficult decision. Most nursing homes and long-term care facilities provide exceptional care. Their nurses, caregivers, and staff members treat our loved ones with compassion and provide them the quality of care they need and deserve. But unfortunately, there are times when those who we trust to take care of our loved ones are the ones who ultimately cause them mental, emotional, or physical harm.
When choosing a nursing home for your loved one, it is important to keep the following warning signs in mind.
Suppose your loved one is currently in a nursing home, and you suspect they may be a victim of nursing home abuse or neglect. In that case, we urge you to contact our nursing home abuse lawyers immediately to arrange a FREE, confidential consultation.
Call 888.534.4850 to speak to an elderly abuse attorney in Ohio.
15 Warning Signs
High Employee Turnover
When a facility has a high employee turnover rate, it is likely negatively impacting the quality of care offered to its residents. High staff turnover may also indicate overworked or unsatisfactory working conditions, which will directly affect the amount and quality of care that would ultimately be provided to your loved one.
2. Negative Reviews
Be sure to read reviews of the nursing home. The reviews will provide valuable insight into the reviewers' own experiences at the nursing home and detail potential areas of concern. It is also helpful to contact the local agencies in charge of inspecting and licensing nursing homes. If they have a record of numerous complaints and investigations, it should definitely raise a red flag.
3. Limited Staffing
Residents don't receive adequate care and attention when a nursing home is understaffed. In addition, when employees are overworked, they can easily become stressed and overwhelmed, which may cause them to lash out and verbally or emotionally abuse the residents. A good way to look for understaffing is to note how many residents are still in bed in the late morning. If there are many residents still in bed at that time, it is a very good indicator that there is not enough staff to properly tend to the needs of the residents.
4. Long Response Times
When visiting a nursing home or other long-term care facility, pay close attention to whether the residents' needs and requests are addressed in a timely manner. If it takes staff members a long time to either respond to or address the resident's needs, it is a strong warning sign that the facility is either understaffed or the caretakers have a lack of concern for the residents' needs.
5. Restricted Visiting Services
Nursing home residents have the right to have visitors during normal business hours. Suppose a nursing home or other long-term care facility restricts a resident's visiting hours or a family is denied visitation or access to their loved one. In that case, there is a considerable chance the nursing home is attempting to hide poor conditions or care practices.
6. Staff Speaks Negatively About Facility Residents
If you overhear staff members speaking negatively about the facility's residents, it likely indicates a lack of respect and commitment to the residents' health and well-being. If an employee is witnessed speaking down to residents, it may also be a sign that residents may be at risk of experiencing mental or verbal abuse at the hands of their caretakers.
7. Unclean or Unsanitary Conditions
During your tour, note the overall cleanliness of the facility. Unsanitary bathrooms, cluttered hallways, wet or dirty floors, unsanitary kitchen and residential dining areas, and the presence of rodents and bugs place nursing home residents at risk for illness and injury. Dirty conditions also indicate the level of care one can expect their family member to receive while residing at the facility.
8. Poor Hygiene
If you are in the process of screening potential nursing homes, be sure to closely observe the residents' personal hygiene. Do they smell of urine or feces or have body odor? Are their nails untrimmed, is their hair dirty, or are they wearing dirty clothes? If the answer is yes to any of these, the caregivers are not providing sufficient personal care, bathing, or assistance in toileting.
9. Poor Communication with Family Members
When family members discuss their concerns with the nursing home caregivers or the facility's management and those concerns are met with a lack of concern or attentiveness, this is a major warning sign. If they don't take concerns seriously by either ignoring them or providing only vague responses, the facility might not be a place where you should entrust your loved one's care. It is always a good idea to ask residents and their families to share their experiences while touring a nursing home.
9. Injured or Unresponsive Residents
Injured residents can indicate the presence of unsafe living conditions, caregiver neglect, or may even be a sign of physical abuse. Additionally, if many residents appear to be unresponsive, it may show that the facility is administering antipsychotic or other medications to sedate or otherwise control residents. Drugging a resident is often used as a substitute for providing sufficient care.
10. Limited Resident Activities
Participation in activities is essential to your loved one's overall well-being. Social interaction with other residents can improve their mental health and help to eliminate feelings of isolation and depression. Activities give structure to their days, which helps them feel safe and gives them something to look forward to and renewed purpose in their lives. When facilities don't offer enough engaging activities to their residents, it puts their quality of life at risk.
11. Loud Facility
Nursing home residents have the right to live in a peaceful environment, free of excessively loud noises. If you hear loud noises, such as loud equipment or unanswered phones, the facility is not providing its residents with a comfortable living environment. Their noisy surroundings may greatly disturb their ability to get enough sleep or may cause them to feel stressed or anxious.
12. Poor Food Quality
Nursing homes have a responsibility to provide adequate and nutritious meals to their residents that must also conform to any special dietary needs. Residents may not get enough food to eat. Or if the food doesn't taste good on a regular basis, residents may choose not to eat the food provided. Poor food quality or insufficient food quantity can lead to malnutrition and significant weight loss.
13. Lack of Privacy
Residents of nursing homes also have the right to privacy. This right extends to all aspects of their care, including their personal needs, visits with their family and friends, and all telephone and mail communication. Residents must also have access to private areas where they can make phone calls or visit with others. Failure to provide a resident with their rightful privacy can have serious repercussions for the facility and their staff.
14. Lack of Knowledge Among Staff Members
If you are considering a particular nursing home, be sure to ask their management, caregivers, and other staff members questions relating to the care they provide. If you receive vague answers or incorrect information, this may indicate a lack of proper training.
15. Unsafe Conditions
Unsafe conditions in a nursing home can pose a threat of serious injury to its residents. Dangerous conditions include:
Wet floors
Uneven surfaces
Inadequate security
Obstructed walkways
Poorly lit hallways
Defective equipment
Inadequate handrails in bathrooms
Choosing a Facility That is Right for Your Loved One
When choosing a nursing home to adequately and compassionately care for your loved one, it is important to do your due diligence. Don't be afraid to ask the questions necessary to protect and preserve your loved one's health and happiness. Thoroughly research each potential facility to ensure they will consistently receive the level of care they need and deserve.
If any of the warning signs detailed in this article are present, strongly consider choosing another facility – one that is absent of any red flags.
Nursing Home Abuse Attorneys in Ohio
To learn more about choosing a nursing home facility that is right for your loved one, or if your loved one is currently in a nursing home and you suspect they may be the victim of abuse or neglect, we highly recommend contacting our legal team at Slater & Zurz.
Our nursing home abuse lawyers have decades of experience protecting the rights of those residing in Ohio nursing homes and other long-term care facilities. We ensure our loved ones are treated with dignity and respect and are afforded their right to live in a healthy, safe environment and be properly and adequately cared for.
Contact us today to arrange your FREE confidential consultation. You can reach us at 888.534.4850 or online. We are here for you 24 hours a day, 7 days a week.