Toledo Legal Malpractice Lawyer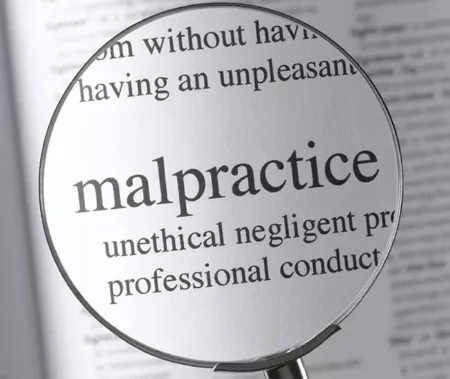 There are few professional relationships more sacred than that of a lawyer and a client. Lawyers, like doctors, are bound by a code of ethics and must exercise due diligence in the representation of their clients. When an attorney fails to provide an adequate standard of care, they may be held liable for legal malpractice.
At Slater & Zurz, we represent clients who have sustained substantial financial loss (damages) as a result of their attorney's negligence or incompetence. Our Toledo legal malpractice attorneys can help you understand your rights and pursue a legal malpractice claim against your former lawyer or law firm.
If you believe that your lawyer committed legal malpractice, contact our office for a FREE, no-obligation consultation.
Call us at
419-658-7171
or
fill out this form
.
Types of Legal Malpractice
Legal malpractice can take many forms. However, it is important to note that an unfavorable case result is not necessarily a sign of legal malpractice. Legal malpractice must include some deviation from the standard of care that a reasonably prudent and competent lawyer would have provided under the same or similar circumstances.
Types of legal malpractice can include:
Material misrepresentations or omissions
Failure to meet statutory deadlines
Failure to disclose a conflict of interest
Violation of the Ohio Rules of Professional Conduct
Failure to obtain informed consent from a client when required by law
Fraud or deceit
A lack of requisite knowledge or skill in the subject matter
Insufficient thoroughness and preparation or a lack of research and investigation
Failure to respond to discovery requests
Failure to keep a client reasonably informed
Legal malpractice can encompass a wide variety of issues. Establishing legal malpractice can be next to impossible without an experienced attorney. If you believe that your attorney's negligence or mishandling of your case resulted in damages, you need a Toledo legal malpractice lawyer. Contact our office at (419) 658-7171 to discuss your options.
Requirements for Legal Malpractice in Toledo, Ohio
Ohio has three basic requirements for filing a lawsuit based on legal malpractice. It is essential to discuss your case with a Toledo legal malpractice attorney to determine if you are eligible to file a lawsuit.
To be successful in a legal malpractice lawsuit, you must prove:
An attorney-client relationship;
A breach of the duty owed to you as a result of the attorney-client relationship; and
Damages that resulted from the breach of that duty.
While the first element, the existence of an attorney-client relationship, may seem straightforward, there are instances where it can become complicated. Ohio, for example, does not require a signed retainer agreement or payment of a fee to prove the existence of the relationship.
Legal Malpractice Statute of Limitations
In Ohio, you only have a limited amount of time to file a lawsuit based on legal malpractice against a law firm or lawyer. According to the Ohio Revised Codes, an action for legal malpractice must be brought within one year after the act or omission occurred, your reasonable discovery of the act or omission, or the date the representation terminated for the matter.
Ohio added a statute of repose limiting the amount of time you can bring a claim. A person must bring an action for malpractice within four years of the date the act or omission that resulted in the malpractice occurred. Therefore, Ohio gives you three years from the date of the alleged malpractice to exercise reasonable care and diligence to discover the injury and another year to file a lawsuit. If the claim is not brought within four years, it may be barred.
The complex nature of Ohio's legal malpractice statute of limitations and statute of repose make it imperative to retain legal counsel immediately after discovering potential wrongdoing or negligence.
Signs of Legal Malpractice
It is essential to remember that not all mistakes amount to malpractice or misrepresentation. Malpractice requires that there is a breach of the duty owed to you by your attorney. It also requires that the breach results in damages or economic loss.
Signs of legal malpractice may include but are not limited to:
Failing to file a case on time, resulting in its dismissal;
Lack of communication about your case;
Not hiring an expert witness;
Failing to investigate your claim correctly;
Misuse of your funds;
Failing to advise you of a settlement offer or other vital details regarding your case;
Improperly withdrawing from a case;
Acting unethically or illegally; or
Continuing representation despite knowing about a conflict of interest.
A major area of concern for legal malpractice cases is when an attorney stops communicating with a client, or the case is continually delayed. While there may be reasonable explanations for why a case is taking longer than expected, there is no reason that an attorney should not communicate with you.
If you suspect that your attorney is avoiding you or has made a material mistake during representation, contact our Toledo legal malpractice attorneys for a FREE consultation. All case evaluations for legal malpractice claims are confidential and without obligation to retain our services.
Kinds of Cases We Accept
We represent individuals who have sustained losses as a result of their attorney's negligence or wrongdoing. Our Toledo legal malpractice attorneys will help you determine whether you have a valid claim for legal malpractice. We will walk you through the process, investigate your claim, and build a strategic case on your behalf.
Types of legal malpractice lawsuits we handle:
Malpractice related to business disputes and transactions
Personal injury malpractice
Estate law and probate malpractice
Malpractice in civil litigation
Malpractice in commercial law representation
Malpractice related to representation for real estate transactions
Family law malpractice
Legal malpractice can occur in any type of law. You might be entitled to compensation if you suffered damages due to your attorney's mistake or misrepresentation. Discussing your case as early as possible with an experienced Toledo legal malpractice attorney can ensure you receive the best possible outcome.
Legal Malpractice Insurance
Lawyers are required to carry legal malpractice insurance, also called attorney's professional liability insurance, in the state of Ohio. A lawyer must inform their clients in writing if they do not have liability insurance.
Without an attorney, it can be difficult, if not impossible, to prove your legal malpractice claim. Lawyers often have the endless resources of their insurance provider to help them litigate malpractice claims.
Hiring a Legal Malpractice Attorney in Toledo, Ohio
If you believe that your attorney committed malpractice during your representation, you need to act quickly. Ohio law only allows you one year from the date of the malpractice or the end of your attorney-client relationship on the matter to file a lawsuit.
In order to receive a favorable outcome in your case, you need an attorney well-versed in malpractice claims. Hiring an attorney unfamiliar with these kinds of complex and often contentious matters can be detrimental to your lawsuit.
Our attorneys have the experience to get the results you deserve. We will demand justice on your behalf and fight to get you compensation for your losses.
Why Put Your Trust in Us
We understand that your faith in attorneys has likely been tested. When you put your trust in a lawyer, you expect they will always represent your best interests. When they fail you or make a fatal mistake in your case, you may question whether you should rely on an attorney in the future.
At Slater & Zurz, we believe that all professionals, including lawyers, must be held responsible when they commit malpractice. We aggressively pursue compensation for clients who have sustained damages because of an attorney's mistake, misrepresentation, or wrongdoing.
Why clients put their trust in our firm:
Experience – Our legal team has over 30 years of experience helping clients who have suffered harm as a result of someone else's wrongdoing.


Results – We have real results with a proven track record of success representing plaintiffs in legal malpractice claims.
Communication – We know that one of the most critical components of representation is open communication. We promptly answer client calls and emails, always keeping you informed about your case.
Preparation – We believe that your case matters. We prepare tirelessly for your claim, leaving no stone unturned during our representation.
Our firm was built on honesty and integrity. We will do everything in our power to secure you the results you deserve, always providing you with ethical, transparent representation. If you have a legal malpractice claim, let us help determine how you should proceed.
Contact Our Office for More Information
If you suspect that your lawyer committed malpractice during their representation of your case, contact our office immediately. Call (419) 658-7171 to discuss your case with a Toledo legal malpractice attorney today.
We will help you understand your rights if your attorney fails to provide you with an adequate standard of care or breached their professional duty to you.
Contact our office today if you suffered a substantial financial loss related to your attorney's negligence, carelessness, or incompetence. You might be entitled to recovery for your losses. Do not wait; you only have a limited amount of time to file a legal malpractice claim. Call now to get started.
Articles to help you with your Legal Malpractice Claims