Nursing home abuse is a tragic and, unfortunately, common occurrence across the state of Ohio. It is estimated that more than 115,000 seniors in Ohio alone are subject to nursing home abuse and/or neglect each year—and likely thousands more cases go unreported.
These types of injuries are complicated for families and loved ones to accept and comprehend. How could people whose job is to help and care for your loved ones deliberately ignore or cause harm to them? Seniors are one of the most vulnerable—and the most treasured members of society. When family members discover this type of abuse has occurred to their loved ones, they are understandably angry and want answers and results.
At Slater & Zurz, we get it. Our personal injury law firm was created specifically to seek justice for those who have been harmed. We want to help you understand, recognize, and take legal action against those who harm nursing home residents. Reach out immediately if you need a nursing home abuse lawyer.
Why Does Nursing Home Abuse Occur?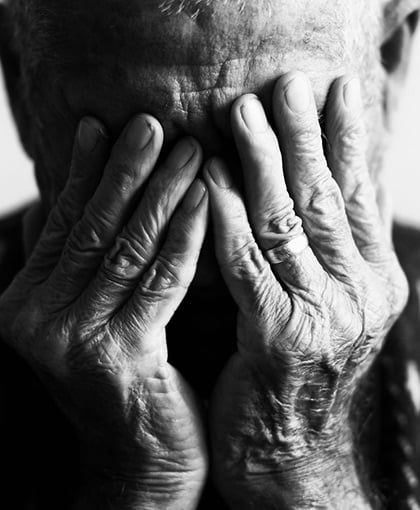 The answers are complex and unfortunate. Despite federal and state-mandated requirements that these facilities employ experienced, trained, knowledgeable employees, many staff members at nursing homes and eldercare facilities are overworked, improperly trained, and poorly supervised. The facility may be understaffed and cut corners when hiring, such as skipping background checks to have enough people working to support the residents. Employees may be working under the influence of alcohol and/or drugs. There are many possible explanations, all of which leave the door open for nursing home abuse and neglect to occur.
Senior citizen abuse and neglect cases can be difficult to detect. Staff may even work together to abuse specific patients and hide the evidence of abuse from family and loved ones who visit. Sometimes, abuse and neglect go on for an unfortunately long period of time before the mistreatment is discovered and identified.
Neglect Or Abuse?
Though the terms sound similar, unpacking the difference between nursing home abuse and nursing home neglect is important. Your loved one may have experienced one or both of these injuries, so understanding the difference can help you handle what has happened.
Nursing Home Neglect
In Ohio, neglect is defined by law as "… recklessly failing to provide a resident with any treatment, care, goods, or service necessary to maintain the health or safety of the resident when the failure results in serious physical harm to the resident." In a nursing home environment, this generally means that employees have not been taking the correct steps to routinely and properly care for your loved ones. Neglect may sound unserious, but older people rely on the help and care of nursing home staff to keep them healthy, active, and well, and neglect of proper care is a serious situation that can cause major injury.
Some examples of nursing home neglect:
Not providing adequate food, water, or other sources of nutrition
Unsanitary living or resting conditions that can lead to illness or injury
Failure to provide adequate or correct medical care
Ignoring, overlooking, or denying other basic care needs of a patient
Nursing Home Abuse
Nursing home abuse is a serious problem that is, unfortunately, more common than we would hope. A nursing home abuse lawyer can help you categorize the harm that has come to your loved one. Generally speaking, abuse involves purposeful actions that cause or contribute to harm and/or illness of the resident and can encompass many types of injuries, including:
Physical abuse/assault
Sexual abuse/assault
Verbal and/or emotional abuse, including name-calling, taunting, humiliating, or yelling at patients.
Financial abuse, misuse, or manipulation of a resident's funds
Signs of Nursing Home Abuse or Neglect
Discovering, identifying, and uncovering abuse can be tough. Sometimes, nursing home residents fear what will happen if they tell someone about what has been happening to them. They may have been emotionally manipulated so that they are made to feel that the things that are happening to them are their fault, so they keep quiet about their mistreatment. In some cases, residents are physically unable to communicate what has happened to older people with dementia, particularly at risk for abuse and neglect. But it can happen to anyone. In some facilities, staff members "gang up" on vulnerable residents and work together to cover each others' tracks and keep the abuse secret.
Watch for signs of abuse or neglect, including:
Unusual changes in behavior, including lack of self-care or poor hygiene, acting child-like, fear of communication, and withdrawing physically and/or emotionally
Acting fearful or scared, especially when staff members are present
Physical signs of abuse such as unexplained weight loss, signs of dehydration, bruises, scratches, cuts, and other wounds—including wounds that are not healing correctly, such as bed sores
Blood spots on clothing or bedding
Hospital or clinic visits for injuries, malnutrition, or wound care
Immediate or unexplained death
Financial charges that don't make sense
What To Do If You Suspect Nursing Home Abuse Or Neglect
Care facilities will tell you that they are subject to surveys to keep them on track, which is true. However, 70% of state surveys miss at least one facility deficiency. As many as 15% of nursing homes and eldercare facilities surveyed fail to uncover incidences and risks of actual harm and jeopardy to residents.
As soon as you suspect your loved one is the victim of abuse and/or neglect in an Ohio nursing home, you should immediately contact a nursing home neglect attorney. With their guidance and assistance, you'll start documenting all evidence of mistreatment, even if you only have suspicions of wrongdoing. You'll note behavior changes or wounds on your loved one and the dates and times you observed these changes. If financial abuse is suspected, question any unusual financial transactions and document the outcome of phone calls or visits, asking for an explanation.
Ohio Nursing Home Abuse Law Firm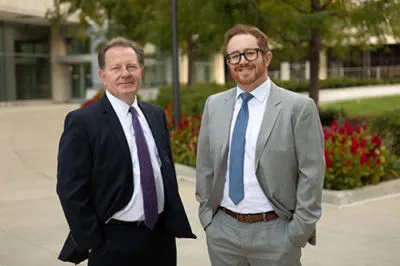 Suppose your loved one has been subject to abuse and/or neglect in an Ohio nursing home. In that case, you may be entitled to receive compensation for the damages, including punitive damages that are designed to punish facilities for preventing future cases of abuse or neglect. Nursing homes often have many financial means and robust legal teams to defend them from these charges.
You need a law firm that not only understands the harm that has come to your loved one but has the experience, knowledge, and dedication to aggressively pursue justice for the resident as if their own family member had been harmed.
This is what Slater & Zurz brings to the table: unparalleled dedication, personalized service, and genuine concern about your loved one.
Slater & Zurz has recovered more than $500 million in personal injury cases, with a track record of winning 97% of their handling cases. The key to our strategy is individualized service and unparalleled passion. We want justice for your loved ones and bring enormous resources to bear in the fight for their rights. Personal injury cases can be complex and stretch over many months or even multiple years before they are over. We study every angle of the case, so we are prepared for a comprehensive, unstoppable approach, working tirelessly on your loved one's behalf from start to finish—no matter how long it takes. Contact us today for a free consultation to discuss the details of your case, stop the harm that's coming to your loved one, and achieve the results you need. Call Us 888-534-4850
If you have additional questions about your nursing home abuse case, please visit the nursing home abuse case FAQ page or call us.
Nursing Home Abuse Attorney: Questions and Answers
We've prepared a list of the most frequently asked questions about nursing home abuse and negligence, along with answers to each question in our easy-to-read.