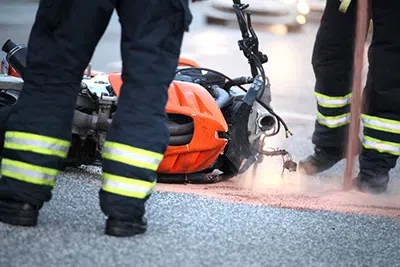 If you were injured in a motorcycle accident, you should speak to a motorcycle accident lawyer at the Ohio residents trust at Slater & Zurz. Going through a motorcycle accident is frightening for many motorists, especially if they suffer moderate to severe injuries.
Riding a motorcycle is not without risk. If you are in the control of a motorcycle traveling down the road, you should possess more skill and coordination than a person driving a car. Despite possessing increased operator skills, a motorcycle driver or passenger is more likely to suffer deadly injuries if that motorcycle crashes. The National Highway Safety Transportation Administration (NHSTA) states a motorcyclist's risk of death is 27 times as great as a person riding in a passenger vehicle.
Who's at Fault in a Motorcycle Accident
The first question often asked after a motorcycle crash is—Who was at fault? It is very important to accurately determine fault in an accident as there may be one party at fault or several. Each responsible party may have separate assets and separate insurance to cover any injuries and damages sustained in the accident. A motorcycle accident lawyer, like those at Slater & Zurz law firm, will help an injured motorcyclist identify the at-fault parties.
In the worst-case scenario, the motorcyclist has died in the accident or shortly thereafter. In a time of grief, it may seem crass or insensitive to think about money, but it is not. In most instances, the family of the deceased will need to seek any compensation to help with bills that often cannot be paid in the absence of their loved one. Someone will have to be paying attention to how damages entitled to those family members can be collected. The motorcycle accident lawyers at Slater & Zurz are the people who can pay attention to this issue.
In a motorcycle death, motorcycle accident lawyers may seek a wrongful death civil judgment for the benefit of the motorcyclist's loved ones.
In all cases, the motorcycle accident lawyer will carefully investigate all aspects of the crash, collecting medical records and accident reports in preparation for dealing with insurance companies and determining exactly what happened on the day of the wreck.
Motorcycle accident lawyers are familiar with the excuses negligent drivers often use, for example, blaming the accident on a blind spot when they were actually not paying attention to the road around them. If there are few or no crash witnesses and little evidence beyond the police report, proving your claim may appear difficult, but consider consulting with Slater & Zurz motorcycle lawyers before concluding your case is not a good one. Your initial consultation with this law firm is free. They have convenient offices in Akron, Canton, Cleveland, Columbus, and Cincinnati and can arrange to meet you elsewhere in the state.
How Motorcycle Crashes Happen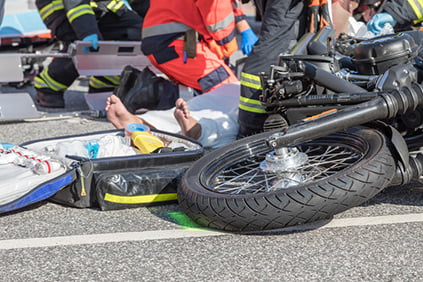 "Crash stats" from the National Highway Transportation Safety Administration (NHTSA) indicate that 42% of motorcycle crashes occur when a vehicle turns left while a motorcycle is going straight or passing a vehicle. Other causes of motorcycle accidents are speeding, driving while intoxicated, distracted driving, failure to signal, lane splitting, reckless driving, blind spots, and failure of the motorist to "see" the bike. Slater & Zurz motorcycle accident lawyers have experience with accidents caused by all of these factors.
Slater & Zurz motorcycle accident lawyers are familiar with common injuries sustained in motorcycle accidents such as traumatic brain injuries (TBI)s, amputations, muscle damage, spinal cord injuries, broken bones, injuries to the knees and feet, and road rash which often occurs when a motorcyclist slides across the pavement and his skin is scraped off. The latter can cause permanent nerve damage.
All of these injuries are potentially very serious, and the injured person is urged to seek examination by a medical professional as soon as possible after a crash. An attorney by your side will be welcome if you must seek compensation for your injuries.
Compensation for other types of damages in a motorcycle crash
An injured motorcyclist may be entitled to compensation for wages and future earnings if he or she missed work due to injuries or if the motorcyclist can no longer perform the duties they once did on the job. The motorcyclist may be compensated for past and future medical bills and for pain and suffering experienced due to the accident. He may be compensated for disfigurement and loss of property—for anything caused by the accident that affects the way life is now compared to how it was before the crash.
A motorcycle accident lawyer can show an opposing insurance company, a jury, or other attorneys what the crash has done to the life of their client and why that client deserves compensation for their injuries.
If part of the accident is the fault of the person driving the motorcycle
According to the Ohio Department of Public Safety, motorcycle drivers are at fault in 55.2% of motorcycle crashes in Ohio. Non-motorcycle drivers are at fault 35.4% of the time. However, NHTSA says their recent research, on a national level, consistently identifies motorists as "at fault in more than half of all multi-vehicle motorcycle-involved collisions." NHTSA findings conclude motorists are distracted more than 50% of the time while driving.
The good news, even if a motorcycle driver is partly at fault in an accident, is that he or she may still have a right to compensation. In Ohio, one is not barred from recovery unless their negligence is more than 50% responsible for causing the accident. When the total amount of damages is calculated, each party will be responsible for his or her proportionate share. If the court or a settlement agreement determines the motorcyclist is 20% at fault and the other driver is 80%, the other driver or his insurance company must pay 80% of the total damages.
Motorcyclist not wearing a helmet.
In Ohio, a motorcycle operator and his passenger are only required to wear helmets if they are novice riders or under 18 years of age. If the driver of the motorcycle is required to wear a helmet, so is the passenger.
The other party in an accident case may challenge a motorcyclist's injury claim by asserting the defense that if the motorcyclist were wearing a helmet at the time of the crash, their injuries would have been less severe, and thus, damages would be lower. The person making this contention must be able to present factual evidence that injuries sustained would have been reduced or prevented with the use of a helmet and that the actions of the non-helmeted motorcyclist were negligent and caused harm.
Despite any claims concerning helmet use, the motorcyclist would not be barred in the state of Ohio from recovering from the accident as long as his negligence was not more than 50%.
What to do after a motorcycle crash
If you are involved in a motorcycle crash, you may be too seriously injured to think about your legal rights immediately. You should remain at the scene and not move if you are injured. Wait for emergency help. As soon as you possibly can, do the following or ask a loved one to assist you:
If possible, take photos of the crash, damage to vehicles, and your injuries.
Write down details, including times and locations, positions of the vehicles, names, and contact information of any witnesses. Especially if you do not have photos, these notes could be very beneficial later.
File a police report and make sure you obtain a copy.
Do not discuss the accident, and do not admit fault to anyone. Do not give a statement to any insurance company or accept an offer of payment from an insurance company until you have spoken to a motorcycle accident lawyer.
Don't have your motorcycle repaired immediately, and do not attempt to repair it yourself. Leave your motorcycle "as is" after the accident so it can be examined by an expert. This could be critical to your case.
Remember, a Slater & Zurz motorcycle accident lawyer is an expert in dealing with a client's personal injury and any other aspect of an accident. The lawyer is there to help you with any of the steps listed as you attempt to decide what should be done after your loss. You can always get a new bike. If you have a custom-made motorcycle, there may only be one like it, and yet physical injuries to your body or to a passenger should take priority.
Why you should hire Slater & Zurz?
After a devastating motorcycle crash, families experience a variety of emotions. If there has been a loss of life, family members are usually focused on their grief. There may be financial struggles, but they are temporarily pushed aside. A motorcycle injury lawyer is in a unique position to help. When you are least able to deal with insurance companies, the lawyer can do it for you.
The motorcycle accident lawyer can talk with witnesses who may have seen the accident and talk with the police to obtain a copy of what they reported at the scene. Slater & Zurz attorneys are dedicated to aggressively protecting your rights and pursuing the compensation you deserve.
At Slater & Zurz, our Ohio motorcycle injury lawyers have handled thousands of personal injury cases during more than 40 years in practice. They know what to do and when to do it.
Slater & Zurz motorcycle lawyers will help you decide if you should seek a resolution through negotiations with an insurance company or other parties responsible or if you want to take the matter to court and litigate.
As part of their representation, our motorcycle injury lawyers work with medical professionals and accident reconstructionists, if necessary, to provide you with the best possible resources.
If someone else is responsible for a motorcycle accident that resulted in the wrongful death of your loved one, that party could be liable for costs associated with the accident, including medical costs and lost wages. In some cases, there could be punitive damages awarded to the loved ones of the deceased if the individual found responsible for the crash was found to be reckless or highly negligent in their conduct.
Where to find a Slater & Zurz Ohio Motorcycle Lawyer Near you
Motorcycles can be lots of fun, but being involved in an accident while driving or riding one is not an enjoyable experience. Attorneys for motorcycle accidents are here to help make things less stressful and to answer any questions you may have about any legal action you may take. Arrangements can be made to meet with a Slater & Zurz personal injury attorney in other locations throughout Ohio if that is more accommodating.
Visit one of the Ohio location pages below for a Slater & Zurz injury law firm near you.
You can set up a meeting with a motorcycle attorney by calling the law firm at 1-888-534-4850. You can also contact the firm by filling out the form on the right side of this page. Slater & Zurz offers a 24/7/365 response to your contact.
Frequently Asked Questions About Motorcycle Accidents
+
You want to find an Ohio Attorney that specializes not only in personal injury law but motorcycle accidents as well. Comprehensive knowledge and experience are both critical in achieving a fair settlement for your claim. You need a motorcycle lawyer who can go toe to toe with the insurance companies. In the event you or a loved one is injured in a motorcycle accident, you need someone on your side to fight for the compensation you will surely need to pay your medical bills. That's why you need a motorcycle accident attorney in Ohio that has decades of experience fighting for the rights of the injured.
+
After a motorcycle accident, you should contact an Ohio attorney as soon as possible. Contacting an attorney should go at the top of your list of things to do shortly after an accident, especially if you suffer serious injury. When in the process should you contact an attorney? Some people choose to make the initial phone call when they sit by the road immediately after the accident, waiting for emergency services to arrive. Others call after help arrives. When you start early, you will better remember what happened. The sooner after an accident you contact a lawyer, the sooner they can walk you through your statement of what took place during the accident.