Legal Malpractice Lawyer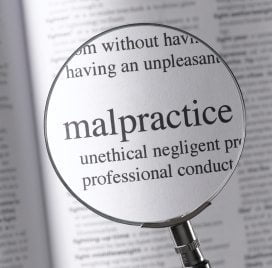 We place an enormous amount of trust in attorneys to handle issues that have major consequences on our lives and our futures.
Sometimes lawyers make major errors or fail to take critical actions. When those types of things happen, it can lead to a very bad outcome in a legal case which may cost you significantly.
Legal malpractice and lawyer malpractice are terms used to describe a situation where a lawyer has damaged a client by a negligent action or lack of action. Every lawyer in Ohio is required to exercise the degree of care, skill, and diligence that a lawyer of ordinary skill and knowledge commonly possesses and exercises. If he or she does not exercise that level of care, he or she may be guilty of legal malpractice.
Just because you lost your case, does not mean the attorney committed legal malpractice. A victim of legal malpractice must prove the attorney acted in a manner that no other reasonable attorney would have acted if they were in that same situation. A person suing for lawyer malpractice must demonstrate that "but for" the conduct of his or her attorney, the outcome of the case would have been different.
If an Ohio lawyer has mishandled your case, you may be entitled to receive monetary compensation from that attorney. In fact, attorneys in Ohio are required to have malpractice insurance to cover these types of situations, just like physicians are required to carry malpractice insurance.
We offer a variety of resources to help you learn more about legal malpractice in Ohio including a free book we wrote on this topic, videos, and common questions people ask us about lawyer malpractice with our answers to each of these questions. We also offer a free consultation with one of our attorneys to discuss your case and answer all your questions. Your free consultation can take place either over the telephone or in person. Our free consultations will cost you nothing and you are under no obligation to hire our law firm.
If you decide to move forward with us, we have the vast resources and extensive experience you'll need.
Slater & Zurz LLP has been assisting clients with many types of legal matters for 40+ years. We've handled over 30,000 cases and helped clients receive more than $150,000,000 in verdicts and settlements.
We handle legal malpractice cases on a contingency fee basis. That means we don't get paid unless we deliver you positive results. If we fail, we won't charge you a fee.
Learn more about how we can help you with your legal malpractice case by calling 1-888-996-1626, emailing us at [email protected], or contact us by sending us a message here from our website. You can also take advantage of our website's chat feature and chat with a live representative at any time of the day.
We make ourselves available every day of the week (including weekends) 24 hours per day. Please contact us at your convenience and we will respond!
Serving Clients Throughout The State of Ohio
Our law office has four locations throughout Central and North East Ohio. We offer legal malpractice Services in Akron, Columbus, Cleveland
Legal Malpractice Questions and Answers
For more information about legal malpractice, please click on the following link: Legal Malpractice Questions and Answers