Military veterans who served at Camp Lejeune in North Carolina from the 1950s to the 1980s may have developed particular diseases due to the contamination of the drinking water that served this installation.
Through no fault of their own, numerous veterans, other service members, their families, and other civilians are now dealing with debilitating illnesses that have forever impacted their lives.
Fortunately, these individuals who served the U.S. faithfully and others who consumed this poisoned water may be eligible for compensation for the damages they have suffered due to the contamination.
If you or a loved one who has served, worked, or resided at Camp Lejeune and is suffering from a disease speak with our Camp Lejeune claim lawyers.
Call us at
888.534.4850
or
fill out this form
.
Camp Lejeune Justice Act Guide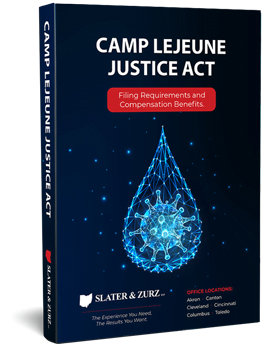 Camp Lejeune
Camp Lejeune is a Marine Corps base located in Onslow County, North Carolina. Since 1942 when it was first opened, thousands of military and civilian personnel have worked there on a temporary or permanent basis.
Additionally, family members of these workers have resided on or nearby the base. It is a large installation that covers almost 250 square miles and manages its own water supply.
Contaminated Drinking Water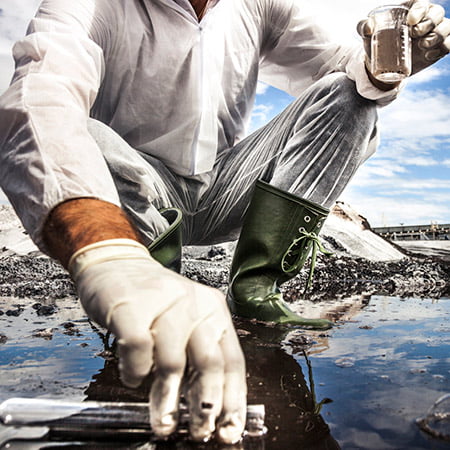 A significant percentage of military personnel and their families who served at Camp Lejeune in North Carolina between the 1950s and the 1980s ingested water contaminated with highly toxic chemicals known to cause all manner of deadly diseases.
Unfortunately, the exposure went undetected for decades until the 1980s. But by then, 30 years' worth of unsuspecting individuals had already ingested enough toxic water to cause serious diseases.
Disturbingly, even though base commanders eventually learned the wells at Lejeune were poisoned, years passed before the military took action to shut them down.
In fact, despite repeated warnings from chemists who were contracted to test Lejeune water for chemicals (and who found significant contamination), the Lejeune brass would file a report with the Environmental Protection Agency (EPA) unequivocally stating that Lejeune was free from environmental problems.
Perchloroethylene (PCE)
PCE contaminated millions of gallons of potable Camp Lejeune water for 30 years. Dry cleaners near the base used the chemical for operations and allowed it to seep into the groundwater that supplied Camp Lejeune. According to the Centers for Disease Control (CDC), PCE likely causes cancer.
Trichloroethylene (TCE)
TCE was another one of the toxic chemicals contaminating the wells at Camp Lejeune. The military used it at Camp Lejeune as a degreasing solvent on its equipment. Dry cleaners also used the chemical.
Extended exposure to TCE is known to cause kidney cancer. It is also linked to various other cancers and deadly diseases, such as non-Hodgkin's lymphoma and cancer of the liver.
Other chemicals tainting the water supply were benzene and vinyl chloride. Benzene exists all around, naturally, and through business and industry activities. Long-term exposure to concentrated amounts of the liquid is likely to cause deadly diseases, such as leukemia.
Now, victims of the contamination are manifesting serious diseases and living compromised lives due to the toxic drinking water they were given throughout their years of service to this country. Sadly, many have already passed away. But their families remain and deserve to have their losses addressed.
Justice for Camp Lejeune Families
Justice has been slow going for military veterans and their families. Under North Carolina toxic poisoning laws, victims have a ten-year statute of repose to file lawsuits for their losses.
Given the contamination began in the 1950s and ended in the mid-1980s, claims for compensation have long expired under the statute. In other words, victims of this negligent act have been without access to justice for three decades.
It wasn't until 2012 that the first Congressional legislation addressing these past wrongs came online. But it would take more than one attempt by Congress to right this wrong.
The Janey Ensminger Act
The 2012 Janey Ensminger Act became law on July 18, 2012. Its existence is an acknowledgment from Congress and the president that the waters at Camp Lejeune were, in fact, contaminated, and people contracted serious illnesses as a result.
The law authorizes medical care and benefits for military personnel and their families who lived at Camp Lejeune between 1957 and 1987 and have diseases linked to the contamination.
The law details 15 specific diseases that qualify a victim for treatment. All of them are deadly illnesses and include many cancers, such as cancer of the:
Esophagus
Lung
Breast
Bladder
Kidney
The list also includes:
Myelodysplastic syndromes
Hepatic steatosis
Miscarriage
Scleroderma
The act was named after a young girl and ex-resident of Camp Lejeune who died of cancer at age 9. Although a step in the right direction, the law falls far short of addressing the negligence that led to the poisoning of military members and their families for years.
It allows victims to seek medical treatment for their diseases but does not contain provisions allowing them to seek compensation for the other losses they suffered.
The Honoring our PACT Act and The Camp Lejeune Justice Act
The Camp Lejeune Justice Act is the second major attempt by lawmakers to provide closure for affected families. It is now law, thanks to the Honoring our PACT Act, which was passed in August of 2022.
The act provides a two-year time frame for victims and their families to file claims for various benefits and compensation for their losses.
Since the poisoning, victims have suffered devastating losses that have prevented them from enjoying a full and happy life. Victims have incurred significant financial losses and have been deprived of future income due to the effects of the contaminated water at Camp Lejeune.
If you or a loved one is a victim of this tragedy, you may be entitled to recover compensation for:
Medical bills
Loss of income
Pain and suffering
Bills associated with long-term care and rehabilitation
Wrongful death
Loss of consortium
Loss of enjoyment of life
In the event a loved one has passed away, some of the victim's close relatives may be able to file a wrongful death suit on behalf of the decedent. Our attorney for Camp Lejeune claims can help.
The PACT Act is the largest expansion of healthcare benefits in the military's history and provides historical coverage for veterans exposed to toxic chemicals while in the military. In addition to the Camp Lejeune Act provisions, it also contains provisions that add more health conditions eligible for treatment, expand coverage to include veterans from Vietnam and forward, and require the Veterans Administration to screen all veterans for toxic exposure.
To understand how this may affect your life, contact Slater & Zurz to speak with an attorney for Camp Lejeune claims at (888)534-4850.
Frequently Asked Questions
+
The Camp Lejeune Justice Act opens a window of eligibility for lawsuits for the victims of the Camp Lejeune poisoning that lasted three decades.
It provides benefits for survivors and provide a mechanism for lawsuits for the losses incurred from drinking and using the toxic water at Camp Lejeune. and was signed into law August 2, 2022 signed into law.
+
Claims brought under the Camp Lejeune Justice Act can now be filed in the U.S. District Court for the Eastern District. Our Camp Lejeune claims lawyer can now file suit for veterans, other service members, their families, civilian contractors, and anyone else who may qualify for a claim for damages.
Contracting the services of a Camp Lejeune claims lawyer is an optimal way to ensure that your rights to compensation remain intact and that you get the highest payout available for your claim.
If you are interested in pursuing a claim for compensation for damages caused by the water at Camp Lejeune, call (888)534-4850 today.
+
Researchers and investigators discovered toxins in two wells that supplied the base. They were trichloroethylene (TCE), perchloroethylene, benzene, vinyl chloride, and other dangerous compounds. Each of these listed above directly cause dangerous illnesses and health conditions, from cancers to miscarriages.
+
A lawyer for Camp Lejeune claims can take a toxic water case if the victim is one of the following types of individuals:
VRG (veteran, reservist, guardsman)
Spouse of a VRG
Children, stepchildren, and legal dependents of a VRG
A civilian employee who worked at Camp Lejeune
Additionally, the lawyer for Camp Lejeune claims must verify that the victim lived or worked at Camp Lejeune for at least 30 consecutive days between August 1, 1953, and December 31, 1987.
The victim must also be diagnosed with an illness caused by drinking the water. For help understanding whether you qualify to file a claim, contact our Camp Lejeune claims attorney at (888)534-4850.
Vigorous Representation for Your Camp Lejeune Toxic Water Claim
Slater & Zurz has a Camp Lejeune claims lawyer in Ohio ready to help you get the justice you and your family deserve. For far too long, the military has insulated itself from its responsibility to the people poisoned at Camp Lejeune.
Now, the Honoring Our PACT Act and Camp Lejeune Justice Act finally allow affected individuals to get relief after decades of pain and suffering.
We have helped thousands of injured clients through their time of suffering by vigorously representing them in injury cases and recovering maximum compensation for them.
If you or a loved one has been dealing with the fallout from the decades-long poisoning of Camp Lejeune residents and workers, please call our Camp Lejeune claims attorney at (888)534-4850.
Addition Information on Camp Lejeune and Eligibility for Filling a Claim