Traumatic head injuries are one of the most common contributing factors to disability and death. Brain injuries of all types can be devastating, causing lasting trauma and long-term challenges for the victim and their family. If you or a loved one has experienced any type of brain injury, including a concussion, brain damage, hypoxia or head trauma as a result of someone else's negligence. Contact our brain injury attorney to review your case for free.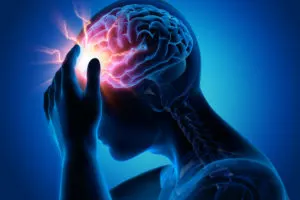 Traumatic Brain Injury is on the rise. On an average day, 155 people die in America  from injuries that include a TBI.
Slater & Zurz is an Ohio personal injury firm with more than 40 years of experience in getting the results our clients need and deserve, achieving over $500 million in settlements and verdicts. Our team of experienced brain injury Attorneys understands the physically and emotionally challenging circumstances a family faces when a loved one has experienced this type of injury. Contact us today to discuss your case for free.
Types and Causes of Traumatic Brain Injury (TBI)
Even a seemingly minor injury to the brain can have devastating consequences. There are many reasons why and how brain injuries occur, and while those circumstances may be unintentional, negligence is often a factor even if harm wasn't intended.
There are also many cases where a brain injury is the result of an Intentional action, such as a physical or sexual assault or other deliberate attack. Slater & Zurz handles all types of brain injury cases, bringing years of experience to the table in navigating Ohio laws, dealing with insurance companies and medical providers, and working to achieve results for our clients no matter how long it takes.
Causes of Brain Injury
Here are just a few common causes of brain injury. Each of these circumstances can result in terrible, long-term consequences, or can result in death or permanent disability.
Falls, including falling from a structure such as on a construction jobsite
Car, truck or other motor vehicle accident
Motorcycle or bicycle accident
Contact sports injury (e.g., hockey, football)
Assault, including sexual and physical assault
Blunt trauma, accidental or intentional
Medical malpractice, such as oxygen deprivation
Explosions
Types of Brain Injury
While there are many different subcategories and types, generally speaking, there are two types of brain injuries: closed brain injuries and penetrating brain injuries. Closed brain injuries typically are a result of some kind of trauma, such as a car accident, and can include a concussion, contusion or bruise, hemorrhage, hematoma or clotting, and edema or swelling. Oxygen deprivation can also lead to incredibly tragic, "unseen" closed brain injuries, resulting in ABI or Acquired Brain Injury. ABI includes incidences like strokes, tumors, hypoxia (oxygen deprivation), anoxia (no oxygen at all), and near-drowning incidents.
Penetrating brain injuries are typically from an object penetrating the skull, such as a knife or bullet. Penetrating brain injuries can also occur in a motor vehicle or construction accident.
Brain injuries range from mild to severe:
A mild brain injury means the victim is simply confused or disoriented for a time, but recovers.
A moderate brain injury is usually the result of some sort of force, such as a car accident or violent shaking. While some people recover fully from these injuries, others can have debilitating, devastating long-term consequences.
Severe brain injuries often mean there is no return to the person's status before the accident or incident. These are usually the result of a dramatic incident such as a severe concussion or crush injury causing an open head wound, though closed brain injuries can also be severe. This type of injury can cause both short- or long-term consequences and can increase the risk of diseases like Parkinson's and Alzheimer's.
Compensation for a Brain Injury
When your brain injury results from someone else's negligence, you may be entitled to compensation to pay for expenses you incur and the pain and suffering you have experienced. Our brain injury attorneys seek to recover expenses in categories that include:
Medical expenses. This includes reimbursement for any tests, medical treatment, physical and mental therapy, short and long-term care, and any other rehabilitation costs related to the injury. These costs can become very high due to the long-term treatment needs of many brain injury patients.
Lost wages. This covers time away from work due to the accident or incident that caused your brain injury, as well as the time you have to miss from work to seek treatment, including hospitalization, doctor appointments, tests and rehabilitation visits.
Loss in potential earnings. If your brain injury has left you unable to work, or unable to perform at a job to the capacity you could before the incident, you might be able to be compensated for the loss of expected earnings you were counting on as the injured party continued through life. We have years of experience in valuing this type of loss and calculating future earning potential.
Loss of consortium. Your spouse may be entitled to compensation as the result of the loss of your normal, regular participation in their lives.
Pain and suffering. In this category, we use our experience in working these types of personal injury cases to arrive at a figure that is intended to compensate for your physical pain as well as your inability to lead a normal life after the incident due to factors like cognitive impairment, personality changes or loss of certain abilities or functions.
Why Hire a Brain Injury Law Firm?
When you are reeling from the emotional and physical toll a brain injury takes on a family, it can be difficult to focus on healing and trying to move forward. Medical bills, calls and communications from insurance companies, and taking care of your loved one and the family can be all-consuming and overwhelming.
In some instances, those involved in causing a brain injury might try to encourage you to move past it, or they might try to pretend it never happened. Our experienced team of traumatic brain injury attorneys understand how to ensure the victim is properly evaluated, treated and cared for no matter what level of brain injury they have. If someone else is at fault for the injury you or your loved one sustained, we will pursue justice with an unwavering commitment to results.
The brain injury attorneys at Slater & Zurz are focused not only on getting results but on compassionate concern for our clients and their families. We want to relieve your stress and will work tirelessly to resolve your case with the best possible outcome, no matter how long it takes.
We want to alleviate your stress, not add to it. That is why when we take on a brain injury case, we work on a contingency basis. This means we don't get paid unless and until you do, as we are paid from a percentage of any funds recovered for our clients.
You can call us to speak to our traumatic brain injury attorney 24 hours a day, 7 days a week by calling 1-888-534-4850 or by conducting an online chat on our website. If you are unable to come to our offices, we can make arrangements to visit you. If you need an Ohio brain injury attorney, contact us to discuss your case for free.
Joann K.

"Mr. Slater and Rick Zurz are lawyers who are caring, courteous and professional. Twenty – six years ago they represented my son in a head injury case. I was pleased with the results, that provided for his future. When this catastrophic auto accident occurred I recalled their excellent management of the previous case and contracted them again. I recommend them if you are looking for good honest lawyers."
Whitney T.

"I couldn't have picked a better law firm than Slater and Zurz. They were friendly and helpful from the first call. They ask what you need and find the perfect attorney for you. Silas Pisani managed our case start to finish. He is knowledgeable, dedicated and goes the extra mile to make sure he handles everything for you. We would have never made it without his advice and expertise. We were lucky to have such a great attorney. Would highly recommend!!"
Dawna M.

"John Lynette is who I had for both of my not at fault vehicle accidents. He definitely got the job done! Was VERY thorough, fair and honest through the process of each individual vehicle accident! If I had questions throughout the process, he would answer them with no problem and with ease! In my opinion he's the best!! =)"
Submit a Law Firm Client Review
(4.9 / 5 based on 329 ratings) See all reviews.