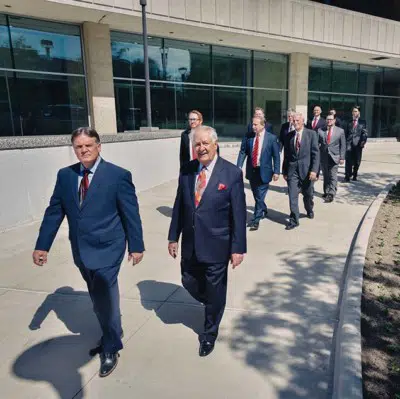 There are currently about 1.3 million lawyers in the U.S., according to statista.com, and almost 38,000 in Ohio.   Therefore, finding a good car accident lawyer in the capital city of Columbus, Ohio, should not be extremely difficult.
Word of mouth still seems to be one of the best ways to choose an attorney when you may not know any lawyers personally and have no idea whom to hire to handle your accident.
You will be looking for a personal injury lawyer. There are many types of personal injury cases, including those that arise from car, motorcycle, truck, and pedestrian accidents. Most often, someone's negligence has caused harm to another party or parties. Those parties who were harmed have every right to seek compensation for their injuries through the courts or in a settlement.
1. Seek recommendations from friends.
At the very least, recommendations from friends can help you start your search. If someone you know or are acquainted with has dealt with a car accident lawyer in the past, even though that lawyer may not be a personal injury lawyer, that attorney may be willing to give you the name of a qualified colleague. A lawyer who practices in several disciplines may be able to do the job for you, but an attorney who specializes in personal injury cases is likely the better choice.
2. Ask some detailed questions.
If you have an opportunity to speak personally with the individual making the recommendation, don't forget to ask about how accessible the lawyer is, if he or she returns phone calls quickly and if he or she takes the time to explain legal technicalities.
Other ways to locate a car accident lawyer
Check YellowPages.com or look in the yellow pages of a Columbus phonebook. You may have to know the name of the area in Columbus you want to search (Westerville, Hilliard, Grove City, Dublin, Gahanna, and North High Street are just a few).
Check the Columbus Bar Association (CBA) by calling (614) 221-4112 and inquire about attorneys you are considering hiring. Do any of them have a record of complaints or discipline? The CBA should also be able to tell you if an attorney is in "good standing" in the state of Ohio.
"Google" or otherwise search the attorney's name. You can use social media sites like Facebook to get further data. See if there has been any publicity about the attorney or cases he or she has handled. Controversial cases do generate news, so this does not necessarily mean the attorney is not skilled or competent if he has been involved in controversy.
Check the online reviews the attorney has received, which are probably located on his website.
3. What to avoid at this stage of the search
Avoid attorneys who can't provide a record of taking cases to trial (They may be the type of lawyer who settles cases no matter what the circumstance of their client).
Avoid attorneys who promise quick success before they even know the facts of the case or those who appear to be guessing or providing a vague answer when asked about the specifics of handling a case.
Avoid those who do not offer a fee agreement in writing. If you are told, "no fee if no recovery," clarify what that means because sometimes there are small charges the client must pay.
Avoid lawyers who seem "swamped" with work, who are taking calls during your conversation, and being inattentive to your questions. They probably don't have time for your case. But at the same time, a busy lawyer may be the sign of someone in demand.
4. Take time to interview the attorney you may want to hire.
When you finally select at least two attorneys you are considering hiring, you should make arrangements to interview them, preferably at their office. When you call the office to set up a consultation, take note of how courteously and efficiently you are treated by their staff. This may tell you a great deal about the attorney and his firm and how they will interact with you in the future.
Questions to ask of an attorney you are considering hiring
Once you have set up the meeting with the attorney, here are some questions you could ask them:
To get an idea of the attorney's level of experience, ask:
—-How long have you been practicing?  How many cases have you tried in your career?  What percentage were personal injury cases?  How many cases have you tried in the past five years?   What is the largest personal injury settlement or verdict you have ever obtained?   What about your firm? Have you tried or settled similar cases in this county?
—-How many cases do you and members of your firm have in suit right now? How many personal injury cases are typically settled per year?
—-What is the overall size of your firm and the experience of the attorneys?
Other questions you may pose:
Who will be assigned to my case, and will I work with the same person throughout? How will the lawyer communicate with the client about the case, and how often? Are your client calls returned on the same day?
—-What are your plans for this case? Do you foresee any major problems? Any conflicts of interest with other possible parties to a lawsuit?
—-How much time do you project this case will take?
—-What are the chances this case will be settled? What sort of settlements do you obtain? What is your success rate in negotiation?
What involvement will be expected of the client?
—-How are appeals handled? Do you have easy access to expert witnesses? Are they on staff?
—-In valuing my claim, can you provide a thorough analysis of Ohio law? Can you thoroughly summarize the litigation stages of a personal injury case? What are potential juries awarding for similar claims in this area?
—-Can the attorney provide the client with copies of all correspondence to insurance carriers and copies of all pleadings filed in litigation?
5. You should feel a level of comfort with the attorney.
After you have interviewed the attorney, you should probably have a good idea of whether you feel comfortable with this person. Look for unspoken signs of a quality advocate, such as being a good listener, being receptive to your questions, and thoroughly addressing your concerns, including pointing out any weaknesses in your case.
Why Choose the Slater & Zurz Law Firm
Slater & Zurz accident attorneys have four decades of experience dealing with car accident victims and numerous other types of personal injury cases. They know the law in Ohio and how to use it to the best advantage of their client's claim.
Their results are second-to-none. They have recovered over one-half billion dollars for their clients in their years of practice with their dedication, expertise, and wise use of resources.
They offer free consultations so they can evaluate your case. They also make an upfront promise that you, the client, will not pay Slater & Zurz unless they win the case.   They will use their resources to accomplish this, not yours.   They have their own investigators, safety experts, accident deconstructionists, and medical professionals who they can use to build a winning case.
The Slater & Zurz accident attorneys are superb negotiators. They will do everything they can to prevent a client from accepting a poor settlement offer.   It is always the client's right to settle, but Slater & Zurz attorneys will educate the client about the value of their claim and encourage them to accept nothing less.
Where to Find Slater & Zurz in Columbus
Slater & Zurz law firm in Columbus is located at 450 Polaris Parkway. If you cannot come to the office, tell us where it is convenient to meet with you, and we will arrange it.