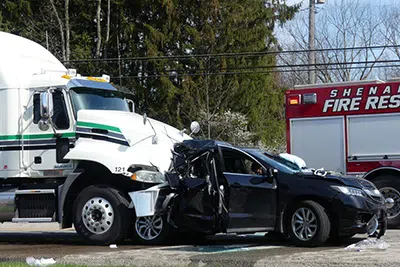 An estimated 15.5 million commercial trucks currently operate in the United States. Due to their size and heavy, potentially hazardous contents, truck accidents are not uncommon to result in catastrophic injuries and extensive property damage.
When you have been seriously injured in a truck accident, you need to know your case is in the best possible hands. Accidents involving tractor-trailers or other large commercial trucks can be far more devastating than a regular auto accident. An experienced and aggressive legal team needs to handle truck accident cases.
The Ohio truck accident lawyers at Slater & Zurz are recognized as one of the state's leading truck accident injury law firms. For over 30 years, we have helped injured victims get the justice and financial compensation they deserve. Let our skilled legal team put our extensive knowledge and unwavering commitment to work for you. We welcome you to contact us to arrange a free consultation. During your initial meeting, one of our knowledgeable attorneys will assess your situation, answer any questions or concerns you may have, and determine what steps to take to ensure you receive your rightful compensation.
Ohio Truck Accidents
Any type of motor vehicle collision can lead to serious, sometimes fatal, injuries. However, the potential for catastrophic injury is significantly higher when the accident involves a commercial truck, such as a tractor-trailer or semi-truck. According to the Ohio Department of Public Safety, one out of every eight traffic fatalities results from a commercial truck accident. Truck crashes can occur in any number of ways. Some of the more common causes of truck accidents include the following: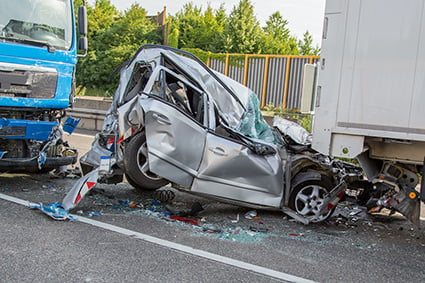 Truck Driver Fatigue – Truck drivers, frequently work very long hours to keep up with their demanding delivery schedule. That is why fatigue and drowsiness can easily set in, posing an increased risk of a serious trucking accident. According to the National Highway Traffic Safety Administration (NHTSA), driver fatigue contributes to approximately 60,000 accidents yearly, resulting in over 40,000 injuries and 1,500 fatalities.
Driving Under the Influence – When a trucker is driving while under the influence of drugs or alcohol, their ability to drive safely is greatly impaired. They are largely unaware of their surroundings and have a much slower reaction time, making them a danger to themselves and those around them.
Driver Distraction – Operating a large, heavy vehicle, such as a big rig or 18-wheeler, can be challenging. That is why the truck driver needs to pay close attention to his or her surroundings. Distractions, such as eating and drinking, using a cell phone, and operating a navigation system, all take the trucker's attention off the road and significantly increases their chances of causing a devastating accident.
Inexperienced Truck Drivers – Truck drivers are in high demand. So, to hire enough drivers, companies often cut corners when it comes to driver training. Unfortunately, this means many truck drivers are not properly trained in operating a potentially dangerous vehicle, putting other motorists at risk of serious injury.
Dangerous Road Conditions – It is estimated that nearly 30% of truck accidents are caused by poorly maintained roadways and other hazardous road conditions. Insufficient lighting, poor road design, insufficient road reflectors, and potholes can all contribute to truck accidents.
Improper Truck Maintenance – Truck drivers and the companies they work for must regularly inspect and maintain their vehicles to ensure their safe operation. But maintenance can be costly and time-consuming. Therefore, many drivers and trucking companies do not adequately maintain their vehicles, posing a serious risk.
What to Do After a Truck Accident
Truck crashes can happen anywhere at any time. Following a collision, victims are often severely injured and in shock. However, your steps after a truck accident can directly impact your physical recovery and your ability to recover full compensation for your losses. Following the steps below will ensure you have the best chance of recovering physically and financially.
Remain calm.
Get yourself and your passengers to safety.
Never leave the scene of the accident.
Call the police and provide a detailed and accurate account of what happened before, during, and after the collision.
Seek medical attention, even if your and your passengers' injuries appear to be minor.
Get the contact information of all parties involved.
Look for witnesses and obtain their contact information.
Obtain a copy of the police report.
Take photographs and videos of the vehicles involved and the accident scene.
Write down everything that happened, and be sure to include all of the minor details, as they often prove vital in supporting your case.
Document your injuries and keep all medical records.
Do not admit fault.
Do not discuss the accident or the nature and extent of your injuries with anyone.
Contact a qualified truck accident attorney right away.
Available Compensation for Your Truck Accident Injuries
Truck crashes can leave victims in physical, emotional, and financial distress. But if another party caused your or your loved one's losses, you have the right to seek monetary compensation. Although every truck accident case is different, the damages that may be available to you include:
Medical expenses
Costs for future medical care and rehabilitation therapy
Lost wages
Lost earning capacity
Property repair or replacement
Costs for in-home or long-term facility care
Pain and suffering
Diminished quality of life
Disability
Disfigurement
Loss of consortium
Wrongful death
How Our Ohio Truck Accident Lawyers Can Help
Truck accident claims are some of the most complex personal injury cases because multiple parties often bear the responsibility for the crash. With over 100 years of combined experience advocating for injured truck accident victims, we know the ins and outs of these cases. We can accurately and effectively identify all at-fault parties by performing a detailed investigation into every aspect of your accident. Our truck accident attorneys will review every piece of information, such as:
The police report
Eyewitness accounts
The truck driver's record, including any past violations
The nature and extent of the damage to all vehicles involved
The truck's accident history
How the truck's cargo was loaded and secured
The truck's maintenance records
The truck driver's level of training
Road and weather conditions at the time of the accident
After identifying the responsible parties, we will work with our team of medical and financial experts to accurately assess your injuries and determine the true extent of your damages. Then our attorneys will skillfully negotiate with the insurance company to maximize your financial recovery. If negotiations do not result in full and fair compensation, we will take the matter to court, where we will aggressively advocate on your behalf to get you what you deserve.
There Are No Fees Unless We Win
Being involved in a truck crash can leave you coping with serious injuries, unable to work, and struggling to pay your mounting medical bills. The Ohio truck accident attorneys at Slater & Zurz understand the many challenges you and your family face in the aftermath of your accident. That is why we handle all truck crash cases on a contingency fee basis. This means you can obtain the legal representation you need without paying any out-of-pocket fees. We are only paid a portion of your award when we successfully recover damages on your behalf. In the unlikely event, we are not successful in obtaining compensation, you owe us nothing.
Get started today by calling 888.534.4850 or filling out our online form.
Frequently Asked Questions
+
In a truck accident case, the driver, truck owner, or the transportation company may be held responsible for your injuries and associated losses. In other cases, the facility responsible for loading the truck or the company responsible for the contents of the trailer can be held liable. Every truck accident case is different, so it is always best to consult with an attorney to determine liability.
+
Yes. However, the minimum required insurance coverage depends on the truck's weight and the type of freight it carries. For non-hazardous freight in a truck weighing under 10,000 lbs., they must have $300,000 of liability coverage. When carrying non-hazardous cargo in a truck over 10,000 lbs., the minimum coverage increases to $750,000. Oil moved by private and for-hire carriers requires $1,000,000 in liability coverage, and for-hire and private carriers moving other hazardous materials must maintain $5,000,000 in coverage.
+
Yes. If your family member died in a truck crash caused by another party, you may have the right to bring a wrongful death claim to recover compensation for your family's losses. Although no amount of money can bring back your loved one, it may provide you and your family with some measure of justice.
If you or a loved one suffered injuries in an Ohio truck accident, contact our leading personal injury law firm to schedule a free, no-obligation consultation. One of our experienced truck accident lawyers will answer your questions and explain every step of the truck accident injury claims process. In Ohio, an injured victim has two years to take legal action against a responsible party. Don't hesitate. Call 888.534.4850 to arrange your FREE consultation with an experienced truck accident lawyer in Ohio.