Spinal cord injuries (SCI) can be one of the most devastating types of injuries. The spinal cord is covered by a protective layer of bones in the back and neck. When these bones are damaged, damage can also occur to the spinal cord, causing temporary or permanent damage. The spinal cord is the center of the body's movement and sensation. When it is damaged, it cannot send and receive messages from the brain that allow for motor, sensory and autonomic function.
These injuries can be very hard to deal with from both a physical and emotional perspective. The long-term nature of recovery, rehabilitation, and life with a permanent SCI can take a real toll on the victim and their family.
There are nearly 18,000 new cases of spinal cord injury (SCI) each year in the U.S.
If you or a loved one has experienced a spinal cord injury as the result of someone else's negligence, Slater & Zurz wants to help. We have more than 30 years of experience in successfully representing Ohioans in personal injury cases including numerous cases involving spinal cord injuries. Our focus is twofold: making sure you and your loved ones are ok, and getting the justice you need and deserve. Contact us today to discuss your case with a back injury lawyer for free.
Spinal Cord Injury Types and Results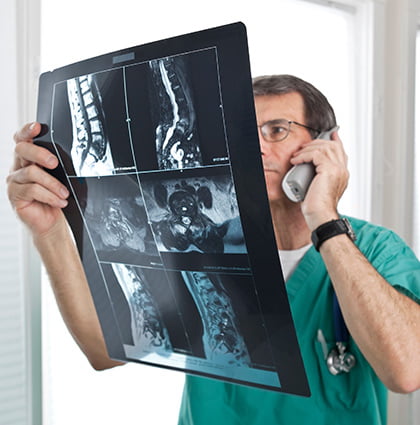 The spinal cord does not have to be completely severed to be damaged; it can be bruised, stretched, or crushed. Trauma, fractures, bruises or contusions, dislocations, compressed vertebrae, slipped discs and partial or total paralysis can all encompass spinal cord injuries. These injuries can be temporary or permanent. You may hear terms from your doctor that can be confusing, including cauda equina, conus medularis, central and anterior cord syndrome, or Brown-Sequard syndrome.
Put simply, the location of the spinal cord injury determines what parts of the body are affected. The spine is divided into the following sections from the neck to the tailbone: cervical, thoracic, lumbar, sacral. The tailbone or coccyx is also part of the spine. Usually, by the age of 30, sacral vertebrae fuse to the coccyx, so injuries to the coccyx may be included as a sacrum injury.
Spinal cord injury can affect a single part or more than one part of the spine. SCIs include:
Incomplete: partial damage, where some feeling or movement is possible below the level of injury, including:

Incomplete Tetraplegia. This is the most common spinal cord injury. Also known as quadriplegia, tetraplegia means paralysis of both the upper and lower body due to spinal cord and/or brain injury. Tetraplegia indicates damage to the cervical vertebrae (C1-C8).
Incomplete Paraplegia. Paraplegia means damage to the thoracic (T1-T12), lumbar (L1-L5) or sacral (S1-S5) vertebrae.

Complete: permanent damage to the spinal cord, with total lack of sensory and motor function below the injury, including:

Complete Tetraplegia (permanent cervical spine damage)
Complete Paraplegia (permanent spine damage to thoracic, lumbar or sacral vertebrae)
Spinal Cord Injury Statistics and Causes
It is estimated that 300,000 people in the United States live with a spinal cord injury. The high majority of these cases (78%) are male. This may be because males more often hold jobs or participate in activities that could cause these types of injuries, such as high-impact sports or construction work.
Here are some of the most common causes of spinal cord injury:
Car and other vehicle accidents
Falls, including falls from or onto objects at a worksite
Gunshot wounds and other acts of violence
Sports and recreational activities
Medical or surgical accidents
While some people recover quickly from spinal cord injuries, others face months of rehabilitation to get back to the state of health they were in before the incident or accident. In some tragic instances, spinal cord injuries are permanent, or even fatal.
The path to recovery isn't always a straight line—re-hospitalization is also common in spinal cord injury, with as many as 30% of victims of spinal cord injury having to be re-hospitalized. Secondary illnesses as a result of the spinal cord injury are also common causes of re-hospitalization, such as skin diseases, infections, or systemic illness in the respiratory, digestive, and/or circulatory systems.
When a spinal cord injury is caused by someone else's negligence, whether by accident or on purpose, that person can be found to be liable for the injury under Ohio law. An experienced spinal injury lawyer knows how to gather all the relevant evidence and documentation related to the accident or incident, building a compelling case for you or your loved one.
Compensation for Your Spinal Cord Injury
If you have a spinal cord injury resulting from the negligent actions of another person, people, or business, you may be entitled to compensation for medical expenses, income loss, effect on your ability to conduct and enjoy life, and pain and suffering you have incurred as a result of the injury. Slater & Zurz seeks to comprehensively recover all expenses related to your spinal cord injury, including:
Medical expenses. A doctor or other medical specialist visits, tests, procedures, surgeries, hospital stays, physical and mental health therapy, and rehabilitation costs (including long- or short-term care facilities).
Lost wages. When you miss work as a result of your spinal cord injury, we work to recover the income you would have earned had the incident not occurred, including expected future wages.
Loss of companionship. Your spouse may be entitled to compensation if your spinal cord damage affects your normal, regular participation in their lives.
Pain and suffering. We bring years of experience to arrive at a figure that is intended to compensate for the emotional stress and physical pain you will endure as a result of this incident.
Ohio Spinal Cord Injury Law Firm
Spinal cord injuries can be devastating to a family and the aftermath of such an injury can be completely overwhelming. With medical bills piling up, calls and communications from insurance companies, doctors, hospitals, and care facilities, taking care of yourself or your loved one and focusing on healing can be very difficult.
Slater & Zurz works to alleviate the burdens you're dealing with and works aggressively to get compensation for the negligence that caused the accident or incident that resulted in your spinal cord injury. Our team of experienced spinal cord injury lawyers understands how to track, research, categorize and compile a detailed case for reimbursement of all losses and expenses related to your injury. If someone else is at fault for the spinal cord injury you or your loved one have sustained, we will pursue justice with an unwavering focus and an unstoppable commitment to getting results, no matter how long it takes.
We care about our clients and have more than 40 years of experience representing Ohioans in their personal injury cases. When we take on a spinal cord injury case, we work only on a contingency basis. That means we don't get paid unless and until you do.
We have offices conveniently located across the state of Ohio, in Akron, Canton, Cincinnati, Columbus, Toledo, and Cleveland. If you are unable to physically get to one of our offices, we would be happy to make arrangements to visit you at your home. Contact Slater & Zurz any time of the day or night to discuss your spinal cord injury case for free by calling 1-888-534-4850 or doing a chat on our website.