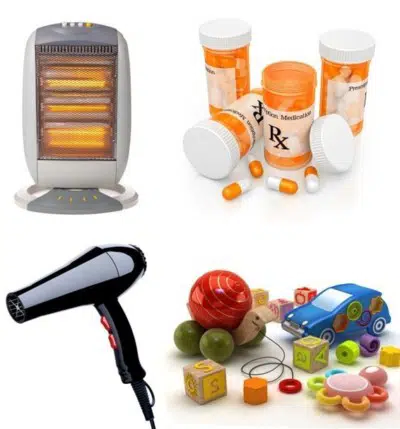 When you purchase and use a product, you trust that it will work as intended -and certainly not put you or others at risk of harm or injury. Unfortunately, products are known to occasionally have defects that can not only lead to serious injury – but even death.
At Slater & Zurz, we firmly believe that if a defective product causes harm, the victim should receive maximum compensation for their injuries, suffering, and losses. That is why we fight hard to hold manufacturers and other third parties responsible for their negligent actions.
Whether your injuries were caused by a poorly-designed product, careless manufacturing, or inadequate safety warnings, you have the right to pursue compensation under Ohio law. And as strong advocates for all injured victims, we will take forceful legal action to ensure you get the justice you are entitled to. We will create and implement an effective legal strategy to make sure those responsible for this needless harm must answer for their actions.
If a defective product harmed you or your loved one, we urge you to contact one of our Ohio product liability lawyers right away. In your initial consultation, you can discuss the details of the incident, and we will advise you of your legal rights and options. Should you choose Slater & Zurz to represent you in your product liability claim, we will expertly handle your case on a contingency fee basis. In this agreement, you will not be asked to pay anything out-of-pocket. Our fees will only be paid if and when we secure compensation on your behalf.
Ohio Product Liability Lawsuits
Design Defects – Claims involving defects in the design of a product focus on the manufacturer's plans prior to manufacturing the product. Design defects occur when a flaw or error in the product's design makes it unreasonably dangerous.
An example of a defective design is an infant bouncy chair that was designed to place the child at a steep angle with no support of a safety belt, causing the infant to fall out of the chair and become injured.
Manufacturing Defects
Even when a product is well-designed, it can still cause harm or injury to consumers. Defects in manufacturing occur when a product is not manufactured correctly and departs from its intended design. Again, it does not matter how much care the manufacturer puts into the design of the product.
If a defective product left the factory and injured someone while being used for its intended purpose, the manufacturer should be held liable for the victim's losses. A good example of a manufacturing defect is the improper installation of electrical wiring in a power tool.
Failure to Warn
Inadequate labeling is somewhat different than manufacturing and design defects. The product itself is not defective, but the warnings or instructions accompanying it fails to adequately warn the consumer of possible dangers.
If it is reasonably foreseeable that a consumer might be injured while using their product, a manufacturer has a duty to warn them of the potential and provide adequate instructions to avoid any injury. This includes drugs that don't warn of possible side effects or a child's toy that doesn't warn of choking hazards.
Common Products that Can Cause Injuries
According to the Consumer Product Safety Commission (CPSC,) just under 3 million Americans suffer injuries, and nearly 22,000 people die as a result of a defective product. These defective products can include:
Auto parts
Children's toys
Infant or child safety equipment
Lawn and garden equipment
Household appliances
Home improvement tools
Medical devices
Over-the-counter and prescription medications
Recreational products
Who Can be Held Liable in an Ohio Product Liability Case?
If you or a loved one was injured while using a defective or dangerous product, you can seek compensation for your injuries and losses. Though you may be asking who will ultimately be responsible for your damages.
There are several parties who might be liable. Depending on the circumstances, legal responsibility for a defective or dangerous product may be held by any of the following:
The product's manufacturer
A manufacturer of a part used within the product
The party who assembled the product
The party who installed the product
A product wholesaler
The retailer who sold the product
Again, the liable parties vary depending on the specifics of your case. To learn more, we recommend setting up a free, no-obligation consultation with one of our leading Ohio product liability attorneys at Slater & Zurz.
Compensation in a Product Liability Lawsuit
By law, a product should meet reasonable safety standards and reach reasonable expectations by consumers. If they fail to meet these standards and you are injured as a result, you can seek damages from the responsible party.
Though damages differ from case to case, under Ohio product liability laws, you may be able to recover the following:
Medical expenses
Future medical care
Rehabilitation costs, including physical therapy expenses
Lost wages and future loss of earnings
Cost of repairs or replacement of property
Physical pain and suffering
Emotional distress
Disability
Disfigurement
Loss of enjoyment
Wrongful death (if you lost a loved one to their injuries)
An injured victim has only two years to seek compensation in a product liability case in Ohio. This time period begins on the date the injury allegedly occurred.
Not acting during this time will likely forever prevent you from securing your entitled compensation, so to ensure you don't lose your right to damages, we always recommend speaking to a product liability lawyer right away.
Why Choose Slater & Zurz?
Product liability cases frequently involve legal action against large companies, including wealthy pharmaceutical companies and global manufacturers. That is why victims of defective products need legal representation from a team with the experience, tenacity, and resources to take on these large corporations.
With our 100+ years of collective experience, you can be sure we will pursue legal action utilizing the most effective strategies and our vast professional resources. As seasoned trial attorneys, we will not back down but instead fight aggressively in court, being your voice for justice. When experience matters, you need Slater & Zurz.
Frequently Asked Questions
+
Failure to warn occurs when a product manufacturer fails to warn consumers about their product's dangers or fails to provide adequate instructions on how to use the product properly. Courts have even found failure to warn when the product's manual or labeling did warn of the dangers but the warnings were too small or unclear.
+
If a defective product hurt you, save the product and look for your receipt. Take pictures of the product that caused your injuries as well as the damage or injuries it caused, including any physical injuries to yourself or others. Keep records of any medical treatment and expenses that resulted from the product. We also recommend speaking to an experienced product defect attorney right away.
+
You must show more than the fact that you were using a product at the time you were injured. You will need to show the product was defective or you were not properly warned of the product's dangers. You must also show the product caused your injuries, and as a result, of your injuries, you suffered damages. You must also establish you were using the product for the purpose for which it was intended.
Speak to a Top Product Liability Lawyer in Ohio
Filing a product liability claim can be confusing. And should you need to take further legal action, you will need the best product liability law firm in Ohio – one with the extensive experience and both the professional and financial resources necessary to get you the result you need.
At Slater & Zurz, we know how to properly investigate Ohio product liability cases to identify who is responsible for the incident and take all necessary measures to ensure they are held liable for your damages.
To learn more about securing compensation in an Ohio product liability case, we welcome you to contact our office for a FREE, no-obligation consultation. You can reach us by calling (888) 534-4850. We have offices in Akron, Canton, Cincinnati, Cleveland, Columbus, and Toledo to best serve you.