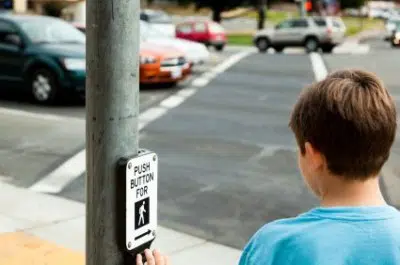 If you or a loved one has been involved in a pedestrian accident, you are not alone. Every two hours in the United States, a pedestrian is killed by a car, truck, motorcycle, or bus. There are over 4,000 pedestrian accident deaths per year.  In Ohio, nearly 10% of all auto accidents involve a pedestrian.
Unexpected accidents like these create questions and uncertainty about the future. You need your questions answered and guidance on what to do next.
At the Ohio law firm of Slater & Zurz, we have over 40 years of experience handling pedestrian accidents. We've helped clients get the verdicts and settlements they needed for their injuries and their futures.
All initial consultations are free. There is no cost to you whatsoever. There is no obligation to hire our firm. If you do decide to hire us, there will be no upfront fees or monthly retainers. We represent clients injured in pedestrian accidents on a contingency fee basis. That means you have no out-of-pocket costs. It also means we only get paid if we get you results. If we don't deliver you results, you owe us nothing.
Injuries from a Pedestrian Accident
A human body colliding with any size vehicle rarely escapes harm.  Serious injuries such as traumatic brain damage and broken bones are common with pedestrian accidents. Because of the injuries, there will be medical bills, lost income from missing work, pain and suffering.  It takes a long time to recover from these severe injuries. Some people never fully recover.  The effects of the accident are permanent for them and their families.
Seeking compensation for your injuries and damages caused by a pedestrian accident can be complex and time-consuming.  You have two years from the date of an injury from this type of accident to file a lawsuit.  Even if you think you are partially at fault in the accident, you still may be able to recover.
Distracted Drivers
Drivers of cars, trucks, buses, and other types of motor vehicles deal with more distractions than ever. Rain, snow and fog make it hard for drivers to see. The use of mobile phones takes away the attention of drivers. They concentrate on telephone conversations or texting rather than what's going on around their vehicles.
You can set up a meeting with an attorney by calling the law firm at 1-888-534-4850. You can also contact the firm by filling out a short form here. Slater & Zurz offers a 24/7/365 response to your contact.
Joann K.

"Mr. Slater and Rick Zurz are lawyers who are caring, courteous and professional. Twenty – six years ago they represented my son in a head injury case. I was pleased with the results, that provided for his future. When this catastrophic auto accident occurred I recalled their excellent management of the previous case and contracted them again. I recommend them if you are looking for good honest lawyers."
Whitney T.

"I couldn't have picked a better law firm than Slater and Zurz. They were friendly and helpful from the first call. They ask what you need and find the perfect attorney for you. Silas Pisani managed our case start to finish. He is knowledgeable, dedicated and goes the extra mile to make sure he handles everything for you. We would have never made it without his advice and expertise. We were lucky to have such a great attorney. Would highly recommend!!"
Dawna M.

"John Lynette is who I had for both of my not at fault vehicle accidents. He definitely got the job done! Was VERY thorough, fair and honest through the process of each individual vehicle accident! If I had questions throughout the process, he would answer them with no problem and with ease! In my opinion he's the best!! =)"
Submit a Law Firm Client Review
Frequently Asked Questions
Q1. What are some Common Causes of Pedestrian Accidents?
A. There are a wide range of distractions on the road that can cause drivers to endanger pedestrians in Ohio. Some of the most common causes for pedestrian accidents include:
Fatigued or drowsy driving, Speeding, Texting/distracted driving, Driving while under the influence of drugs or alcohol, Unsafe lane changes, Failure to yield to crosswalk signs
Q2. What do I do after an Accident?
A. If you have been injured in a pedestrian accident in Ohio, it is important that you remain at the accident site until police arrive. You should also make sure that you take down as much contact information from the driver as possible. Talking to anyone who saw the accident can also give your story more credibility. If you have a phone with you, be sure to take photos of the accident scene and any visible injuries.
(4.9 / 5 based on 329 ratings) See all reviews.