If a person does not have a will, they are referred to as "intestate." When they die, no one has immediate legal authority designated to manage and settle their affairs. The decedent's money, stocks, real estate, and personal belongings become a part of their estate. In cases like these, the court appoints an "administrator" or "personal representative" to decide the deceased's estate.
The "administrator" has the same duties as an "executor," a specific person or persons, or a company, such as a bank, named ahead of time, usually in a will, to handle an estate after death.
The "administrator" or the "executor" may choose to hire an estate or probate attorney to assist them with their duties and help meet any forthcoming challenges. Slater & Zurz LLP, a local law firm, has experienced probate attorneys who can help with the many duties an administrator or executor must legally fulfill.
Who can serve as an administrator, and what is their role
In an intestacy situation, relatives entitled to benefit from the estate apply to the probate court to be the estate administrator. The court then issues "letters of administration," which give the administrator authority to act on behalf of the deceased. The main tasks of the administrator are to:
Keep a detailed record of all activities as an administrator.
Collect and inventory the deceased's assets and real estate holdings and get appraisals of their value if necessary. Make plans to sell what an administrator is authorized to sell.
Notify necessary organizations, agencies, creditors, and businesses of the deceased's death.
Determine what taxes are due and identify any other known liabilities. Determine the legitimacy of all debts.
Pay bills from probate assets. If assets are insufficient, the court may need to determine who will be paid.
Distribute the assets left after bills are paid and apportion personal property of the deceased to the heirs by following state law which determines how the latter are to be distributed after death in the absence of a will.
Close the estate and wrap up the probate process with the court.
There can be complications involved in completing these tasks. Monies from the estate could be used to pay for the services of an estate or probate attorney. In the state of Ohio, the administrator may accept a reasonable payment for the hours it may require to finish the job competently.
At Slater & Zurz LLP, their estate planning attorneys are very familiar with what is involved in handling an estate after the death of a loved one. If you serve as an executor or administrator for the deceased, there will likely be times when questions come up that you cannot answer.
Where can I find Slater & Zurz LLP?
Slater & Zurz LLP has conveniently located offices in Akron, Columbus, Cleveland, Canton, and Cincinnati, Ohio. Arrangements can be made to meet with a Slater & Zurz Probate attorney in other locations throughout Ohio if that is more accommodating.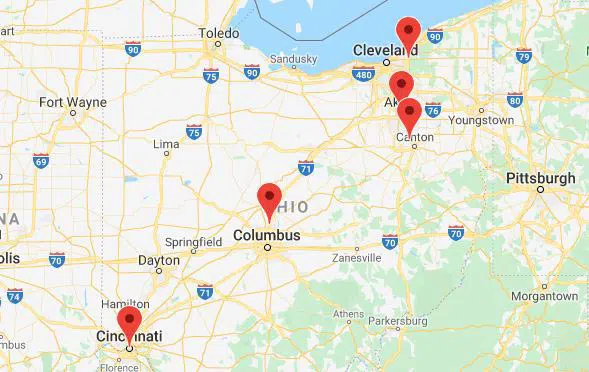 You can set up a meeting with an attorney by calling the law firm at 1-888-534-4850, or you can "chat" with a legal representative. You can also contact the firm by filling out a short form on the website that you can electronically send to the law firm. Slater & Zurz offers a 24/7/365 response to your contact.