If you or a family member has been injured due to the negligence of a medical professional, you may have legal recourse against the professional as well as the facility that employs that professional or in which the professional practices.
Countless medical issues can have unacceptable or even catastrophic results, which may occur when a doctor delays diagnosing or treating you, misdiagnoses you, or causes more problems during surgery or another procedure.
Even good doctors and other medical professionals can make mistakes, but that is why they carry malpractice insurance and can be held accountable for their actions. However, medical professionals, hospitals, clinics, and other medical venues cannot be made to pay for their mistakes unless the person harmed by their negligence acts promptly and reaches out to an experienced medical malpractice lawyer.
Medical Malpractice Lawyers, That Can Help You.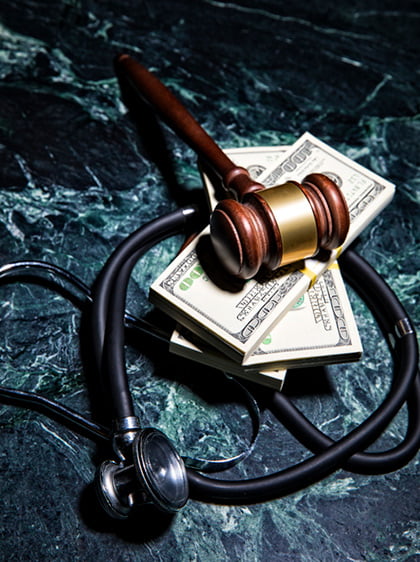 Our Medical Malpractice Attorneys strive to help victims and their families who have suffered a loss—new medical issues, failure to recover from an illness or injury from which most people recover quickly, or even an untimely death—as a result of medical negligence. Medical malpractice claims can arise from errors, including an incorrect diagnosis, inadequate testing, prescribing or administering inappropriate medications, surgical errors, and/or failing to follow accepted protocols for everything from setting broken bones to delivering babies.
Our firm would like to help you get the compensation you deserve for your claim. We want you to get the necessary care and assistance to ensure that you enjoy the best quality of life possible. You are entitled to fair compensation to get appropriate care: the proper treatment for as long as it is needed, any necessary corrective surgery, physical therapy, medication as needed, mental health treatment, nursing home care, and any other assistance you may need.
Compensation for Medical Malpractice can help you pay your bills
Many people lose their jobs when they are out for extended periods of time. Not everyone is covered by short- or long-term disability insurance when a medical crisis occurs. We are here to help you recover the costs arising from medical malpractice and compensation for the pain and suffering you have experienced as a result of the malpractice.
At Slater & Zurz LLP, in our 30+ years as medical malpractice attorneys, we have successfully handled a wide variety of cases in which our clients suffered significant setbacks and injuries at the hands of medical professionals. We have the experience and resources that are essential to winning a medical malpractice case.
Act quickly if you or a loved one is a victim of medical malpractice!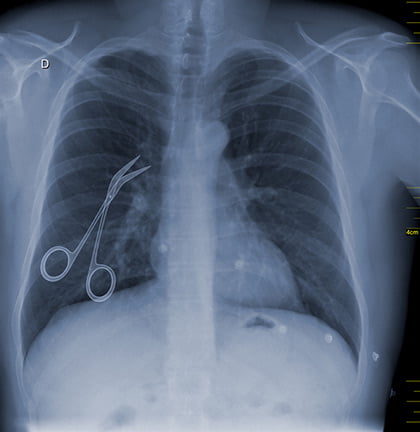 When you discover or learn about an error or negligence by a doctor or medical facility in Ohio, you must act immediately and reach a medical malpractice lawyer. In Ohio, the statute of limitations—the time within which you must file a medical malpractice claim or forfeit it—is one year after the claim "accrues." The one-year deadline can be extended by delivering a notice of your claim to the doctor and facility responsible for the malpractice within the one-year period. Delivering the notice will extend the time for filing suit by up to 180 days after delivery of the notice, even if the 180-day period extends beyond the one-year statute of limitations.
The date on which a claim accrues can be a simple determination: if the doctor amputates the wrong leg, which the patient will know upon waking up after the surgery, the claim accrues on the surgery date. On the other hand, if the doctor leaves a sponge in the patient's body during surgery, the patient may not discover the sponge until months or years later, when the sponge causes a new medical problem. Generally, a claim based on the failure to remove the sponge will not accrue until the patient learns—or should have discovered—that the doctor failed to remove it. In a case such as this, the statute of limitations doesn't begin to run until the patient discovers the problem.
However, another time limit also applies to claims that are not immediately apparent. There is a four-year deadline, beginning on the date of the claimed malpractice, by which the injured patient must begin legal proceedings or forfeit the claim. It would be best to be especially vigilant after surgery or any medical procedure to ensure that you discover any unexpected consequences within that four-year period. It's better to have any unexpected symptoms checked out within that period than to wait until, maybe, six or seven years out when you have forfeited your claim, you have definitive evidence that your doctor did something wrong.
Remember: if your claim is not filed on time, you may forfeit all compensation you could have received—anywhere from a hundred dollars to hundreds of thousands of dollars. To preserve your rights, you must consult an experienced medical malpractice lawyer as soon as you suspect possible malpractice to ensure that you can get everything to which you are legally entitled.
Here are a few of the people and entities you can sue for medical malpractice:
A medical doctor or group practice
A medical facility, such as a hospital, care center, or clinic
Chiropractor
These are some of the grounds for a medical malpractice case:
Incorrect diagnosis
Chiropractic errors
Surgical or procedural errors
Prescription or administration of inappropriate medication
Hospital errors
Unnecessary surgery or procedure
The specifics of your unique claim can be better understood once we discuss your case with you, a guardian, or a representative of your choosing in a free case evaluation.
Medical claims can also arise from defective products.
At Slater & Zurz, we have handled countless cases in which our clients sustained substantial, medically-related injuries or illnesses caused by defective products. Two types of defective products that have made the headlines in recent years are talcum powder, which was marketed with no warning that the powder might contain highly carcinogenic (cancer-causing) asbestos, and surgical mesh that doctors implanted in female patients, unaware of substantial defects in the mesh products that resulted in permanent, debilitating injuries to those patients.
We've also handled cases in which a carcinogenic chemical known as C-8 was permitted to contaminate water sources, leading to cancer developed from our clients' act of simply consuming drinking water.
These are not medical malpractice cases (and are not subject to the one-year statute of limitations applicable to medical malpractice claims): these are strict liability and negligence claims based on
The manufacturer's failure to ensure that the product was safe when used as intended;
The manufacturer's failure to warn either doctors or the public of the dangers associated with the product.
Failure to properly dispose of a hazardous substance. Because product-based claims often involve a large number of victims, we try to partner with other firms handling similar claims on a statewide or nationwide basis to obtain the most timely, efficient, and effective relief for everyone affected, with a particular focus on our clients.
We are equipped to handle your medical malpractice case.
At Slater and Zurz, because of our long-term experience with medical malpractice cases, we routinely handle relatively straightforward cases but aren't afraid to help with complex cases. Our attorneys understand what a nightmare it can be when unexpected complications take your health conditions out of your control. The enormous costs, grief, pain, and suffering from medical errors can destroy people's lives, careers, and families.
Because of our experience with medical malpractice victims, we understand what you and your family are going through. Everyone's case is unique, and we will make every effort to address every important issue for you. The first step in representing any client, in any case, is to truly listen to what the prospective client has to say and thoroughly understand the legal issues and those aspects of the case that are most important to the client.
We offer a free consultation, after which you pay nothing unless we win your case.
If you contact our offices, we will listen to your story and evaluate the merits of your claim free of charge. We will discuss the strengths and weaknesses of your claim. If we represent you in a medical malpractice case, you don't need to pay anything upfront. Unless we win your case, either by judgment or settlement, you will have no obligation to pay us anything. If we are successful, we will accept an agreed-upon percentage of the amount we win for you as our fee.
We have the experience and resources necessary to win medical malpractice cases.
We've won over $500 million for our clients in personal injury and medical malpractice cases. Because we've handled so many cases throughout Ohio, we know experts who can evaluate your claim and testify concerning diagnostic criteria, medical procedures, medications, and the accepted standards of conduct that apply to medical professionals and facilities.
A medical malpractice case can be won or lost based on expert testimony—either in court, by deposition (an interview taken under oath), or by affidavit (a sworn, written statement)—so the selection of an expert who is both credentialed and credible is critical to success.
Based on our experience with medical malpractice cases and the insight we gain from consulting medical experts, we can assess the strengths and weaknesses of any given case. This kind of assessment enables us to determine whether a settlement offer is reasonable. Because a fair settlement saves time and gets money to our clients much more quickly than going to trial, we will push for a fair and reasonable settlement whenever that appears possible. However, if the medical provider and/or facility refuses to make an acceptable offer, we aren't afraid to take the case to trial.
If you believe that you or a loved one suffered from medical malpractice, trust an experienced law firm dedicated to vindicating the rights of medical malpractice victims.
Nothing can restore the peace of mind of a trusting patient harmed by the negligence of their doctor or hospital. In too many instances, a person is harmed by the negligence of those whose duty to heal that patient cannot be fully restored to their prior good physical or emotional health. It is essential to begin an immediate investigation into all aspects of the medical negligence committed while the evidence is still fresh before the statute of limitations expires. If you or a loved one suffered from the negligence of a medical provider, you should reach out to an experienced, full-service law firm with expertise in medical malpractice and personal injury cases and a demonstrated track record of success.
Like so many others who have placed their trust in us, you can rely on Slater & Zurz to thoroughly evaluate your claim, answer your questions, and advise you of the best path forward. Call or email our team of dedicated professionals for a free consultation. We're here to serve your legal needs with compassion, dedication, and the drive to win.
Frequently Asked Questions
+
Generally, in the State of Ohio you have one (1) year from the date of the alleged malpractice to file your claim. However, even if one year has passed since the date of your potential malpractice, we may still be able to bring your claim and we encourage you to contact us immediately.
+
When pursuing medical malpractice claims, the attorneys at Slater & Zurz LLP work on a contingency basis. As our client, you are not required to make any up-front payments, also known as retainers, nor will you be required to pay us an hourly rate. Our compensation is a percentage of the gross settlement or judgment we obtain on your behalf. If you do not recover a settlement, you owe us nothing.
Additional Frequently Asked Questions about Medical Malpractice