Serious accidents and deaths occur in the workplace setting more often than people realize.
There are power tool and welding accidents, electrical hazards, fires and explosions, scaffolding accidents, chemical exposures and the occasional ponytail trapped in a piece of machinery.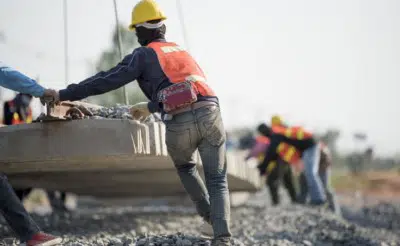 Many people think if they are injured at work, the only compensation available to them is workers' compensation.  But many times the person injured at work may be entitled to additional compensation through a personal injury lawsuit.
If you have suffered injuries at work, you most likely have questions about what you should do next.  A free consultation with an Ohio attorney experienced in workplace accidents will answer your questions and provide you with the guidance you need.
At the Ohio law firm of Slater & Zurz LLP, we have been assisting victims who were injured at work for over 40 years. We have handled tens of thousands of accident cases and helped clients receive verdicts and settlements they needed for their injuries.
Contact us and speak with an experienced attorney about your workplace accident case. We are available 24 hours a day, 7 days a week. Call 1-888-534-4850 or send us a message here from our website.
All initial consultations are free. There is no cost to you whatsoever. There is no obligation to hire our firm. If you do decide to hire us, there will be no upfront fees or monthly retainers. We represent clients who suffer injuries at work on a contingency fee basis. That means you have no out-of-pocket costs. It also means we only get paid if we get you results. If we don't deliver you results, you owe us nothing.
Investigating Workplace Accidents
You need someone to investigate the likely cause of the workplace accident.  If a third party was involved, you could recover more compensation than you would through workers' comp.  Examples of possible third-party liability are limitless.  A few are:
A lawsuit against the manufacturer of a machine, scaffolding or other defective item
A claim against a truck driver at a construction site, or a claim against a subcontractor
A claim for exposure to toxic substances at a worksite
Ohio Laws Protecting Employees in the Workplace
Ohio provides additional compensation for victims of workplace accidents when an employer violates a specific safety regulation (VSSR).  The Ohio Intentional Tort Statute also protects the injured worker when the employer had a deliberate intent to injure the worker—meaning he was substantially certain injury, disease or death would result from his practices.
The statute can also apply when the employer intentionally removes a safeguard from equipment or deliberately misrepresents the presence of a toxic or hazardous substance in the workplace.
If you have suffered injuries at work and believe your employer may have violated an occupational standard or was negligent in some manner, a free consultation with one of our attorneys who has represented injured workers in personal injury lawsuits throughout Ohio will help. Even if you are partially at fault, you may still be able to win a judgment.
In Ohio you have two years from the date of your injuries at work to make a claim.
You can set up a meeting with an attorney by calling the law firm at 1-888-534-4850. You can also contact the firm by filling out a short form here. Slater & Zurz offers a 24/7/365 response to your contact.
Joann K.

"Mr. Slater and Rick Zurz are lawyers who are caring, courteous and professional. Twenty – six years ago they represented my son in a head injury case. I was pleased with the results, that provided for his future. When this catastrophic auto accident occurred I recalled their excellent management of the previous case and contracted them again. I recommend them if you are looking for good honest lawyers."
Whitney T.

"I couldn't have picked a better law firm than Slater and Zurz. They were friendly and helpful from the first call. They ask what you need and find the perfect attorney for you. Silas Pisani managed our case start to finish. He is knowledgeable, dedicated and goes the extra mile to make sure he handles everything for you. We would have never made it without his advice and expertise. We were lucky to have such a great attorney. Would highly recommend!!"
Dawna M.

"John Lynette is who I had for both of my not at fault vehicle accidents. He definitely got the job done! Was VERY thorough, fair and honest through the process of each individual vehicle accident! If I had questions throughout the process, he would answer them with no problem and with ease! In my opinion he's the best!! =)"
Submit a Law Firm Client Review
Frequently Asked Questions
Q1. What should I do if I am injured at work?
A. The most important thing for employees to know is that any time you are injured on the job in Ohio, you should report the injury immediately to a supervisor, in writing if possible. Some states require that notice to the employer be made in writing, while others allow a verbal notice. However, to be safe, employees should report all on-the-job injuries to supervisory personnel in writing. Since some states have a short filing deadline, you should file immediately so that you do not lose any legal rights you may have to receive workers compensation benefits from your employer.
Q2. How do I file a workers' compensation claim?
A. The first step in filing a claim is to notify your employer. No matter how the employer learns of the incident, they must offer you a claim form immediately. Until this claim form is completed, the employer has no obligation to provide benefits. Your employer should be able to supply you with the forms needed to file a claim.
(4.9 / 5 based on 329 ratings) See all reviews.