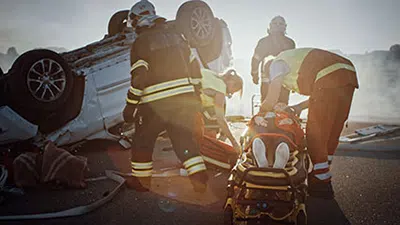 A serious motor vehicle accident can turn your life upside down, both physically and financially. However, you don't have to deal with the aftermath of your crash alone. Our qualified Ohio car accident lawyers have helped injured crash victims obtain the financial compensation they need to recover from their losses and move on with their lives. We understand the far-reaching consequences a car accident injury can have on both you and your family. That is why we are aggressive in our pursuit of justice and work diligently to protect your best interests.
Our Ohio car accident lawyers are relentless advocates for our clients and stop at nothing to get a full and fair recovery. We offer all car accident victims a free initial consultation to ensure everyone understands their rights and legal options. We also work on a contingency fee basis, which means we charge nothing unless we successfully recover damages on your behalf.
Let our trusted team's 100 years of combined experience help you get the justice you deserve and the compensation you are entitled to.
Motor Vehicle Crashes in Ohio
Car accidents can occur anytime, anywhere. You and your passengers can sustain serious injuries if you are involved in a low-speed "fender bender" or a high-impact T-bone crash. Our seasoned car accident lawyers have helped injured car accident victims obtain full financial recovery for their losses for over 30 years. Our team has successfully handled cases involving car accidents that occurred in a wide variety of circumstances. However, below are some of the most common types of car accidents.
Rear-end collision – When a vehicle crashes into the one traveling in front of it, it is known as a rear-end collision. According to the National Highway Traffic Safety Administration (NHTSA), rear-end collisions are the most common type of auto accident. Factors that commonly contribute to this type of accident include distracted driving, tailgating, driving under the influence, and driver fatigue.
Head-on collision – Also referred to as a "frontal crash," this type of accident is much more frequent in rural areas and occurs when cars driving in opposite directions collide front to front. Nearly 60% of all crash-related fatalities occur due to head-on collisions.
T-bone accidents – T-bone crashes occur when the front of one vehicle crashes into another side. Also known as a "broadside collision," these accidents generally occur at intersections when one car fails to yield at a stop sign or red light.
Left-turn accidents – When a driver turns in front of oncoming traffic and causes a collision, it is referred to as a "left-turn accident." These accidents are generally the fault of the driver who made the turn; however, there are a few situations where the other driver may be responsible.
Causes of Ohio Car Accidents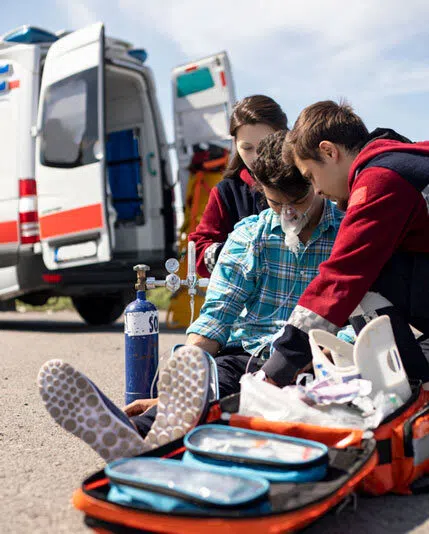 Auto accidents still happen despite advances in vehicle safety technology, such as backup cameras and collision avoidance systems. According to the Ohio State Highway Patrol (OSHP), more than 1,000 people lost their lives in Ohio auto accidents last year. Although some accidents are unavoidable, most can be prevented when drivers take the proper precautions and care. Following are some of the most common car accident causes.
Speeding – A recent study found that nearly two-thirds of all vehicles traveling on city streets, rural roads, and highways exceed the designated speed limit. When motorists drive over the speed limit out of habit, because they are behind schedule, or simply because they enjoy the thrill, they are putting themselves and others in considerable danger of injury and death.
Driving under the influence – Nearly 30% of all traffic-related fatalities are due to drunk or drugged driving. Alcohol and drugs drastically impair the motorist's ability to judge other vehicles' distance, speed, and movement. It also greatly impedes their ability to react to other cars and hazardous road conditions.
Distracted driving – Causing almost 15% of all Ohio car accidents, distracted driving occurs when motorists take their attention off the road. When drivers attempt to multitask by talking, texting, eating or drinking, reaching for an item, or tending to children or pets, they are at a much higher risk of causing a car crash.
Driver fatigue – The NHTSA estimates that over 50,000 drivers are injured, and nearly 1,000 die each year due to the actions of drowsy motorists. A tired driver's ability to react to the conditions or other cars on the road is significantly impaired. In severe cases, the driver may fall asleep at the wheel, cross into an opposing traffic lane, and cause a head-on collision.
Reckless driving – Aggressive or reckless drivers will often switch lanes too quickly, tailgate other vehicles, weave in and out of traffic, and disobey other traffic laws. These drivers blatantly disregard the rules of the road, risking their safety and the safety of those around them.
Inexperienced driver – A recent study found that drivers between the ages of 16 and 17 are three times more likely than drivers 18 or older to cause a serious accident.
Hazardous road conditions – Driving a car can be dangerous. However, when unsafe road conditions are present, they add an extra element of danger. Faulty road design, construction, or maintenance, objects on the road, and inclement weather contribute to a significant number of motor vehicle accidents.
At Slater & Zurz, our seasoned car accident lawyers have seen first-hand how devastating a car accident can be. It can completely change your life in an instant and leave you coping with serious, sometimes permanent, injuries. But our legal team is here to assist you in any way we can. We will provide you with our unwavering support and compassionate guidance throughout the entire process. We will also assist you by:
Make sure you receive the highest level of medical care to help you heal from your injuries.
Keeping you updated with any developments in your case
Consistently being available to answer all of your questions and concerns
Thoroughly investigating the accident and compiling every piece of evidence that supports your claim
Creating a compelling argument and negotiating skillfully on your behalf to obtain maximum recovery for your losses
Expertly representing your best interest in court if negotiations do not result in an acceptable resolution
We continue to be there for you and your family as long as you need us, even well after your case is resolved
Available Compensation for Your Car Accident Injuries in Ohio
Being involved in an auto accident can leave you coping with serious, lingering injuries and overwhelming expenses. Even a seemingly minor car accident can lead to significant damage. However, if another party caused the accident, you are entitled to seek compensation for your losses. Every car accident case is different. However, depending on the circumstances, you may be entitled to some or all of the following:
Past and future medical expenses
Lost wages
Lost or diminished earning capacity
The cost to repair or replace your vehicle
Rehabilitation expenses, such as physical and occupational therapy
Pain and suffering
Emotional trauma
Disability
Disfigurement
Diminished quality of life
Loss of consortium
Wrongful death
What to Do After a Motor Vehicle Accident
The moments immediately following a car accident can be frightening. You may be in considerable pain and in shock over what just happened. However, the following are some steps to take after a car accident to ensure your safety and protect your rights.
Seek medical attention – Sometimes, the shock of being involved in a car accident can mask serious injuries. So, it is important to seek medical attention whether you feel injured. A thorough examination by a doctor will ensure all of your injuries are identified and treated properly.
Call the police – When law enforcement arrives, provide an accurate account of what happened before, during, and after the collision. Be sure to obtain a copy of the police report for your records, as it contains crucial information about the parties involved, the accident scene, and any citations.
Gather evidence – It is always best to gather evidence as soon after the accident as possible. Evidence includes witness statements, photos, and video of the accident scene and damage to the vehicles involved. When documenting the scene, pay close attention to weather and traffic conditions, skid marks and debris, and property damage.
Document what happened – Write down what happened, where it occurred, and the conditions. Include any statements made by other parties involved and any eyewitnesses. The document, even the smallest detail as may prove essential in proving fault in your Ohio car accident claim.
Talk to an Attorney – After an accident, it is best to speak to an attorney as soon as possible, especially before speaking to the other party's insurance company. A skilled Ohio car accident lawyer will handle all communication with insurance companies and any other third parties.
Frequently Asked Questions
+
Yes, family members can seek compensation when their loved one is killed in a car accident by filing a wrongful death lawsuit. However, in Ohio, only the personal representative of the decedent's estate can bring a wrongful death claim. Any award is then distributed to eligible family members, such as the surviving spouse, parents, children, and other dependents.
+
By no means are you obligated to contact an attorney after a car accident. However, auto insurance companies often try to pay out less than what you actually deserve. Our Ohio car accident lawyers can handle every aspect of your case to ensure you receive full compensation, including investigating the accident, identifying liability, and managing all negotiations with the other parties involved.
+
We recommend that all accident victims take photos and video of the accident scene, preferably right after it occurs. However, this should only be done if it is safe to do so and the accident victim is not in need of immediate medical attention. Victims should take pictures of vehicle damage, debris, skid marks, traffic and weather conditions, injuries, and anything else that may be relevant.
Call Now to Speak with an Ohio Car Accident Lawyer for Free
Car accidents are one of the leading causes of personal injuries in the United States. You may be entitled to compensation for your injuries if you have been involved in a car accident. The first step in seeking compensation is to contact a car accident lawyer. At our firm, we offer FREE, no-obligation consultations to help you understand your legal rights and options.
If you have additional questions about your car accident case, please visit the car accident case FAQ page or call us.