Bicyclists suffer a staggering number of serious injuries and fatalities every year. According to the National Highway Transportation Safety Administration (NHTSA), nearly 900 cyclists die annually from bicycle accident-related injuries, accounting for nearly 3% of all traffic-related fatalities. Sadly, the majority of bicycle accidents are not caused by injured cyclists. Rather, the motorist is responsible for the accident that resulted in the victim's injuries, making the situation even more tragic.
Ohio law holds at-fault motorists accountable for their actions and brings injured victims the financial recovery they need and deserve. If you or a loved one sustained injuries in a bicycle accident, Slater & Zurz LLP is here to help. Our bicycle accident attorneys have been assisting injured bicyclists to obtain maximum recovery for their losses for over four decades. We are relentless advocates for our clients and do everything within our power to bring each and every one the justice they deserve.
We understand the devastating and long-lasting consequences a bicycle accident can cause. That is why we are committed to providing you not only with competent and aggressive legal representation in your bicycle accident case but also with the support and guidance you need to get you through this challenging time. We will be there every step of the way, from ensuring you receive the highest level of medical care to help you heal as fully as possible from your injuries to fighting aggressively to hold the at-fault party accountable for their negligent actions. With so much riding on the outcome of your Ohio bicycle accident case, you need a qualified and reputable legal team. To get started, we welcome you to contact our leading personal injury law firm to arrange your free, confidential case review.
Top 5 Causes of Bicycle Accidents
Bicycle accidents involving motor vehicles happen all too frequently on Ohio roads, resulting in approximately 25 fatalities each year. These accidents can happen to the most experienced rider even when taking the proper precautions. Though several situations can result in a serious bicycle accident, we have detailed the five most common causes below.
Distracted driving – Distracted driving is a leading contributor in all types of motor vehicle accidents, including those involving bicycles. When a driver's attention is on something other than driving, such as texting, eating, changing the radio, and tending to children and animals, they are putting themselves and others at significant risk of injury.
Driving under the influence – Impaired driving or driving while under the influence of drugs or alcohol greatly impairs a motorist's ability to assess their surroundings and make safe decisions to prevent a collision.
Reckless Driving – Speeding, weaving in and out of traffic, and making unsafe lane changes all qualify as reckless or aggressive driving and can easily lead to a devastating bicycle vs. motor vehicle accident.
Driver Fatigue – Recent studies have shown that fatigued or drowsy drivers pose a similar amount of risk to themselves and others as drivers who are under the influence of alcohol. A tired driver's slowed reaction time and inability to assess their surroundings contribute to a significant amount of bicycle accidents.
Failing to leave adequate space – One of the top causes of bicycle accidents is side-swiping. This type of accident occurs when a driver fails to leave sufficient space while passing a cyclist on the roadway. However, under Ohio's new "Three-foot Passing Law," drivers are required to give a cushion of no less than three feet when passing a cyclist.
Maximum Compensation for Your Bicycle Accident Injuries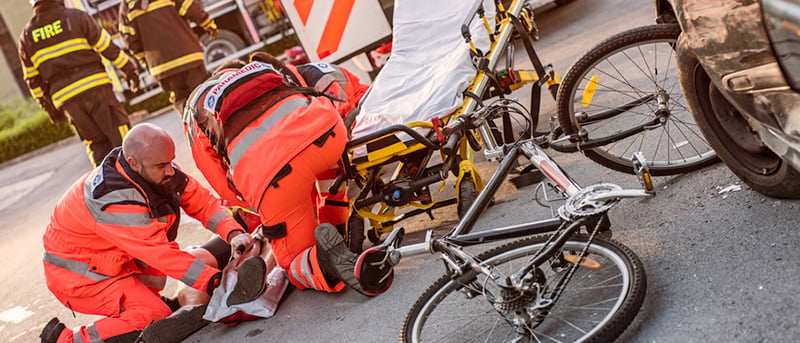 For injured cyclists, seeking financial compensation can be an essential part of the recovery process. Devastating injuries sustained in a bicycle accident can lead to chronic pain, disability, emotional distress, and a substantial financial burden. But the dedicated and compassionate bicycle accident attorneys at Slater & Zurz LLP are here to fight for justice and the maximum recovery on your behalf. Every Ohio bicycle accident case is different. But depending on the accident's circumstances and the extent of your injuries, you may be entitled to compensation such as:
Medical bills
Medication and prescription costs
Future medical care
Rehabilitation
Lost wages
Lost future earning capacity
Property repair or replacement
Home and vehicle modifications
Pain and suffering
Mental anguish
Disfigurement
Disability
Loss of enjoyment
Loss of consortium
Wrongful death damages (if your loved one died in a bicycle accident)
To learn more about the financial recovery you may be entitled to, we recommend scheduling a free consultation with one of our knowledgeable bicycle accident attorneys. During our initial meeting, we can review the details of your case, discuss the compensation that may be available to you, and develop a course of action to fight for maximum compensation.
What to Do Following an Ohio Bicycle Accident
The time immediately following a serious bicycle accident can be chaotic and stressful. However, the actions you take after your accident can drastically affect your physical recovery and your right to seek compensation for your injuries. Below are some steps you can take to ensure you will have the best chance at a full physical and financial recovery.
Seek immediate medical attention – Although some injuries are immediately apparent, some may take days or weeks to show up. To ensure all of your injuries are quickly diagnosed and treated, it is best to have a doctor perform a thorough medical exam.
Call the police – When the police arrive at the scene, provide an accurate detailed description of what took place before, during, and after the accident. Obtain a copy of the police report for your records as it contains important information, such as the names and contact information of the involved parties, a diagram of the accident scene, the conditions at the time of the accident, the officer's assessment of what took place, a list of any citations given.
Take pictures and document what happened – If possible, take photos and video of the accident scene and the damage to the cars and bicycles involved. It is also a good idea to promptly write down everything you remember, including the conditions at the time of the accident and any statements made by others.
Look for witnesses – Ask those around the accident scene if they saw what happened. If so, get their contact information so your lawyer can contact them at a later time.
Don't talk to anyone before you speak to a bicycle accident lawyer – The insurance companies will likely contact you right away, asking for a recorded or written statement. These statements are often used against accident victims in an effort to avoid liability or minimize the payout. To make sure your words aren't used against you, it is best to speak to an attorney right away and let your lawyer handle all communications with the at-fault party and their insurance company.
Frequently Asked Questions
+
Yes. Ohio is a comparative fault state, which means that multiple parties can be held liable for injuries and other losses sustained in a bicycle accident, including the injured victim. The courts will determine the percentage of fault for each party involved, and if multiple drivers are found to be liable, each will be ordered to pay their share of the damages.
+
Yes. In Ohio, if a motorist or other third party caused your bicycle accident, you can pursue compensation for your injuries – even if you were not wearing a helmet at the time of the accident. State law does not require bicycle helmets to be worn when riding a non-motorized bicycle. However, some cities do require bicyclists under the age of 18 to wear a helmet while riding a bike.
+
The value of your Ohio bicycle accident case depends on a number of factors, including:
The nature and severity of your injuries
Your medical expenses to date and whether you require ongoing care
Whether your injuries led to missed work or lost earning capacity
Whether your injuries resulted in long-term or permanent disability or disfigurement
The amount of physical and emotional suffering caused by your accident
Our experienced bicycle accident attorneys will carefully assess your past and future damages to ensure you receive full and fair compensation.
Schedule a Free Consultation with an Experienced Bicycle Accident Lawyer
If you sustained injuries in a bicycle accident caused by a negligent party, you have the right to seek maximum recovery for your injuries and related losses. The bicycle accident attorneys at Slater & Zurz are here to help you hold the at-fault party accountable for the harm they caused and will fight aggressively to get you the compensation you deserve. From thoroughly investigating the accident that caused your injuries to advocating on your behalf in court if necessary, we will be there every step of the way. And in the unlikely event we don't successfully recover damages on your behalf, you owe us nothing. Get started today by calling 888.534.4850 or filling out our online form to arrange your FREE consultation.