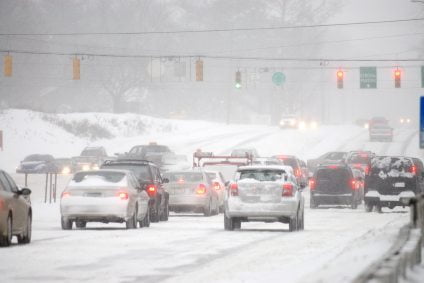 Four vehicle pileups on icy Ohio roads on Monday, January 21, all occurring within a two-hour period, resulted in a total of 186 wrecked vehicles and one fatality.
One car crash happened near Columbus, Ohio another occurred near Mansfield and two were in the Cincinnati area.
Twenty five people were transported to the hospital from all four car accidents. The fatality occurred on I-75 near Cincinnati and was part of an 86-car pileup there. A 12-year-old girl apparently exited the damaged vehicle she was riding in and went to stand in the median near a cable barrier. Another vehicle hit the barrier, snapping a cable which struck and killed the girl.
At least 20 people were taken to the hospital in the accident which included the fatality, It happened about 11:35 a.m. Monday. Inclement weather was identified as a factor in the car accident.
Just before noon, a 50-car pileup took place on I-75 between Middletown and Monroe, Ohio. The Ohio Highway reported minor injuries in that crash which was apparently triggered by whiteout conditions.
Shortly after noon, a 29-vehicle crash closed I-270 south at Cleveland Avenue. The road was closed between I-71 and S.R. 161 until 2:15 p.m. that day. Four people were transported to local hospitals with injuries in that pileup. Black ice and blowing snow were identified as the cause of the accidents, but six people were cited for contributing to the multi-vehicle wreckage.
Just after 2 p.m., a multiple 21-vehicle crash occurred on I-71 southbound, north of State Route 13. A semi-tractor trailer was unable to stop and struck the rear of another semi truck initiating the pileup. The entire roadway and berms were completely blocked with damaged vehicles.
The Ohio Department of Transportation detoured I-71 southbound traffic onto US-30. Traffic was cleared shortly after 5 p.m. Monday. No one was transported to the hospital from this pileup.
The latter crash is under investigation, but police indicated the majority of the vehicles shared in the fault of the accident for not maintaining assured clear distance.
Icy roads, blowing snow, fog and car accidents are a frequent and unfortunate combination. Injuries from these accidents may be minor, but even minor injuries can have long-lasting effects on the body. For some people the ability to continue driving is altered after they are involved in a traumatic accident in which others are injured are killed, even if they are not at fault..
If you have been injured due to the negligence, carelessness, recklessness or willfulness of another driver, you may have compensation due to you. The car accident attorneys at Slater & Zurz LLP would like to discuss your injuries with you and determine if you should go forward with an action. They have locations in Akron, Canton, Cleveland and Columbus to conveniently serve anyone located in Ohio.
Contact Slater & Zurz LLP at 1-888-534-4850 to set up an interview, or if you would feel more comfortable, send a message via the message at slaterzurz.com. Look for the FREE CASE REVIEW column on the upper right-hand side of the page and fill out the form. An Ohio car accident attorney will contact you promptly to discuss your case.