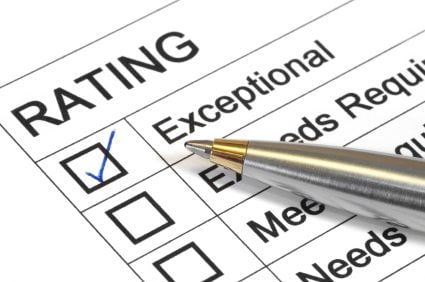 Eight Ohio nursing homes received ratings of 95 or higher in the family satisfaction survey compiled by the Ohio Department of Aging (ODOA).  The Department is updating its Ohio Long Term Care Guide which asks families of nursing home patients if they would recommend to another person the facility where their loved one is residing.
Of the more than 900 nursing care facilities in Ohio, many others received commendable scores in the family satisfaction category and other categoris.  Listed here are those facilities which received a score of 95 out of 100 or higher.  The Ohio Department of Aging produces the guide to provide a tool for consumers in evaluating nursing homes statewide.
It includes results from family surveys from 2011 as well as state inspection results, staffing ratios for each home and other information.
Heading the family satisfaction list for Ohio was Bradley Bay Health Center in Bay Village, Ohio with a rating of 97.49.  Rating a close second was Glenmont Nursing Home in Hilliard, Ohio in Franklin County with a score of 96.93.  Third in the survey was Willow Brook Christian Home in Delaware, near Columbus with a rating of 95.93.  Fourth through eighth respectively were:  Morrow Nursing Home Manor in Chesterville (95.87); Little Sisters of the Poor in Oregon, Ohio (95.63); Kendal at Oberlin (95.51); Deupree Cottages in Cincinnati (95.41) and Resthaven Nursing Home in McDermott (95.18).  Ninth and tenth ranking were House of Loreto in Canton (94.98) and Mount Notre Dame Health Center in Cincinnati (94.93).
Of the Ohio nursing homes rated in the top 25 in the survey, more than 50% were not-for-profit facilities, according to the Guide.  The top facility in Summit County was the 101-bed Regina Health Center on Broadview Rd. in Richfield, a non-profit operated by the Sisters of Charity of St. Augustine.
Each home ranked in the Guide is also rated in four categories–an Overall rating, a Staffing rating (which measures time spent with residents), a Health Inspection and Compliance score and a Quality Measure.  These scores are provided by Medicare.
If a family member or loved one resides in a nursing home and you suspect he or she is a victim of elderly abuse, you may need to think about pursuing the issue further by researching the matter yourself to see if there is a violation and then seeking legal help in resolving it.
Slater & Zurz LLP has experienced attorneys who have represented many clients throughout the area on the sensitive topics associated with nursing home abuse in Ohio.  They have convenient offices in Akron, Canton, Cleveland, and Columbus.
Call them at 888.534.4850 to set up a free consultation with one of the Ohio nursing home abuse attorneys, or, if you prefer, visit our firm website at slaterzurz.com and fill out the FREE CASE REVIEW at the top right hand side of the page.