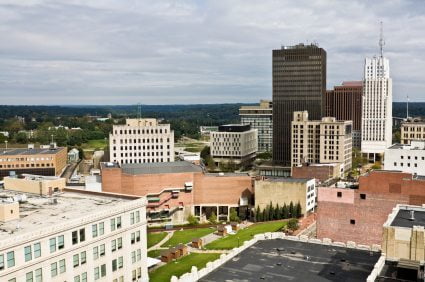 Did you know that driving is the most dangerous activity you do on a daily basis and even if you aren't doing something dangerous while driving, there's a good chance one or more of your fellow drivers is distracted, lost, careless or driving too fast?  It's even more important to drive defensively these days so you don't become a crash statistic at one of the Akron area's worst intersections.
The latest figures from Akron's worst auto crash sites were reported in 2012, but stem from figures from the years 2008-2010.  The Akron Metropolitan Area Transportation Study (AMATS) agency named South Broadway and East Thornton as the worst traffic intersection in greater Akron, Ohio.  This intersection sees 17,000 drivers daily, according to AMATS, and about 38 crashes a year.   Larger traffic lights and better signs were recently added there.
Coming in second as the worst intersection in the Akron area was Darrow Road (State Route 91) and Graham Road in Stow.  Nearly 44,400 vehicles travel this route daily and there were 101 crashes at the site during the study period.
AMATS officials say Darrow Road and Graham Road has always been in the top 10 in all of their studies despite efforts to improve the intersection by widening the road and adding an additional turning lane on the left, eastbound from Graham to northbound 91.
Third worst intersection was State Route 14 and 44 and North Freedom Street (State Route 88) in Ravenna, Ohio (considered part of greater Akron). 
When ranking freeways, AMATS gave Route 8 the top three positions for the freeway south of Glenwood Avenue to the Glenwood Avenue overpass followed by State Route 59 underneath Perkins Avenue and Tallmadge Avenue, south of the Tallmadge Avenue exit.   Wilbeth Road (State Route 764) at I-77 was the highest ranked interstate automobile crash area.
The AMATS group studied 52,000 crashes from the Ohio Department of Safety, one third of them rear-end collisions.  Although Akron accidents rose two percent from 2009, the 2010 total was 6,200 accidents fewer than eight years ago (2002).  The agency ranks high-crash roadways, freeways, and intersections by a composite score based on the number of wrecks, crash rate and severity.
AMATS credits a combination of highway and safety improvements for the reduction in accidents and motorists driving less and for shorter periods due to higher gas prices and the economy.
In a 2009 study, AMATS named the intersection of Martin Luther King Boulevard (State Route 59), Howard Street and North Main Street as the most dangerous intersection in the Akron, Ohio area.  This intersection won out over 340 high crash intersections in Summit and Portage County and Chippewa Twp. in Wayne County.  This was based on figures from 2006-2008.  The intersection has about 26,000 vehicles and had 82 accidents in the three years it was studied.
In 2009, Routes 14/44 and North Freedom Street (State Route 88) was No. 2 on the AMATS list and also had the distinction of having made several other bad intersections lists throughout the state..  Ten injuries resulted in 32 accidents at the site   The .62 mile section of roadway has about 15,000 vehicles travel it per day and had 74 accidents between 2006 and 2008.  Third worst intersection was East Tallmadge Avenue and Brittain Road (Chapel Hill area).
At a minimum those intersections making the most dangerous list will be improved with larger traffic lights, better signage and road markings, according to the City of Akron, Ohio Engineer Dave Gasper.
The Martin Luther King Jr. intersection has been near the top of AMATS lists in the past.  The city has improved the intersection by adding left-turn lanes for southbound traffic on Howard Street turning east onto the boulevard and by making traffic signals brighter and more visible.
If you are involved in a car accident in the Akron area, an experienced auto accident attorney can be what stands between you and the compensation you deserve.  Someone who understands Ohio's traffic laws and insurance laws can help you when you attempt to recover from the negligence, recklessness or carelessness of others.
Contact Slater & Zurz LLP at 1-888-534-4850 to discuss your car accident injury.  We are located right here in downtown Akron at One Cascade Plaza, Suite 2210.
Or, if you wish, you can fill out the FREE CASE REVIEW found at the top of our website, www.slaterzurz.com.  It is important to take action as soon as you suspect injury even if you do not initially believe the matter is serious.  Make an appointment with your doctor, follow his or her instructions, then contact our auto accident attorneys.  If you do not have a case, nothing is lost but a small amount of time as we do not charge you for an initial consultation.