Very recently, nearly 30 percent of the states have taken some action to toughen their laws on distracted driving. Many of those changes concern heightening the penalties for texting-while-driving.
Some states have enacted anti-texting-while-driving legislation for the first time, some have increased penalties on existing laws and some have focused on education and awareness efforts. The National Highway Traffic Safety Administration (NHTSA) defines distracted driving as "any activity that diverts attention from driving including talking, texting or taking pictures with your phone, eating and drinking, talking to people in your vehicle, fiddling with the stereo, entertainment or navigation system—anything that takes your attention away from the task of safe driving."
Reaching for your phone, checking incoming e-mail or applying make-up while driving are also distractions. According to the NHTSA, distracted driving claimed 3,477 lives in the U.S. in 2015. The Center for Disease Control and Prevention (CDC) reported in 2016 that nine people per day are killed by distracted drivers.
Colorado's new law on texting-while-driving controversial
However, none of the new rulings on distracted driving has generated the debate that has developed in Colorado. The Rocky Mountain State has a new law that increases the penalty for texting while driving from $50 to $300, but the texting must be done "in a careless or imprudent manner."
The law increases the points one receives on his or her license for a texting violation from one to four, but critics claim, despite the harsher fines and penalties, the law puts too much discretion on law enforcement officials who have a two-part task. The officer must see the driver typing on his phone and also observe "careless driving," defined in Colorado as "operating a car without due regard for the width, grade, curves, corners, traffic and use of the streets and highways and all other attendant circumstances."
Cell phone and texting laws nationwide
Currently, according to the Governors Highway Safety Association (GHSA), 15 states and the District of Colombia (D.C.) ban driving while using a hand-held cell phone. All of these states mandate "primary enforcement" of this law. In other words, the driver does not have to be stopped for another infraction to be cited for using a mobile electronic device or cell phone while driving. "Secondary enforcement" means the driver must first be pulled over for another alleged traffic offense.
With the recent addition of Texas (becomes effective Sept. 1, 2017), 47 states now ban text messaging while driving for any driver. In Texas, fines are now $200 for repeat offenders. Arizona, Missouri and Montana do not have an all-driver texting ban, but Arizona and Missouri do ban texting-while-driving for novice drivers (those under 18 or 21, or those with some type of learner's permit).
Forty three of the states that totally ban texting-while-driving have made the law a matter of primary enforcement. It is a secondary enforcement issue in Florida, Nebraska, Ohio and South Dakota. (In Ohio and North Dakota, there is primary enforcement for the use of portable electronic devices while driving if the driver is under 18 years of age.) The Florida and Nebraska legislatures have also attempted to toughen their laws on texting.
Some states make drivers subject to license suspension and/or an increase in car insurance rates for texting infractions and repeat offenses. Thirty eight states and D.C. ban cell phone use for novice or teen drivers. In some cases the prohibition applies to those with learner's or intermediate permits and those with graduated licenses. In most states those under 18 are allowed to use phones while driving only in an emergency. In a few states, such as Indiana, drivers 21 and under may not use wireless devices in a vehicle. More than 20 states and D.C. also prohibit cell phone use by school bus drivers.
Hawaii sanctions "distracted walkers"
In one of the more unusual regulations, the city of Honolulu, Hawaii enacted a "distracted walking" law in July 2017 which states "no person shall cross the street or highway while viewing a mobile electronic device."
This includes not just phones, but laptops, digital cameras and video games as long as one is using the devices while crossing the street, the law says. Penalties for violation of the ordinance range from $15 to $35 and up to $99 for the third offense. A University of Maryland study in 2015 indicated there had been 116 injuries due to distracted walking in that area from 2001-2011 with 81 fatalities. Most of those injured or killed were wearing headphones which prevented them from hearing a train signal.
Eating and distracted driving
Washington, the first state to outlaw text messaging while driving in 2007, recently tightened its distracted driving law to prohibit an individual in the state from holding a personal electronic device while driving even if stopped in traffic or at a traffic light or stop sign. The rule covers "using your hand or finger to compose, send, read, view, access, browse, transmit, save, or retrieve email, text messages, instant messages, photographs or other electronic data."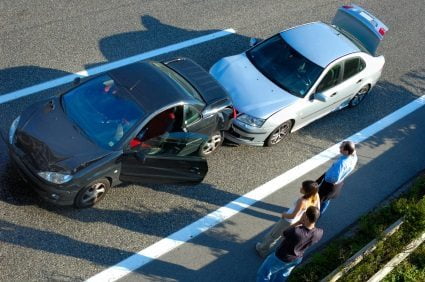 Non-emergency use of a hand-held phone while driving will not be allowed nor will video-viewing by the driver even if the video is mounted on the dashboard, according to the new law which took effect July 23. In Washington, a driver can now be issued a $99 ticket for grooming or eating while driving, but they must first be pulled over for a separate offense. The new regulations make Washington one of the strictest states on distracted driving in the country. Georgia and California also have restrictions on eating while driving with fines up to $1,000 in California.
The state of Arkansas expanded its definition of distracted driving in 2017 to include banning usage of Facebook, Instagram, You Tube and Netflix while operating a vehicle. Fines were increased to $500 for repeat offenses and doubled for those drivers whose distracted driving caused them to crash. No handheld phones are allowed in school or construction zones (secondary offense for construction zones). As of July 1, 2017, Iowa also moved its law against texting-while-driving to primary status. A driver will no longer have to be pulled over for another infraction before he or she can be cited for texting-while driving. Rhode Island has a maximum fine of $100 for first-time offenders driving with a hand-held phone, but will suspend the fine if the driver can prove they are in the process of getting a hands-free phone. However, the National Safety Council has compiled more than 30 research studies that show hands-free phones are not risk-free and do take drivers' minds off the road due to cognitive distraction.
Fines increase in many states
Alaska tops the charts with its texting-while-driving penalties. There is a possible $10,000 fine or a year in prison for a first offense. If someone is killed because of texting-while-driving, the responsible party could face 20 years in prison and a $250,000 fine. Other states with stiff penalties, sometimes for a repeat offense, are Utah (up to $1,000), Oregon, Indiana and Maine (fines of $500).
North Dakota and Ohio have also increased fines for distracted driving. In Washington, repeat offenders pay $234 and in Vermont fines can be as high as $500. Ohio is about to pass a law that will add an extra $100 to the current $150 first-time offense fine for texting and driving, but the add-on will be waived if the driver enrolls in a distracted driving course. Ohio is one of the few states with secondary enforcement for adult drivers who are texting-while-driving.
Several Ohio cities have their own laws about texting. Cleveland, Columbus, Lyndhurst, Moreland Hills, Pepper Pike, Portsmouth and Toledo have made texting-while-driving subject to primary enforcement. Bexley, Brooklyn, North Olmsted, North Royalton, South Euclid, Walton Hills, Beachwood, Marietta, Shaker Heights and Woodmere have all outlawed handheld cell phone use.
Distracted driving laws
Ohio's distracted driving law does not override local legislation that calls for stricter enforcement of state law. Texas and several other states are in favor of "preemption laws" so that local jurisdictions cannot enact their own distracted driving bans. Texas Gov. Greg Abbott stated it would be like "a patchwork quilt of regulations that dictate practices in Texas."
Many times a day throughout the country, this story or a similar one, is repeated. About eight weeks ago, it was told in Akron, Ohio. A New Franklin, Ohio woman, Natasha Boggs, appeared in Summit County Common Pleas Court Aug. 9 in connection with a May 28 accident in Coventry Twp. that killed two 14-year-old Akron area girls and critically injured another teenager. Texting while driving is believed to be involved in the incident which happened on South Main Street near Leicester Drive.
The 24-year-old driver has been indicted on charges of involuntary manslaughter, aggravated vehicular homicide, vehicular homicide, vehicular assault, negligent assault, texting while driving and tampering with evidence. She is charged in the deaths of Taylor Galloway of Akron and Amber Thoma of Coventry Twp., who were a few days away from graduating from the eighth grade when they were run down by Boggs.
It is believed Boggs was texting behind the wheel and that her car left the road and struck the teens around 4:45 p.m. that day as the young people walked along the roadway. Boggs was charged with tampering because she allegedly altered or deleted text messages from her phone after the crash, according to investigating authorities. She is set to appear in court again Aug. 23. The injured teen, brother of one of the girls who lost her life, is said to be recovering.
Contact the law offices of Slater & Zurz today to find out how our Personal Injury Attorneys can help you get the compensation you deserve.